Get incredible California wines up to 53% off, with $1 Shipping!
Some of the most popular recent By Reservation Only Selections from The California Wine Club are now on sale, in extremely limited supply. Click here or call 1-800-777-4443 for the full list and to order today!
IGP spells wine value
This one's for the wine "geeks" who make a hobby of learning the minutiae of wine, mostly; but just about anyone who's looking for good wine value might want to pay attention.
The other day, browsing my neighborhood wine shop in search of something interesting to take home for dinner, I noticed some fine print on a southern French red's label that looked sort of familiar, except when it didn't.
"Indication Geographique Protegée," it read, which I decoded in my awkward tourist French as "Protected Geographical Indication." Okay, I'm familiar, as most wine geeks are, with the similar Italian designation, "IGT," short for Indicazione Geografica Tipica or "Typical Geographical Indication."
But IGT has been around for 20 years or so, and it quickly became popular in the culture of Italian wine, where a big part of the joy of making wine, for many producers, lies in breaking the rules in interesting and creative ways.
Want to mix a little Cabernet or Merlot into your Chianti? Just because the centuries-old rules of the Chianti Consortium spell out a historic and traditional recipe, never mind. If it tastes good, do it. IGT, in a way, simply represented the Italian regulators making peace with reality: Declare the new idea "typical" of the region, even if nobody has ever done it before, and all is well.
Over time, the new ways became institutionalized, with IGT falling where the broad "Vino di Tavola" ("table wine") had gone before. IGT served as a second tier under the more controlled DOC/G labels, but this was in no way a hierarchy of quality. Many of the IGT wines are excellent. Some are very pricey. But there are a lot of great buys to be found.
It took the French a bit longer to get into the act, perhaps because the French wine industry has a much longer and stronger tradition of (more or less) rules-abiding wine making. Burgundy, Bordeaux, Alsace, and onward, every region took pride in making wine generally according to the principles their grandparents and great-grandparents had set down.
Nevertheless, the French, too, had set up a formal "Vin de Pays" ("VDP," or "Wine of the Country") designation back in the '70s, primarily to fit wines not thought up to the higher standards of the AOC ("Appellation d'Origine Controlee"). Over the years, about one-fourth of all French wines - including many great values, particularly from Languedoc and Provence - were labeled VDP.
Finally, to bring it all together, after European regulators established a Europe-wide IGP classification, the French adopted it in 2009 as an alternative to Vin de Pays. Producers may use either term on the label, or both, but with Vin de Pays long having held some connotation of "cheap," it's my guess that IGP will become a popular choice for export wines.
The first IGP I've seen on the market was today's featured wine, Domaine Laroque 2011 Cité de Carcassonne, a single-varietal Cabernet Franc from the vineyards around the lovely medieval walled city of Carcassonne in Languedoc. I found it a real delight, nicely balanced and fine with food, a great buy in the $10 range.
"IGP." Add it to your bargain-hunting lexicon.
Today's Sponsor
Get incredible California wines up to 53% off, with $1 Shipping!
At The California Wine Club, not every great wine they find can go in a club shipment. However, they just can't pass amazing wines up, so they offer them By Reservation Only. For the first time ever, they are sharing some of these treasures with you, and at discounted prices, with $1 shipping on every case and half case!
Here are some of the most popular recent By Reservation Only Selections. Each of these recent selections is still available, though in extremely limited supply.
To see the full list of By Reservation Wines available, click here.
Bruce and Pam share what makes each one so special:
Brassfield Estate 2010 'Eruption' Proprietary Red Wine, Los Angeles Times "Wine of the Week"
Retail: $31/CWC price: $24
"Dave Ramey's seven-varietal Malbec blend takes our breath away."
Le Vigne Winery 2005 'Nikiara' Paso Robles Meritage, Gold Medal, 3 Silver Medals
Retail: $40 /CWC price: $19
"Time has given this Bordeaux-blend an elegant finish."
Paul Dolan 2010 Mendocino County Cabernet Sauvignon
Retail: $27 /CWC price: $12.99
"This fourth generation California winemaker knows how to turn a Cab into a king."
Fields Family Wines 2009 Oak Knoll District Merlot, Gold Medal, Rated 90 Points
Retail: $35 /CWC price: $21
"Tastes like a Cab! We like surprising our 'no Merlot' friends with this one."
Click here to order these exquisite wines and more.
Half, full and mixed cases okay. Don't wait--these wines will sell out!
www.cawineclub.com 1-800-777-4443
Today's Tasting Report
Domaine Laroque 2011 Cité de Carcassonne ($10.99)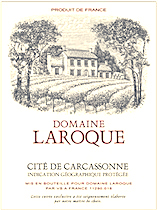 This single-varietal Cabernet Franc is dark garnet in color with a clear edge. Red berry aromas add a hint of fresh green herbs, maybe tarragon and thyme. Ripe and fresh flavors pick up the mixed berries and herbs theme and add a touch of intriguing minerality. It's laced up with zippy acidity, reasonable 13.5 percent alcohol, and light but astringent tannins that serve it well at the dinner table. U.S. importer: Aquitaine Wine USA, Napa, Calif.; a Jean-Christophe Calvet Selection. (Jan. 7, 2013)
FOOD MATCH: It would make a natural match with a simple steak, a pork chop or roast chicken. We went a more offbeat route and played up to its red-berry and herbal character with a dish of stir-fried slivered snow peas and sliced onions scented with ginger and garlic and served over fettuccine in a light Mornay sauce. The second half of the bottle went just as well with a free-range omelet stuffed with roasted asparagus and onions plus some grated Parmigiano-Reggiano, quickly made in browned butter scented with fresh ginger and garlic..
WHEN TO DRINK: Fine now, but it won't fade, and might even evolve a bit, over two or three more years in cool cellar conditions.
VALUE: No complaints whatsoever about this $11 toll, which is midway in the $9 to $13 range reported for U.S. vendors on Wine-Searcher.com.
WEB LINK:
This web page at The Mark Wine Group offers an overview of Domaine Laroque.
FIND THIS WINE ONLINE:
Check prices and locate vendors for Domaine Laroque Cité de Carcassonne on Wine-Searcher.com.
Talk About Wine Online
If you have questions, comments or ideas to share about today's article or wine in general, you're always welcome to drop by our online WineLovers Discussion Group, the Internet's first and still the most civil online community. To find our forums, click:
http://www.wineloverspage.com/forum/village
Discussions are open for public viewing, but you must register to post. Registration is free and easy; we ask only that you join following our Real Names Real Format system, using your real name in the format "John Doe" or "John D". Anonymous, cryptic or first-name-only registrations are discarded without notice.
Once your registration has been approved, which usually happens quickly, you'll be able to participate in all our online wine, food and travel forums.
To contact me by E-mail, write wine@wineloverspage.com. I'll respond personally to the extent that time and volume permit.
Subscriptions and Administrivia
Unsubscribe:
We're sorry if you must leave us, but simply click the "unsubscribe"
link at the bottom of your Email edition to be instantly removed from the mailing list.
Change address:
The quickest and easiest way to change your Email address is simply to register anew, using the link below. If you are keeping your old address but no longer wish to get the Wine Advisor there, click the unsubscribe link below to take it off our list; if you are closing the mailbox, you needn't take any action, as our system will delete your old address as soon as the mail to your old address starts to "bounce."
Subscribe to this weekly E-letter (free):
http://www.wineloverspage.com/wineadvisor
WineLoversPage.com RSS Feed (free):
http://feeds.feedburner.com/wineloverspage/tzva
Wine Advisor Archives:
http://www.wineloverspage.com/wineadvisor2/archives.php
Sponsorship Opportunities:
For information, E-mail wine@wineloverspage.com