Send a thoughtful holiday gift featuring award-winning, limited-production California wine.
Click Here or call 1-800-777-4443.
Have some Madeira, my dear ...
Mention sweet, strong fortified wine, and the minds of many wine lovers - or mine, anyway - go straight to Port. With Sherry, perhaps, running in distant second place.
But let's save a little love for Madeira, a hearty fortified wine that boasts a place in American history perhaps a step above its rivals. Digging through my own stacks of wine notes as I sipped a warming glass of Madeira this week, I ran across a few paragraphs I wrote on the subject at just this time of year in 1998:
"The island of Madeira lies 400 miles off Morocco in the Atlantic and is governed by Portugal; but the historic fortified wines made here are very much a part of American history. Because of trade routes and politics during our Revolutionary War and the War of 1812, Madeira was available - and popular - in the infant U.S. at a time when the clarets, Burgundies and Hocks favored by the British (and typically shipped through British ports) weren't so politically correct.
"According to Frank Schoonmaker's New Encyclopedia of Wine, colonists rioted on the docks of Boston in 1768 - five years before the Boston Tea Party - when British customs officials sought to place a tax on a shipment of Madeira. 'Madeira was used to toast the signing of the Declaration of Independence,' Schoonmaker reports, 'and, in 1789, the inauguration of George Washington.'
"Not unlike Sherry in general style, Madeira gains its unique character by being stored for years in hot rooms called estufas, a controlled emulation of the rough treatment that it used to receive on the decks of sailing ships crossing the broad Atlantic."
Here's another factoid about Madeira: If you are looking for a wine to lay down for 20 years or more, perhaps to celebrate the birth of a child by opening the wine when he or she reaches legal age, Madeira is your obvious choice. It is almost indestructible, having been developed to survive, and even improve, during those long ocean voyages to Britain, East India and the New World. It comes in many styles, ranging from very sweet (Malmsey) to medium sweet (Bual) to rather dry (Verdelho and Sercial).
Its burnt-sugar, earthy and caramel flavors are invariably structured on firm, even steely acidity; and it will last almost forever, even under poor storage conditions. What's more, Madeira remains surprisingly affordable for an ageworthy wine, often found - like today's featured wine - for $20 or less.
So if you're looking for a wine to hold for a celebration in the distant future and you don't own a wine "cellar," you can hardly do better than a Madeira for a wine that's likely to last.
With a salute to our great history (and today's friendly relations with our international cousins), we opened the holiday season with a glass of Sandeman "Rainwater" Madeira. See my tasting report below.
Last-minute wine book gifts
If you're a hard-core procrastinator like me and you're still looking for a last-minute Christmas present for a wine-geek friend, here's good news: There's still time to get your wine-book gift from Amazon.com to your friends by Monday. You'll have to pay a little extra for expedited shipping, but if making the deadline matters to you, you have until 7 p.m. today, Dec. 21 (US EST) to get your purchase there by Monday with two-day shipping. Or push back until the last possible instant and get your order in by 3 p.m. tomorrow, Dec. 22 (EST) with one-day shipping.
It's hard to go wrong with either of these favorite wine-reference books:
The World Atlas of Wine, by Hugh Johnson and Jancis Robinson, $31.50 from Amazon.com in hardcover, a 37% saving from its $50 list price.
The Oxford Companion to Wine, 3rd Edition, by Jancis Robinson, $40.95, a 37 percent saving from its $65 list price.
If you're still thinking about the fascinating new book on wine and culture in biblical times and across the historical ancient Near East that I reviewed last week, here's a re-run on that link:
Divine Vintage: Following the Wine Trail from Genesis to the Modern Age, $16.20, a $10.80 saving from its $27 list price.
And finally, if price is no object, and you want your recipient (or yourself) to be the first kid on your block with the new unabridged scientific encyclopedia of wine grapes, a 1,280-page, seven-pound doorstop of a book:
Wine Grapes: A Complete Guide to 1,368 Vine Varieties, Including Their Origins and Flavours, by Jancis Robinson, Julia Harding and Jose Vouillamoz, knocked down 37% from its breathtaking $175 list price to to "only" $110.25, a saving of $64.75.
Today's Sponsor
There's Still Time!
Send a thoughtful holiday gift featuring award-winning, limited-production California wine. Click Here
The California Wine Club can help with your last-minute shopping. Order gifts now, then instantly email or print a beautiful gift card.
Holiday gifts from The California Wine Club include:
* Two award-winning wines hand-selected from California's best "mom & pop" wineries.
* Every wine has a story and they share these stories in their Uncorked® magazine along with wine tips, recipes and insight into California's wine scene.
* The opportunity to reorder favorite wines at savings of up to 50%.
* Bonus Gifts: A handy two-bottle wine tote and a $25 Wine Credit.

Gifts start at $49.95, including shipping and handling. Tax extra where applicable. Send as many gift months as you wish. Discounts available on gifts of 3, 6, 9 and 12 months.
Easy Ordering! Click Here or call 1-800-777-4443.
Today's Tasting Report
Sandeman NV "Rainwater" Madeira ($18.99)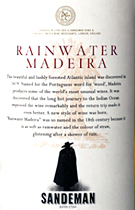 Clear light bronze color, on the light side for a Madeira, and hence (the marketers say) its offbeat name. An appealing collection of aromas for the holidays, just-cracked walnuts and their shells, plus a hint of roasted chestnuts in the nose and flavor; and more in the flavor than the scent, beneath it all the gentle sweetness of very ripe pears. And then to bring it all together, a zingy, mouth-watering acidity that refreshes the palate and lingers with cracked nuts and a whiff of something like spicy orange. With warming 19% alcohol typical of a fortified wine, it's a well balanced and delicious sweet wine. U.S. importer: Pernod Ricard USA, Purchase, N.Y. (Dec. 17, 2012)
FOOD MATCH: Its acidity renders it fully capable of standing up to aromatic food - it worked, experimentally, with a mushroom goulash with red peppers, onions and garlic, lots of paprika and organic sour cream. Of course it's excellent sipped on its own or with nuts and cheeses after dinner on a brisk winter night.
WHEN TO DRINK: Fine now, and capable of cellaring for years or even decades under good cellar conditions. .
VALUE: Reasonably priced at $20, but shop around. as Wine-Searcher.com reports a $16 median price among U.S. vendors.
PRONUNCIATION:
Madeira = "Mah-DEH-rah"
WEB LINK:
Click here for Sandeman's fact sheet on Rainwater Madeira.
FIND THIS WINE ONLINE:
Check prices and locate vendors for Sandeman Rainwater Madeira on Wine-Searcher.com.
Talk About Wine Online
If you have questions, comments or ideas to share about today's article or wine in general, you're always welcome to drop by our online WineLovers Discussion Group, the Internet's first and still the most civil online community. To find our forums, click:
http://www.wineloverspage.com/forum/village
Discussions are open for public viewing, but you must register to post. Registration is free and easy; we ask only that you join following our Real Names Real Format system, using your real name in the format "John Doe" or "John D". Anonymous, cryptic or first-name-only registrations are discarded without notice.
Once your registration has been approved, which usually happens quickly, you'll be able to participate in all our online wine, food and travel forums.
To contact me by E-mail, write wine@wineloverspage.com. I'll respond personally to the extent that time and volume permit.
Subscriptions and Administrivia
Unsubscribe:
We're sorry if you must leave us, but simply click the "unsubscribe"
link at the bottom of your Email edition to be instantly removed from the mailing list.
Change address:
The quickest and easiest way to change your Email address is simply to register anew, using the link below. If you are keeping your old address but no longer wish to get the Wine Advisor there, click the unsubscribe link below to take it off our list; if you are closing the mailbox, you needn't take any action, as our system will delete your old address as soon as the mail to your old address starts to "bounce."
Subscribe to this weekly E-letter (free):
http://www.wineloverspage.com/wineadvisor
WineLoversPage.com RSS Feed (free):
http://feeds.feedburner.com/wineloverspage/tzva
Wine Advisor Archives:
http://www.wineloverspage.com/wineadvisor2/archives.php
Sponsorship Opportunities:
For information, E-mail wine@wineloverspage.com