Today's Sponsor
Your Black Friday Offer is Here!
Give a Gift, Get a Gift! Click here. Send a 2-month holiday gift featuring award-winning wine from The California Wine Club today and they'll send you a bottle of Paul Dolan Vineyards 2010 Mendocino County Cabernet Sauvignon.
Small things that matter: vintage
The idea of vintage may be one of the small things that discourage people from getting into good wine. I can't think of any other beverage in which the year of harvest matters, and let's face it: The idea of wine snobs sniffily examining labels and declaring, "1948 was a very good year" is enough to put most people off their feed.
Vintage, simply, is the year in which the grapes that made the wine were harvested. Okayfine, you may say, but so what? We don't put vintage dates on the label of Coca-Cola or iced tea. But there are (at least) two good reasons why wine is different.
First, some wines are meant to be aged, and a visible sign of the wine's birth year is useful for the cellar master. Turn that idea upside down, and for the 99 percent of wines that don't merit aging, the vintage can serve as a hint to the wine's "best by" date, a warning against picking up that dusty old jug of 10-year-old Beaujolais Nouveau on the back of a bottom shelf.
Second and perhaps more important, though, the combination of vintage and location information sets a wine in place and time. As an agricultural product, the grapes that make the wine can vary significantly - for better, for worse, or just for different - depending on the weather that prevailed during the summer at the place where the grapes grew. Long, warm days, cool nights, no fruit-smashing hailstorms and no rains near harvest? Those good things may yield grapes that make an extraordinary wine.
So, 2006 was a fine year in Tuscany? Mark it down, and make a note to buy the wine. In Bordeaux, 2005 was a year to mark down; 2004, not so much. The wine snobs in New Yorker cartoons memorize those years, but if you don't buy a lot of wine, it doesn't hurt to have a current, inexpensive guide like Hugh Johnson's 2013 Pocket Wine Book around so you can look it up. Or for a broad, basic overview, visit the quick-and-simple vintage pages on the Website of London wine merchant Berry Bros & Rudd.
Does vintage matter only for pricey, "investment-grade" wines? Not if your wine-geek instincts inspire you to pay attention to what's in your glass. I recently had occasion to construct a mini-vintage check of Gabbiano Chianti, a modest ($10 or less) Chianti from a large producer whose medieval-knight label is found in restaurants and wine shops all over. Buying a few bottles for a tasting class, I inadvertently got a just-arrived 2011 mixed in with a batch of 2010s. Instant "vertical tasting.!
To my interest, while both wines were good, I found distinct differences between them. Both vintages are about equally rated, but I found the 2011 significantly more enjoyable. It was fruity, fresh and rounded, full of the ripe black-cherry and black-plum fruit that's characteristic of Chianti's Sangiovese grape, laced up with the crisp, fresh-fruit acidity that makes Chianti such an exceptional food wine. The 2010 vintage seemed a little more lean and mean, tart fruit and more perceptible tannic astringency. Has the prior vintage of this drink-me-now wine already started to fade just a little? It's hard to say. Tasted alone without a comparison wine in the other glass, I'm sure I would have rated it fine. But vintage does make a difference.
Today's Sponsor
Your Black Friday Offer is Here!
Give a Gift, Get a Gift! Click here.
Send a 2-month holiday gift featuring award-winning wine from The California Wine Club today and they'll send you a bottle of Paul Dolan Vineyards 2010 Mendocino County Cabernet Sauvignon. This organic wine has been handcrafted in limited amounts and retails for $27.
"We love sharing this ripe, plumy wine with our friends because everyone loves it. Delicious now, it will be even better in a few years!" -Bruce and Pam Boring, CWC Proprietors
Holiday gifts from The California Wine Club include:
* Two award-winning wines.
* Every wine has a story and they share these stories in their Uncorked magazine along with wine tips, recipes and insight into California's wine scene.
* The opportunity to reorder favorite wines at savings of up to 50%.
* Their 100% guarantee.
* Bonus Gifts: A handy two-bottle wine tote and a $25 Wine Credit.
Gifts start at $49.95, including shipping and handling. Tax extra where applicable. Send as many gift months as you wish. Minimum 2-month gift purchase required to qualify for gift bottle. Discounts available on gifts of 3, 6, 9 and 12 months. 1, 2, and 3-Day delivery available.
Easy Ordering! Click here or call 1-800-777-4443 and use Promo Code: BLACK12 when placing your orders.
Offer valid only while supplies last. Offer expires Midnight PST 11/23/2012.
www.cawineclub.com
Today's Tasting Report
Gabbiano 2011 Chianti ($9.99)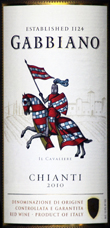 Dark ruby with vermilion glints. A benchmark for basic Chianti, fresh black cherries on the nose and crisp fresh-fruit acidity backing up black cherry and plum flavors on the palate. Dry black fruit and pleasantly soft tannins last into a long, clean finish with rational 13% alcohol. I like this and the somewhat more tart and tannic 2010 both, and would suggest Gabbiano as a fine introduction to basic Chianti. U.S. importer: TWE Imports, Napa, Calif. (Nov. 19, 2012)
FOOD MATCH: Simple Chianti is an iconic pairing with pizza or spaghetti with tomato sauce for a reason: It works very well in that setting. It's more versatile, though, standing up well with red meat, cheeses or earthy meatless Italian pasta or rice dishes like our mushroom and onion risotto.
WHEN TO DRINK: Basic Chianti like this is meant to be enjoyed early, not kept for years in a cellar; the producer recommends drinking it within two years, before the fruit starts to fade. No worries: It's delicious when it's fresh and fruity, and next year's vintage will be along soon enough.
VALUE: This benchmark basic Chianti is a fine value at $10. That said, however, Wine-Searcher.com lists the U.S. median at $8, with some vendors offering it for $6, so if you're penny-wise, shop around a bit.
PRONUNCIATION:
Gabbiano Chianti = "Gab-bee-AHN-oh Kee-AHN-tee"
WEB LINK:
Castello di Gabbiano's Web Page is published in Italian, German, Spanish and English. Here's a link to the English-language fact sheet on the basic Chianti.
FIND THIS WINE ONLINE:
Compare prices and find vendors for Gabbiano Chianti on Wine-Searcher.com.
Talk About Wine Online
If you have questions, comments or ideas to share about today's article or wine in general, you're always welcome to drop by our online WineLovers Discussion Group, the Internet's first and still the most civil online community. To find our forums, click:
http://www.wineloverspage.com/forum/village
Discussions are open for public viewing, but you must register to post. Registration is free and easy; we ask only that you join following our Real Names Real Format system, using your real name in the format "John Doe" or "John D". Anonymous, cryptic or first-name-only registrations are discarded without notice.
Once your registration has been approved, which usually happens quickly, you'll be able to participate in all our online wine, food and travel forums.
To contact me by E-mail, write wine@wineloverspage.com. I'll respond personally to the extent that time and volume permit.
Subscriptions and Administrivia
Unsubscribe:
We're sorry if you must leave us, but simply click the "unsubscribe"
link at the bottom of your Email edition to be instantly removed from the mailing list.
Change address:
The quickest and easiest way to change your Email address is simply to register anew, using the link below. If you are keeping your old address but no longer wish to get the Wine Advisor there, click the unsubscribe link below to take it off our list; if you are closing the mailbox, you needn't take any action, as our system will delete your old address as soon as the mail to your old address starts to "bounce."
Subscribe to this weekly E-letter (free):
http://www.wineloverspage.com/wineadvisor
WineLoversPage.com RSS Feed (free):
http://feeds.feedburner.com/wineloverspage/tzva
Wine Advisor Archives:
http://www.wineloverspage.com/wineadvisor2/archives.php
Sponsorship Opportunities:
For information, E-mail wine@wineloverspage.com