Today's Sponsor
Save $75 on Convenient Wine Deliveries!
3 Months of Smaller California Wineries at 50% Off! Click here!
Get your first 3 months of artisan wines from The California Wine Club for $25/month (includes shipping and handling). That's a savings of $75! Click here or call 1-800-777-4443. Please use promo code: OCTOBER12
No oxymoron: Austrian red
An oxymoron, for those in need of brushing up, is a figure of speech that unites two things that don't seem to go together. "Jumbo shrimp," for instance; or "a plastic glass." Language geeks may be delighted to know that "oxymoron" is a Greek word that means, well, "sharp dull," a word that contains an example of itself.
There are all sorts of oxymorons in the world of wine. Some might argue that even "White Zinfandel" makes the cut. For purposes of today's discussion, though, let's look at "Austrian red," a seeming oxymoron for this wine region that doesn't take up a huge amount of shelf space in most wine shops, and that devotes the lion's share of that limited space to its excellent whites, primarily Grüner Veltliner plus a good ration of Riesling.
The marketplace warps reality to some extent, as Austria's wine production actually breaks out about 70 percent white and 30 percent red, a substantial difference still, but hardly one that places the reds in rarity territory. But the whites get more critical and media attention, and I would guess that the balance in U.S. imports is more like 90 to 10.
Still, the reds - a bit of the familiar Pinot Noir and the less well-known Blaufränkisch, Blauer Portugieser, Sankt Laurent and the subject of today's attention, Zweigelt - are well worth exploring and, in spite of their oxymoronic nature, not impossible to find.
Zweigelt (pronounced "Tsvy-gelt") is a relatively modern cross between Blaufränkish and Sankt Laurent, named after Dr. Friedrich Zweigelt, the grape scientist who developed it in 1922. It was designed for commercial wine, with a relatively short growing season - late to blossom in spring, early to ripen for harvest - which enables it to thrive even in marginal climates where frost comes early in autumn and stays late in the spring. (It's no coincidence that Zweigelt is also grown in Ontario, Canada, and New York's Finger Lakes region.)
Today's tasting, Huber 2009 Austria Zweigelt, is a good example of the grape's character, showing good red-fruit aromas and flavors enhanced by nuances of white pepper and stony minerality. You'll find my tasting report below.
Today's Sponsor
Save $75 on Convenient Wine Deliveries!
3 Months of Smaller California Wineries at 50% Off! Click here!
Why hassle with trying to pick good wine at the store when you can get great wine delivered? At The California Wine Club we seek, taste, select and then deliver the best wines for California's small artisan wineries. These award-winning wines are typically handcrafted in such small amounts that they can't be found in stores.
Get two bottles of award-winning wine handcrafted at some of California's best small family wineries along with Uncorked magazine, which gives you an insider's look at the featured winery, wine tips, recipes and more, all conveniently delivered to your door.
Get your first 3 months of artisan wines for $25/month (includes shipping and handling). That's a savings of $75! Click here or call 1-800-777-4443. Please use promo code: OCTOBER12
Offer cannot be applied to previously placed orders or combined with other offers. Some restrictions apply.
www.cawineclub.com
Today's Tasting Report
Huber 2009 Austria Zweigelt ($15.99)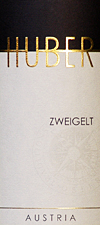 Dark garnet in color, this Austrian red offers delicious aromas in the style of cool-climate reds: red-berry and cherry fruit on the nose. Good, dry flavor, red berries and subtle white pepper and an intriguing rainwater-over-rocks minerality, shaped by tart acidity and a buzz of perceptible but approachable tannic astringency in the finish. Fresh, dry and tart, food-friendly with just 12.5% alcohol, it invites comparisons with a Loire Chinon, but it's really its own thing, Austrian Zweigelt, and that's good. U.S. importer: Circo Vino, Bensenville, Ill. (Oct. 6, 2012)
FOOD MATCH: Best with lighter-style red-wine pairings, roast chicken or pork, or a meatless option like our choice, a Northeastern Italian cabbage risotto with plenty of browned onions to bring it up to a red.
WHEN TO DRINK: Ready to drink, not a cellar keeper meant for long-term evolution, but assuming good cool storate, I don't see it going around the bend in the next few years.
VALUE: A decent value at this price, which isn't far above the $14 average price reported by vendors on Wine-Searcher.com.
PRONUNCIATION:
Zweigelt = "TSVY-gelt"
WEB LINK:
Here's a link to the winery's English-language fact sheet on the 2009 Zweigelt. For the importer's info page on Markus Huber winery, click here.
FIND THIS WINE ONLINE:
Look for vendors and compare prices for Huber Zweigelt on Wine-Searcher.com. For additional source information, you'll find an international list of distributors on the winery website.
Talk About Wine Online
If you have questions, comments or ideas to share about today's article or wine in general, you're always welcome to drop by our online WineLovers Discussion Group, the Internet's first and still the most civil online community. To find our forums, click:
http://www.wineloverspage.com/forum/village
Discussions are open for public viewing, but you must register to post. Registration is free and easy; we ask only that you join following our Real Names Real Format system, using your real name in the format "John Doe" or "John D". Anonymous, cryptic or first-name-only registrations are discarded without notice.
Once your registration has been approved, which usually happens quickly, you'll be able to participate in all our online wine, food and travel forums.
To contact me by E-mail, write wine@wineloverspage.com. I'll respond personally to the extent that time and volume permit.
Subscriptions and Administrivia
Unsubscribe:
We're sorry if you must leave us, but simply click the "unsubscribe"
link at the bottom of your Email edition to be instantly removed from the mailing list.
Change address:
The quickest and easiest way to change your Email address is simply to register anew, using the link below. If you are keeping your old address but no longer wish to get the Wine Advisor there, click the unsubscribe link below to take it off our list; if you are closing the mailbox, you needn't take any action, as our system will delete your old address as soon as the mail to your old address starts to "bounce."
Subscribe to this weekly E-letter (free):
http://www.wineloverspage.com/wineadvisor
WineLoversPage.com RSS Feed (free):
http://feeds.feedburner.com/wineloverspage/tzva
Wine Advisor Archives:
http://www.wineloverspage.com/wineadvisor2/archives.php
Sponsorship Opportunities:
For information, E-mail wine@wineloverspage.com