Bye bye, Tocai
After years of wrangling over rights to use the name, the classic local white wine of Friuli in Northeastern Italy has definitively dropped "Tocai" from the wine label, succumbing to claims of unfair appropriation by the makers of the great Hungarian dessert wine Tokaji.
It has taken a while, but bottles of just-plain Friulano, shorn of its Hungarian-accented adjective, are now easy to find in wine shops around the world; and guess what: It tastes just as good as ever. Of course this should be no surprise, as only the name has changed, not the blend or the tradition.
As I reported in the July 13, 2005 30 Second Wine Advisor, "Losing Tocai," Hungarian wine growers persuaded European Union regulators that both Friuli's Tocai and Alsace's Tokay Pinot Gris were too easily confused with the classic dessert wine Tokaji, which claims a geographical basis for its name, having been grown in the Tokaji region of northeastern Hungary for hundreds of years.
The Friulani mustered their own historical legend in a bid to fight back: Local lore has it that a Friulian princess in medieval times was sent off to Hungary for a noble wedding, taking Tocai vine cuttings as part of her dowry, and those fine Italian vines became the ancestors of Tokaji. Curiously enough, a similar tale was told along the Rhine about a beautiful Alsatian princess who also purportedly provided vines to the Magyars.
The European Court of Justice in Luxembourg didn't buy it, handing down a order "for reciprocal protection of wine denominations" between the European Union and Hungary, which dropped the hammer on competitive Tocais and Tokays on March 31, 2007.
I spotted a Friulano without the Tocai at a local wine shop the other day, and willingly dropped a double sawbuck for a flask of Tenuta di Blasig 2010 Friulano, made at a 224-year-old winery in Friuli's Isonzo region by seventh-generation owner Elisabetta Bortolotto Sarcinelli, who, the winery website says, " is aided by a team of people passionate about wine, almost all of whom happen to be women."
Tenuta di Blasig specializes in single-varietal wines (other than its Rosso red blend), many of them made from historic indigenous grapes such as Malvasia Istriana, Refosco dal Peduncolo Rosso, Verduzzo and, of course, Friulano. It's a fine Italian white, rich yet dry and tart, fine with food. You'll find my tasting notes below.
Today's Sponsor
"Must Have" Wines - on Sale Now!
We have 200+ wines on sale during our Fall Wine Sale with $1 shipping on every case!
Click here to see them all.
Be sure and get at least one of each of these "Must Have" wines and be ready for anything!
* Elegant and Collectable 2007 Napa Valley Cabernet Sauvignons
* Seriously Food-Friendly, Seriously Delicious Pinot Noirs
* Classic Rich & Buttery Chardonnays
* Special Occasion Bottles to Share with Special Friends
* Bright, Crisp Whites for Warm Evenings
* Perfect "Friday Night" Wines
Click here to shop for award-winning wines at savings of up to 74%.
But don't wait! Wine Sale ends Sept. 30, 2012.
Call 1-800-777-4443 or visit www.cawineclub.com.
Sale cannot be combined with any other promotion or discount and/or previously placed orders. Some restrictions apply. Must be 21+ to order.
Today's Tasting Report
Tenuta di Blasig 2010 Friuli Isonzo Friulano ($18.99)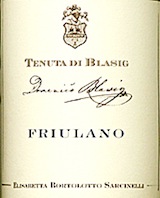 Clear straw color with a hint of greenish-brassy hue. Subtle scents of pear and just a whiff of almond. Full and tart on the palate, white fruit and mouth-watering acidity in good balance with a textured mouthfeel and appropriate 13% alcohol, and a pleasing touch of bitter almond in a long finish. U.S. importer: A.I. Selections, NYC. (Sept. 21, 2012)
FOOD MATCH: Made to go with the seafood that abounds on Friuli's Adriatic coast, Friulano will also pair well with simply prepared roast chicken or pork. It's particularly recommended with Parma ham or Friuli's own San Daniele ham, a treat that the locals credibly declare better than prosciutto. I took a more experimental approach, serving it with baba ganoush, the Southwest Asian cousin to hummus with wood-roasted eggplant replacing hummus's chickpeas.
WHEN TO DRINK: Although it's meant to be drunk up young and fresh, and there's no harm in that, I wouldn't be fearful about putting a bottle or two down in a cool cellar to see if they evolve into additional complexity over a few years.
VALUE: I don't feel buyer's remorse for paying near $20 for a white of this quality, but a Wine-Searcher.com for Tenuta Blasig's portfolio suggests that the Friulano might be available for a few dollars less.
WEB LINK:
The Tenuta di Blasig Website is published in Italian, German and English; click the home page links for the language you prefer. Once you've arrived, you can page down to find a fact sheet on the 2007 vintage of the Friulano.
FIND THIS WINE ONLINE:
Find providers and check prices for all of Tenuta di Blasig's varieties on Wine-Searcher.com.
Talk About Wine Online
If you have questions, comments or ideas to share about today's article or wine in general, you're always welcome to drop by our online WineLovers Discussion Group, the Internet's first and still the most civil online community. To find our forums, click:
http://www.wineloverspage.com/forum/village
Discussions are open for public viewing, but you must register to post. Registration is free and easy; we ask only that you join following our Real Names Real Format system, using your real name in the format "John Doe" or "John D". Anonymous, cryptic or first-name-only registrations are discarded without notice.
Once your registration has been approved, which usually happens quickly, you'll be able to participate in all our online wine, food and travel forums.
To contact me by E-mail, write wine@wineloverspage.com. I'll respond personally to the extent that time and volume permit.
Subscriptions and Administrivia
Unsubscribe:
We're sorry if you must leave us, but simply click the "unsubscribe"
link at the bottom of your Email edition to be instantly removed from the mailing list.
Change address:
The quickest and easiest way to change your Email address is simply to register anew, using the link below. If you are keeping your old address but no longer wish to get the Wine Advisor there, click the unsubscribe link below to take it off our list; if you are closing the mailbox, you needn't take any action, as our system will delete your old address as soon as the mail to your old address starts to "bounce."
Subscribe to this weekly E-letter (free):
http://www.wineloverspage.com/wineadvisor
WineLoversPage.com RSS Feed (free):
http://feeds.feedburner.com/wineloverspage/tzva
Wine Advisor Archives:
http://www.wineloverspage.com/wineadvisor2/archives.php
Sponsorship Opportunities:
For information, E-mail wine@wineloverspage.com