Today's Sponsor
A Tasty Way to Support Small Business
Three Months of Smaller California Wineries at 50% Off!
The small family winemakers we feature are among California's most vibrant small businesses. These wineries and their delicious, handcrafted, award-winning wines, are at the heart of The California Wine Club.
Click here to Shop Now!
More wine rules of real estate
Many people who like to drink wine evolve into wine hobbyists or, if you will, wine geeks. When we start to enjoy studying the stuff as much as we enjoy tasting it ... well, almost ... one of the first things we learn about categorizing wine is that it follows a rule familiar in the world of real estate: One of the most important things to know about a wine is "location, location, location."
The land in which the grapes for wine are grown is important for more than a few reasons. Geology, terrain and microclimate all influence the character of the finished grape. A vineyard's setting within a traditional wine area may be tied to the varieties of grapes grown there, and both tradition and law govern how they are to be cultivated, picked, fermented, aged and bottled, and when they may be sold.
All these variables influence the wine's terroir, the characteristic nature that literally translates as "land" or "soil" but that actually incorporates all of the above. In many wine regions, especially in Europe where wine cultivation goes back a very long way, terroir can be important to both pride and commerce.
Naturally, if a specific region or appellation becomes famous for its terroir, everybody wants to get in on the act. New vineyards pile up on the edges of the original wine region, make similar wine, and soon its property owners start pestering the authorities to get in. Before long, the original concept is diluted, and the brand loses its value. How does this relate to real estate? Ask me about the time, way back, when I checked out an ad for a Los Angeles-area apartment that claimed to be in Santa Monica but actually found the property in Venice, at the time a significantly less "desirable" 'hood.
In Tuscany's iconic Chianti wine region, they've been at it for at least 1,700 years, at least since 1398, time of the oldest existing written reference to Chianti as a wine. (It may be older still, as today's featured wine, Castello di Gabbiano, claims its heritage back to 1124.) In 1716, almost 400 years ago, the Medici rulers of Florence defined the first broad Chianti wine region. In 1932, the Italian government expanded Chianti into a much larger zone between Florence and Siena; and additional villages have been added on periodically since. Santa Monica, meet Venice. Or maybe even Inglewood.
As it stands today, the original Chianti region comprises only about 6 percent of the land in modern Chianti. Even the Chianti Classico zone, so called because it is purportedly the original land making wine in the "classic" tradition, is about six times larger than the original soil. That being said, however, when you buy a Chianti Classico you'll likely pay a few bucks more than you do for a basic Chianti, and you'll get a wine grown and produced under more specific regulations (starting with a base of at least 80 percent Sangiovese) and a wine that theoretically should show some refinement and elegance.
For a thorough summary of the Chianti Classico regulations, check this page from the Consorzio Vino Chianti Classico.
For this week's tasting I've reported on two wines, the current releases of Castello di Gabbiano Chianti and Chianti Classico. Owned by the large Australian-American wine corporation Beringer Blass, Gabbiano is widely distributed internationally; its medieval knight label is familiar in wine shops and restaurants. Both are fine examples of Chianti at their relatively affordable price point, around $10 or less for the Chianti, $15 or less for the Classico. You'll find my tasting notes below.
Today's Sponsor
A Tasty Way to Support Small Business
3 Months of Smaller California Wineries at 50% Off!
Click here to Shop Now!
The small family winemakers we feature are among California's most vibrant small businesses.
Each time you uncork a bottle of their handcrafted, award-winning wine you help to create and maintain thousands of jobs at these small "mom & pop" wineries.
These wineries and their delicious, handcrafted, award-winning wines, are at the heart of The California Wine Club.

Give Small Family Wineries a Try!
Get two bottles of award-winning wine handcrafted at some of California's best small family wineries along with Uncorked® magazine, which gives you an insider's look at the featured winery, wine tips, recipes and more, all conveniently delivered to your door.
Get your first 3 months of artisan wines for $25/month (includes shipping and handling). That's a savings of nearly $75! Click here or call 1-800-777-4443. Please use promo code: SEPT12.
Offer cannot be applied to previously placed orders or combined with other offers. Some restrictions apply.
Today's Tasting Report
Gabbiano 2008 Chianti Classico ($14.99)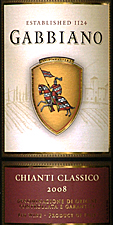 Dark garnet with scarlet glints against the light. Fresh blackberry and dark cherry aromas. Ripe and tart, black fruit, cleansing acidity and soft tannins, within food-friendly wine limits at 13.5% alcohol. Fine if not overly complex, it's a good-value representation of, well, "classic" Chianti. U.S. importer: TWE Imports, Napa, Calif. (Sept. 15, 2012)
FOOD MATCH: We served it with a stereotypically ethnic dinner, spaghetti with meat sauce, a.k.a. "gravy" in Italian-American heritage cookery. It serves just as well with simple but fancier fare, red meat or roast chicken.
WHEN TO DRINK: Fine for drinking now, and it will certainly hold up and perhaps evolve a bit over five years or so in the cellar. Look to Chianti Classico Riserva, though, for longer-term cellaring.
VALUE: While the middle-teens price I paid locally is certainly fair for a whine of this quality, it may pay to shop around, as Wine-Searcher.com lists an average retail $13 for this wine from U.S. vendors, with scattered shops offering it for $10 or less.
WEB LINK:
Here's a link to the Gabbiano Website. Click the flag buttons for your choice of English, Italian, French or German. To drill down directly to information about the wines in English, click here.
FIND THIS WINE ONLINE:
Locate vendors and compare prices for Gabbiano Chianti Classico on Wine-Searcher.com.
Gabbiano 2010 Chianti ($9.99)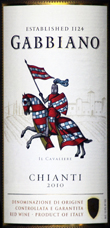 Very dark garnet, almost black at the core, bright crimson glints at the edge. Perfumed red fruit, tart cherries on the nose and palate at an approachable 13% alcohol. Good acidity and approachable tannins join cherry and plum flavors in an old-style, food-friendly Chianti. U.S. importer: TWE Imports, Napa, Calif. (Aug. 20, 2012)
FOOD MATCH: Red meat, poultry, and those lovable tomato-sauced Italian pastas are its natural partners, but I've found simple Chianti goes surprisingly well with the bright basil flavor of pesto. We enjoyed it with an outside-the-box esto of asparagus, walnuts and Parmigiano Reggiano over linguine.
WHEN TO DRINK: Basic Chianti is meant for early enjoyment, but you don't have to worry about it going around the bend for a few years yet. If you "lose" a bottle, it should be good through 2014 at least, assuming cool storage conditions. But it's best to look for the new vintage and enjoy it fresh.
VALUE:
This basic Chianti is a fair buy at $10, but according to Wine-Searcher.com it may be found for less, at an average U.S. price of $8 and several vendors offering it for $5.99. Find your best buy and stock up.
WEB LINK:
As noted above, check the Gabbiano Website for this English-language page on the wines.
FIND THIS WINE ONLINE:
Locate vendors and compare prices for Gabbiano Chianti on Wine-Searcher.com.
Talk About Wine Online
If you have questions, comments or ideas to share about today's article or wine in general, you're always welcome to drop by our online WineLovers Discussion Group, the Internet's first and still the most civil online community. To find our forums, click:
http://www.wineloverspage.com/forum/village
Discussions are open for public viewing, but you must register to post. Registration is free and easy; we ask only that you join following our Real Names Real Format system, using your real name in the format "John Doe" or "John D". Anonymous, cryptic or first-name-only registrations are discarded without notice.
Once your registration has been approved, which usually happens quickly, you'll be able to participate in all our online wine, food and travel forums.
To contact me by E-mail, write wine@wineloverspage.com. I'll respond personally to the extent that time and volume permit.
Subscriptions and Administrivia
Unsubscribe:
We're sorry if you must leave us, but simply click the "unsubscribe"
link at the bottom of your Email edition to be instantly removed from the mailing list.
Change address:
The quickest and easiest way to change your Email address is simply to register anew, using the link below. If you are keeping your old address but no longer wish to get the Wine Advisor there, click the unsubscribe link below to take it off our list; if you are closing the mailbox, you needn't take any action, as our system will delete your old address as soon as the mail to your old address starts to "bounce."
Subscribe to this weekly E-letter (free):
http://www.wineloverspage.com/wineadvisor
WineLoversPage.com RSS Feed (free):
http://feeds.feedburner.com/wineloverspage/tzva
Wine Advisor Archives:
http://www.wineloverspage.com/wineadvisor2/archives.php
Sponsorship Opportunities:
For information, E-mail wine@wineloverspage.com

We're sorry if you must leave us, though.
If you choose to leave our list, I'd appreciate it if you'd take a moment or two to tell us
how we could have better served you. Email Robin Garr at wine@wineloverspage.com.