Extra ... ordinary
Vin ordinaire ... try to say it as the French do and you can almost hear the snobbery dripping from your voice. Who wants wine that's ... ordinary?
Sometimes "ordinary" simply means "customary," "usual" or just plain "normal," something we enjoy every day when everything is going along just fine. Which brings us to today's featured wine, a tasty, comfortable, and yes, ordinary Bourgogne Grand Ordinaire.
Burgundy's everyday wine, the generic bottle that folks from Villefranche-sur-Saône all the way north to Tonnerre enjoy at the table with their everyday meal, may be ordinary by name, but it can be extraordinary in enjoyment. Made to go with food and intended to be affordable, it's the vinous equivalent of the comfort foods we remember from childhood.
As any Burgundy should, the red Ordinaire has some Pinot Noir in it. But unlike the pricey brand, it may blend in other, "lesser" grapes, even Gamay of Beaujolais, which thus makes its way back into Burgundy after Duke Philippe the Bold banned it in 1395. (Geeks will want to know that César or Tressot grapes may go into the red Ordinaire, while the white version may add Aligoté, Melon de Bourgogne and Sacy to Burgundy's traditional Chardonnay.)
Some sources argue that "Grand" Ordinaire was originally intended for church use, while the ordinary ordinaire was for the common folk; other references say the term "Grand" is merely a size reference, as grapes for this wine may come from anywhere in the large swath of eastern France that incorporates Bourgogne.
Today's featured wine, Louis Chavy 2010 Bourgogne Grand Ordinaire, is a blend of 67% Gamay and 33% Pinot Noir. Dark and fresh, it offers red berry scents and flavors, intriguing minerality and crisp, food-friendly acidity. My local $13 price approaches the higher end of its range and may stretch the meaning of "ordinary" just a bit, but in my opinion it's well worth the toll.
Today's Tasting Report
Louis Chavy 2010 Bourgogne Grand Ordinaire ($12.99)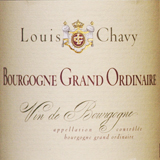 Dark ruby with crimson glints. Good red-berry scents with a pleasant, mineral hint of clean red clay. Juicy and tart, wild strawberry and raspberry flavors shaped by crisp, zippy acidity and a light, food-friendly 12% alcohol. Despite the predominance of Gamay in a 2-to-1 blend with Pinot Noir, it speaks more of simple Burgundy than Beaujolais. Bright and food-friendly, and that's a good thing. U.S. importer: Cutting Edge Selections, Mariemont, Ohio. (Aug. 31, 2012)
FOOD MATCH: As a sort of bridge between Beaujolais and Burgundy, it's a versatile food match with many dishes. Red meat, dark fish, mushrooms, cheese and tomatoes would all serve it well. It was fine with fresh garden eggplant and tomatoes in the Turkish classic dish, imam bayildi.
WHEN TO DRINK: By definition "Ordinaire" is meant to be drunk right up, but that said, I don't see any reason to fear this one going around the bend in a few months. I would drink it over the next year or two, though.
VALUE: Wine-Searcher.com lists an average retail $10 for this wine from U.S. vendors, and I later found another local shop offering it for $10.99, so my price was on the high end. Look for the best price you can find, but still, it's still a decent quality for price in the lower teens.
WEB LINK:
Burgundy Wines, the official Burgundy wine website, offers an excellent overview of Bourgogne Grand Ordinaire at this link.
FIND THIS WINE ONLINE:
Get information and prices for Chavy Bourgogne Grand Ordinaire at Wine-Searcher.com.
Talk About Wine Online
If you have questions, comments or ideas to share about today's article or wine in general, you're always welcome to drop by our online WineLovers Discussion Group, the Internet's first and still the most civil online community. To find our forums, click:
http://www.wineloverspage.com/forum/village
Discussions are open for public viewing, but you must register to post. Registration is free and easy; we ask only that you join following our Real Names Real Format system, using your real name in the format "John Doe" or "John D". Anonymous, cryptic or first-name-only registrations are discarded without notice.
Once your registration has been approved, which usually happens quickly, you'll be able to participate in all our online wine, food and travel forums.
To contact me by E-mail, write wine@wineloverspage.com. I'll respond personally to the extent that time and volume permit.
Subscriptions and Administrivia
Unsubscribe:
We're sorry if you must leave us, but simply click the "unsubscribe"
link at the bottom of your Email edition to be instantly removed from the mailing list.
Change address:
The quickest and easiest way to change your Email address is simply to register anew, using the link below. If you are keeping your old address but no longer wish to get the Wine Advisor there, click the unsubscribe link below to take it off our list; if you are closing the mailbox, you needn't take any action, as our system will delete your old address as soon as the mail to your old address starts to "bounce."
Subscribe to this weekly E-letter (free):
http://www.wineloverspage.com/wineadvisor
WineLoversPage.com RSS Feed (free):
http://feeds.feedburner.com/wineloverspage/tzva
Wine Advisor Archives:
http://www.wineloverspage.com/wineadvisor2/archives.php
Sponsorship Opportunities:
For information, E-mail wine@wineloverspage.com