Worldwide Sauvignon Blanc
Following directly on the heels of last month's Wine Focus on New Zealand, which naturally put a lot of Kiwi Sauvignon Blanc on the table, let's make the logical move from this into a study of Sauvignon Blanc around the world as our Wine Focus topic for September.
Sauvignon Blanc wins fans (and, frankly, some detractors) because of its highly aromatic nature. But its style can vary widely, from an in-your-face chile pepper and even "cat box" character to grapefruit to cool, fresh-mowed grass and hay; it can be fruit-forward or lean, and in some of its most intriguing examples, can show a subtle, complex minerality. Much depends on climate, soil and vineyard practice; give it sun and warmth and get ripe citrus; shade the grape bunches and keep them cool and gain "green" herbaceous aromas.
It's hard to think of a wine-growing area that can't produce Sauvignon Blanc: New Zealand has claimed it as a trademark variety, but it was a mainstay of France's Loire Valley for centuries before New Zealand became a nation; it's also important as the white wine of Bordeaux, in a blend with Semillon.
California is another center of Sauvignon Blanc production, where for generations it is alternatively marketed as Sauvignon Blanc or Fumé Blanc, originally in homage to the Loire's Sauvignon-based Pouilly-Fumé. In the early days, Mondavi intended "Fumé" to indicate a Sauvignon with a whiff of oak, distinguishing it from the regular oak-free Sauvignon. This distinction has been lost for a generation, though, and nowadays "Fum&eacute" is used, if at all, strictly as a marketing option.
Finally, a bit of Sauvignon Blanc trivia that may surprise you: In the 17th century, French vine growers experimentally crossed Sauvignon Blanc with Cabernet Franc to see what might emerge. The result was the great Cabernet Sauvignon of Bordeaux. Think about that, the next time you're inclined to give short shrift to Sauvignon Blanc.
How to participate in Wine Focus
You are warmly welcome to join us online in our Wine Focus: Worldwide Sauvignon Blanc in the WineLovers' Discussion Group. You're invited to bring your tasting notes, comments, questions, and thoughts about everything from tasting to viticulture to food-and-wine pairing and wine travel.
All forum discussions are open for public viewing, but you must register to post your comments and participate actively in the conversation. Registration is free and easy; we ask only that you join following our Real Names Real Format system. For your user name, enter your real name in the format "John Doe" or "John D", with the capital letters and the space.
Having a real name on your name tag is so important to us that all non-conforming registrations will be quietly discarded. Redemption is possible, though. If you overlook this rule and get no response to your registration, feel free to contact me personally by Email at wine@wineloverspage.com, and we'll sort it out.
Once your registration has been approved, which usually happens quickly with correctly formed user names, you'll be able to participate in Wine Focus and in all our online wine and food forums.
Today's Tasting Report
Foucher-LeBrun 2010 Sancerre Blanc Le Mont ($19.99)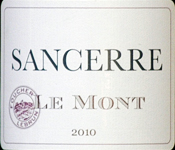 Clear straw color. White fruit aromas, pears and a whiff of honeydew. Dry and tart, medium-bodied ripe pear flavors follow the nose, snappy acidity and rational 12.5% alcohol as befits a wine meant for the table. There's distinct minerality there, too, reminiscent of the scent of a stream running over limestone, adding complexity that lifts it above the mundane level of Sauvignon Blanc. U.S. importer: Vanguard Wines LLC, Columbus. (Aug. 30, 2012)
FOOD MATCH: It would find a natural match in oysters or firm-fleshed river fish, or with summer's fresh vegetable bounty. We went the latter route with bowls of fresh okra and tomato gumbo, Cajun style but with the spicy heat held back to keep it in tune with the dry, tart wine.
WHEN TO DRINK: Some "connoisseurs" do cellar high-quality Sancerre for up to a decade in the interest of developing subtle complexity, but this requires an excellent cellar that can hold a steady 55F (13C). I'd be more inclined to enjoy this one over three years or so past the vintage, which would eliminate excess angst about cellar conditions.
VALUE: The $20 point is certainly fair for a high-quality Sancerre of a recent vintage. Still, Wine-Searcher.com shows a median $17 for this wine from U.S. Vendors, with at least one retailer claiming a $14 price point, so it may pay to shop around.
WEB LINK:
Here's a brief look at the Sancerre Le Mont on producer Foucher-LeBrun's website in English.
FIND THIS WINE ONLINE:
Locate vendors and compare prices for Sancerre Le Mont on Wine-Searcher.com.
Talk About Wine Online
If you have questions, comments or ideas to share about today's article or wine in general, you're always welcome to drop by our online WineLovers Discussion Group, the Internet's first and still the most civil online community. To find our forums, click:
http://www.wineloverspage.com/forum/village
Discussions are open for public viewing, but you must register to post. Registration is free and easy; we ask only that you join following our Real Names Real Format system, using your real name in the format "John Doe" or "John D". Anonymous, cryptic or first-name-only registrations are discarded without notice.
Once your registration has been approved, which usually happens quickly, you'll be able to participate in all our online wine, food and travel forums.
To contact me by E-mail, write wine@wineloverspage.com. I'll respond personally to the extent that time and volume permit.
Subscriptions and Administrivia
Unsubscribe:
We're sorry if you must leave us, but simply click the "unsubscribe"
link at the bottom of your Email edition to be instantly removed from the mailing list.
Change address:
The quickest and easiest way to change your Email address is simply to register anew, using the link below. If you are keeping your old address but no longer wish to get the Wine Advisor there, click the unsubscribe link below to take it off our list; if you are closing the mailbox, you needn't take any action, as our system will delete your old address as soon as the mail to your old address starts to "bounce."
Subscribe to this weekly E-letter (free):
http://www.wineloverspage.com/wineadvisor
WineLoversPage.com RSS Feed (free):
http://feeds.feedburner.com/wineloverspage/tzva
Wine Advisor Archives:
http://www.wineloverspage.com/wineadvisor2/archives.php
Sponsorship Opportunities:
For information, E-mail wine@wineloverspage.com