This Week's sponsor
Drink Better and Save up to 74%!
The California Wine Club is having their last big wine sale of the year, and you are invited to save. Why choose mass-produced wines from the confusing wall of wine at your local store when you can treat yourself to handcrafted gems on sale for up to 74% off plus just $1 shipping on every case?
Click here to Shop Now!
Ruby, Tawny or Black?
Some people think of wine as seasonal: Cool "summer sippers" are reserved for the dog days of August. Brisk rosés serve in sunny spring. Big red wines go with substantial winter dinners. And Port, of course, must be saved for blustery cold weather, with logs crackling in the fireplace.
Not so, say I! If we are to be so limited by the seasons, then why was air-conditioning created? In other words, when I'm in the mood for a sprightly white, a robust red or a delicious glass of sweet, strong Port, I see no reason to wait until the "proper" time of year.
And so it was the other day, when I spotted a bottle with the intriguing label "Black Port," I took it home to open that very evening, despite the oppressive heat of August.
Noval "Black" Porto proved to be a pretty decent example of the genre, too. It shed a raw alcoholic edge and became a little more rounded after four or five days "breathing" in the open bottle than it was on the first night, but either way it was a decent value at $20 or so.
If you're wondering how "Black" Port fits into the standard hierarchy of Ruby, Tawny and Vintage Port, don't worry about having to memorize something else. It's not a new category but, apparently, an eye-catching way to market a standard Ruby (non-vintage, usually made from younger vines) in a glossy black bottle. Ruby isn't really red; "Black" isn't really black. It's standard Port-y purple, and it appears to be a way for Port-maker Quinta do Noval to use up the fruit from acres of recently re-planted vines that haven't gained enough age to go into the pricey Vintage Port.
Anyway, I passed on lighting the fireplace, but with the air-conditioning keeping our house at a comfortable temperature, it was perfectly fine after a light summer dinner, and Bacchus didn't strike me with bolts of wine-dark lightning for breaking the rules of wine seasons.
Of course, I can't open a bottle of Port without thinking about what to eat with it, a topic that I took on in some detail in an article around Thanksgiving season last year, "Pass the Port ... and the cheese," where I tried another Ruby with samples of walnuts, fresh fruit, dried fruit and goat cheese.
The goat cheese - a local favorite from Capriole Farmstead in Southern Indiana - won that battle. So this time I decided to match it against a couple of other kinds of cheese. The idea came up at the spur of the moment, and the cupboard was fairly bare, bereft of the traditional Stilton or any fancy turophile (cheese-geek) cheeses. But I rounded up a block of sharp Cheddar ("rat cheese") and a couple of wax-covered rounds of mini Babybel, as well as a log of mild Capriole, and we started tasting and sipping.
* The Capriole, which had been good enough to beat out the fruit and nuts in last year's tasting, wasn't bad at all, but in this pairing the tangy cheese was almost too much for the sweet-tart Port. Tasting them together, the cheese out-shouted the wine, winning a battle of volume rather than singing sweet harmony.
* Babybel is a very mild, buttery commercial cheese made in a factory in Leitchfield, Ky., so I might declare it locavore, but it's industrially made, shunned by cheese snobs. Nevertheless, it actually worked quite well with this Port. Its creamy fat coats the palate and makes the wine seem much more smooth.
* The Kroger "rat" cheese proved best of the three. It worked like the Babybel to soften the wine, while its more distinct sharp flavor made a good pairing with the wine without overpowering it. A similar artisanal cheese, Gloucestershire or, to keep it local, Kenny's Kentucky Farmhouse Cheddar, would likely go better still. I may have to try another Port before the snow flies, just to check this out.
Today's Sponsor
Drink Better and Save up to 74%!
The California Wine Club is having their last big wine sale of the year, and you are invited to save. Why choose mass-produced wines from the confusing wall of wine at your local store when you can treat yourself to handcrafted gems on sale for up to 74% off plus just $1 shipping on every case?
Click here to Shop Now!
Hundreds of award-winning wines are waiting for you, including:
* 2007 Cabs (the latest "gotta-have-it" wine). Choose from 27 Cabs from that stellar vintage. Click Here.
* 10 mouth-watering wines we discovered by going over the river, through the woods and down the back roads of wine country, each under $10. Click Here.
* 25 of California's best Pinot Noirs with prices as low as $10.99 and 95+ point rated treasures discounted 30-40%.
* 15 Chardonnays, from crisp to buttery! Plus, a generous selection of Viognier, Sauvignon Blanc and Pinot Grigio for white wine lovers.
* Elegant Aged Napa Valley Cabs tucked away in reserve and ready to enjoy now.
* Exciting, limited-production wines from France, Italy, Australia and Spain.
* Dozens of juicy Zins, spicy Syrahs, bold Merlots, enticing Sangioveses and unique blends.
Click here to see 200+ wines on sale or call 1-800-777-4443 to speak to a wine consultant.
Your Top 3 Reasons to Order:
* You deserve artisan, handcrafted quality.
* It's a convenient and affordable way to stock up for the holidays.
* Every wine is guaranteed, so you can try new wines without risk.
Don't wait, due to limited quantities, popular wines will sell out quickly.
Today's Tasting Report
Noval NV "Black" Porto ($21.99)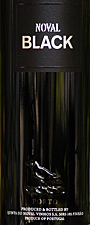 Dark blackish purple with a clear garnet edge. A bit of alcoholic burn on the nose, giving way to spicy black plums and prunes. Warm black fruit on the palate, a bit thin compared to more costly Port, and showing distinct alcoholic heat, but it does give a hint of Port style. A bit of mild cheese definitely helps bring it into balance. After four or five days in the open bottle, simply left at room temp with the cork pushed back in, oxidation has roughly approximated aging and the wine is much more approachable; dark, plummy fruit is now forward, with little sense of alcohol on the nose or palate despite its Port-typical 19.5% alcohol content; it seems more full-bodied and a much better representation of quality, albeit non-vintage, Port. U.S. importer: Vintus LLC, Pleasantville, N.Y. (Aug. 19, 2012)
FOOD MATCH: As reported above, it demonstrates Port's facility with cheeses, particularly mild, creamy cheeses that can ameliorate its alcoholic heat upon first opening.
WHEN TO DRINK: While Vintage Port can last for decades, Ruby Port is really intended to be drunk up reasonably soon, and the tiny "T-cork" closure here is simply not meant for cellaring. That said, I wouldn't worry about keeping one for a year or even three, particularly given the improvement it shows with rough-and-ready "breathing."
VALUE: Compared with the more lofty prices of Vintage and even Late Bottled Port, this one is fairly priced against the competition in its niche. Wine-Searcher.com indicates that my $21 local price is right on the national median, but it's listed here and there for as little as $16 or $17.
WEB LINK:
Noval's Black Port website is essentially a slick television commercial online, with limited promotional information. It's available in English, Portuguese and French, grabs your browser and opens a new full-screen window without asking first, and requires a click to confirm that you're of legal drinking age, a barrier that I find a bit odd given that they're not going to pour a free sample out of your computer's CD drawer.
You'll also find information about Black Port on the company's Facebook page.
FIND THIS WINE ONLINE:
Locate vendors and compare prices for Noval Black Port on Wine-Searcher.com.
Talk About Wine Online
If you have questions, comments or ideas to share about today's article or wine in general, you're always welcome to drop by our online WineLovers Discussion Group, the Internet's first and still the most civil online community. To find our forums, click:
http://www.wineloverspage.com/forum/village
Discussions are open for public viewing, but you must register to post. Registration is free and easy; we ask only that you join following our Real Names Real Format system, using your real name in the format "John Doe" or "John D". Anonymous, cryptic or first-name-only registrations are discarded without notice.
Once your registration has been approved, which usually happens quickly, you'll be able to participate in all our online wine, food and travel forums.
To contact me by E-mail, write wine@wineloverspage.com. I'll respond personally to the extent that time and volume permit.
Subscriptions and Administrivia
Unsubscribe:
We're sorry if you must leave us, but simply click the "unsubscribe"
link at the bottom of your Email edition to be instantly removed from the mailing list.
Change address:
The quickest and easiest way to change your Email address is simply to register anew, using the link below. If you are keeping your old address but no longer wish to get the Wine Advisor there, click the unsubscribe link below to take it off our list; if you are closing the mailbox, you needn't take any action, as our system will delete your old address as soon as the mail to your old address starts to "bounce."
Subscribe to this weekly E-letter (free):
http://www.wineloverspage.com/wineadvisor
WineLoversPage.com RSS Feed (free):
http://feeds.feedburner.com/wineloverspage/tzva
Wine Advisor Archives:
http://www.wineloverspage.com/wineadvisor2/archives.php
Sponsorship Opportunities:
For information, E-mail wine@wineloverspage.com