Cahors, the original Malbec
How quickly things change in the world of wine. What was new becomes old, and what was old becomes new again. Like Malbec, for instance.
I've told this story before: Malbec, originally a prized partner in the French Bordeaux blend, fell out of favor in the old country in modern times, but it became a trademark grape in New World Argentina, where wine makers - many of Italian heritage - used Malbec in earthy, robust table wines from beautiful Mendoza on the slopes of the Andes.
I came to love this Argentine red, not only because it was cheap but because it spoke not only of its fruit but the soil in which it grew. A glass of the stuff inspired me to write these words in the autumn of 2004, only eight years ago:
Malbec, almost alone in its market niche, isn't only about fruit. Although its fruit is usually forward and easy to enjoy, it almost offers a pleasant earthiness, a hint of clean, moist clay that suggests a sense of place in a distinctly Old World way.
If you find it hard to visualize a desirable aroma or flavor component in wine that's reminiscent of mud, let's consider an analogy that, for me, helps explain minerality in wine: We recently endured a 39-day late-summer drought in these parts, a dry spell that finally ended with long and heavy rains last week.
Now, think about walking outdoors after such a drought-breaking rain, and watch the clean runoff water trickling down over hard-baked clay and dusty limestone. Take a deep breath. Remember that fresh, aromatic, earthy smell? When I pick up an aroma like that in wine, it pleases me in a deep and compelling fashion that's much more emotional than rational and that takes me back a very long way. This scent of the earth makes an appealing adjunct to simple fruit, and I consistently find it in Malbec.
That was then. Now? Not so much. Over the past decade, it seems, many - perhaps most - Argentine producers have jumped on the bandwagon of "international style," seeking a U.S. Market by tamping down the earthy minerality in Malbec in favor of high-alcohol, fruit-forward blockbusters. (With dinner recently at a local Argentine restaurant, a Malbec from Valentin Bianchi did show some Mendoza terroir but it also came in at 14 percent-plus. It worked with steaks from the parrilla grill, but the alcohol wasn't entirely food-friendly.)
So what's a lover of old-school Malbec to do? The other day, shopping for wine at Trader Joe's, I ran into one happy option: Cahors, the Southwestern French wine region not far from Bordeaux, is one place where Malbec (sometimes called "Auxerrois" in this area) is an ancient tradition that has not lost respect.
While even Cahors has evolved a bit over the centuries, showing a bit more finesse than the old style nicknamed "Black Wine of Cahors," it generally remains true to the variety and a capable partner at the dinner table. J.P. Chenet 2009 Cahors Malbec ($10.99) proved a good example at a fair price. You'll find my tasting notes below, along with a Wine-Searcher.com link to more than 200 Cahors for those who want other options or simply don't have a Trader Joe's nearby.
Today's Tasting Report
J.P. Chenet 2009 Cahors Malbec ($10.99)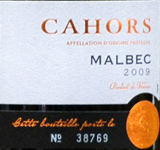 Very dark, blackish-purple, with a clear edge. Good black and red currant aroma with just a whiff of black olive. Subtle currant fruit on the palate, crisp acidity and, with swishing and breathing, subtle mineral hints of rainwater over rocks; red-wine standard 13.5% alcohol, tart acidity and firm tannins persist in a long finish. U.S. importer: Latitude Wines Inc., Danville, Calif. (Aug. 9, 2012)
FOOD MATCH: A wine made for red meat - Argentine grilled parrilla steaks are classic - it worked well with lightly spiced cevapcici, Bosnian style burgers.
WHEN TO DRINK: Good balance and the Malbec variety should ensure graceful aging, but the tiny, synthetic stopper does not generate confidence. Based on sad experience with this type closure, I'd recommend drinking up within the next year or two.
VALUE: The price near $10 is entirely fair for this good table red. It appears that this Malbec is available exclusively at Trader Joe's stores, but you might browse Wine-Searcher.com link for other affordable varietal wines from J.P. Chenet.
PRONUNCIATION:
Cahors = "Cah-ore"
WEB LINK: Here's a link to J.P. Chenet, a large French wine-export firm known for its modestly priced wine in odd, stubby bottles.
FIND THIS WINE ONLINE:
Trader Joe's appears to be the only source of J.P. Chenet Malbec in the U.S. Check your local shop for availability. Other affordable J.P. Chenet varietal wines are available, though. Use this Wine-Searcher.com link to find them. Or you can browse more than 200 Cahors from other producers on Wine-Searcher.com.
Talk About Wine Online
If you have questions, comments or ideas to share about today's article or wine in general, you're always welcome to drop by our online WineLovers Discussion Group, the Internet's first and still the most civil online community. To find our forums, click:
http://www.wineloverspage.com/forum/village
Discussions are open for public viewing, but you must register to post. Registration is free and easy; we ask only that you join following our Real Names Real Format system, using your real name in the format "John Doe" or "John D". Anonymous, cryptic or first-name-only registrations are discarded without notice.
Once your registration has been approved, which usually happens quickly, you'll be able to participate in all our online wine, food and travel forums.
To contact me by E-mail, write wine@wineloverspage.com. I'll respond personally to the extent that time and volume permit.
Subscriptions and Administrivia
Unsubscribe:
We're sorry if you must leave us, but simply click the "unsubscribe"
link at the bottom of your Email edition to be instantly removed from the mailing list.
Change address:
The quickest and easiest way to change your Email address is simply to register anew, using the link below. If you are keeping your old address but no longer wish to get the Wine Advisor there, click the unsubscribe link below to take it off our list; if you are closing the mailbox, you needn't take any action, as our system will delete your old address as soon as the mail to your old address starts to "bounce."
Subscribe to this weekly E-letter (free):
http://www.wineloverspage.com/wineadvisor
WineLoversPage.com RSS Feed (free):
http://feeds.feedburner.com/wineloverspage/tzva
Wine Advisor Archives:
http://www.wineloverspage.com/wineadvisor2/archives.php
Sponsorship Opportunities:
For information, E-mail wine@wineloverspage.com