When labels babble
Welcome to another of my periodic rants about wine labels that seem to be informative but that in fact appear to have been dreamed up by advertising copy writers whose wine expertise may be in doubt.
Let me emphasize that wacky label language does not necessarily imply bad wine in the bottle. Indeed, the subject of today's dissertation, Chateau des Cleons 2010 Muscadet Sèvre et Maine Sur Lie, priced at a remarkable, back-up-the-truck $6.99 at Trader Joe's, is a splendid, crisp and minerally table wine for summertime or any time.
But I couldn't help chuckling at - and sharing with you - a couple of bits of label advice that left me shaking my head. Let's take a peek at them, briefly, not to make fun but to make a few points about enjoying wine.
* "Grape variety, Melon. Pale yellow colour, soft palate." Okay, fair enough, the Melon ("meh-lawN") du Bourgogne is indeed the grape variety of Muscadet, but I'm not sure this capsule description is helpful. When I hear "soft palate," I think "roof of my mouth," but maybe that's just me. Still, this tart, acidic white strikes me as anything but soft in flavor.
* "Serve between 46F and 48F." Now, this is the kind of wine advice that makes me crazy. Most people are wary of fine wine because they think there are too many rules, and the rules are too finicky. Advice like this, implying that you need to bring a thermometer to the table, prompts most people to have a beer instead. "Serve chilled but not ice cold" or "remove from the fridge a half-hour before serving" will get you into the right range, and that's all you need. Let's not throw up barriers to entry for wine appreciation, please.
* "Serve ... with starters and seafood dishes." Okay, I know I said last week that "Most wines go with most foods most of the time," so now I may appear to be contradicting myself. But "starters and seafood dishes." Really? Does "starters" mean fried calamari or nachos or deviled eggs? Does "seafood dishes" mean pale Dover sole or oily mackerel or tunafish casserole? This makes a difference. As I suggest in the tasting note below, I like Muscadet with spicy Asian dishes, and its classic pairing is with the fresh, briny oysters caught just offshore from the Muscadet wine region at the mouth of the Loire. It's good with other delicate, sweet shellfish, too; seared scallops, for instance. The point is, there is a fine line between being too specific and not specific enough.
So, we parse a few bits of wine advice from a small back label that, perhaps, sought to say too much with too little space to do it. Enough said! Be assured, again, that the wine is just fine, and at $7, a bargain the likes of which I haven't seen for a while.
Is Chianti a summer sipper?
Italian wines are simply made to go with food, I say, and the affinlity of a Chianti or its cousins for a steak or burger, pizza or spaghetti alla marinara doesn't go away just because it's searing hot outside.
That's why, despite record heat and drought conditions in much of the U.S. this month, we've chosen Chianti & Co. as summer table wines as our Wine Focus for July in the WineLovers' Discussion Group.
We're looking not at the fancy high-end Italian stuff, no trophy Super Tuscans or Barolos or Barbarescos or whatnot, but just the meat and potatoes - er, pasta - of everyday Italian food and drink. Chianti, of course, particularly the values we find when we troll the bargain bins. Montepulciano d'Abruzzo, Valpolicella and Rosso di Wherever and more. You're invited to share your notes on these amiable wines, with extra points if you delve into the intriguing field of food-and-wine pairing when it's too darn hot.
All forum discussions are open for public viewing, but you must register to post your comments and participate actively in the conversation. Registration is free and easy; we ask only that you join following our Real Names Real Format system. For your user name, enter your real name in the format "John Doe" or "John D", with the capital letters and the space.
Having a real name on your name tag is so important to us that all non-conforming registrations will be quietly discarded. Redemption is possible, though. If you overlook this rule and get no response to your registration, feel free to contact me personally by Email at wine@wineloverspage.com, and we'll sort it out.
Once your registration has been approved, which usually happens quickly with correctly formed user names, you'll be able to participate in Wine Focus and in all our online wine and food forums.
Today's Tasting Report
Chateau des Cleons 2010 Muscadet Sèvre et Maine Sur Lie ($6.99)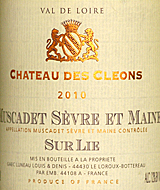 Transparent and very pale straw color. Good, characteristic scents of Muscadet, fresh dates and minerals, chalk and sea shells. Dates and green figs on the palate, tart, lip-smacking acidity, and a distinct minerally note in a long finish. Tart acidity and moderate 12% alcohol make it an exceptional drink for the dinner table. U.S. importer: Plume Ridge, Clermont, Calif. (July 19, 2012)
FOOD MATCH: I like Muscadet with spicy Asian dishes; it was fine with a fairly fiery Indian okra curry. The back label suggests seafood in general; it would be excellent, indeed, with fresh oysters or seared scallops.
WHEN TO DRINK: Muscadet should last a year or two, but the flesh-colored synthetic plug does not inspire confidence in its cellarability. Drink it up this year and watch for the 2011.
VALUE: You'll rarely find a wine this good for a price this cheap.
PRONUNCIATION:
Muscadet Sèvre et Maine Sur Lie = "Moos-cah-deh Sev eh Man Soor Lee"
FIND THIS WINE ONLINE:
Wine-Searcher.com comes up short on vendors for Chateau des Cleons, but click here for Wine-Searcher links to many Muscadet labels and vendors and additional information about Muscadet.
I got this wine at Trader Joe's, and suggest using this source, if available, to find Chateau des Cleons at this low-end price. Click here for Trader Joe's Wine Guide.
Talk About Wine Online
If you have questions, comments or ideas to share about today's article or wine in general, you're always welcome to drop by our online WineLovers Discussion Group, the Internet's first and still the most civil online community. To find our forums, click:
http://www.wineloverspage.com/forum/village
Discussions are open for public viewing, but you must register to post. Registration is free and easy; we ask only that you join following our Real Names Real Format system, using your real name in the format "John Doe" or "John D". Anonymous, cryptic or first-name-only registrations are discarded without notice.
Once your registration has been approved, which usually happens quickly, you'll be able to participate in all our online wine, food and travel forums.
To contact me by E-mail, write wine@wineloverspage.com. I'll respond personally to the extent that time and volume permit.
Subscriptions and Administrivia
Unsubscribe:
We're sorry if you must leave us, but simply click the "unsubscribe"
link at the bottom of your Email edition to be instantly removed from the mailing list.
Change address:
The quickest and easiest way to change your Email address is simply to register anew, using the link below. If you are keeping your old address but no longer wish to get the Wine Advisor there, click the unsubscribe link below to take it off our list; if you are closing the mailbox, you needn't take any action, as our system will delete your old address as soon as the mail to your old address starts to "bounce."
Subscribe to this weekly E-letter (free):
http://www.wineloverspage.com/wineadvisor
WineLoversPage.com RSS Feed (free):
http://feeds.feedburner.com/wineloverspage/tzva
Wine Advisor Archives:
http://www.wineloverspage.com/wineadvisor2/archives.php
Sponsorship Opportunities:
For information, E-mail wine@wineloverspage.com