This Week's sponsor
Wine maps, Metro style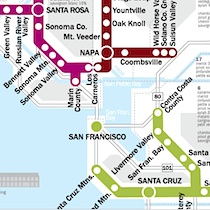 De Long does it again with Dr. David Gissen's new Metro WIne Map of California, a follow-up to his critically acclaimed Metro Wine Map of France. It's a fun and informative way to look at the wine regions, laid out pictorially in the format of a Paris Metro or New York subway map. These quality 18 x 24 inch maps are $24.95, £20 or 20€. Click the links above or visit De Long Company online
Is good $8 Burgundy possible?
Did he just say "$8 Burgundy"? That's a joke, right?
In a world where a bottle of 2009 Domaine de la Romanée-Conti La Tâche retails for around $3,400, if you can find it; and when even a more modest Burgundy like, say, Louis Jadot 2009 Clos de Vougeot Grand Cru will set you back $140 or thereabouts, the idea of an $8 Burgundy - much less a drinkable $8 Burgundy - seems faintly ridiculous.
Yet I'm here to testify that I recently enjoyed a bottle of Blason de Bourgogne 2010 Bourgogne Pinot Noir with considerable pleasure, and its $7.99 price tag only enhanced the emotion.
Was it great wine? Certainly not. But it was fresh, simple and crisp, a good food wine and a good, characteristic example of basic Burgundy Pinot Noir from an 800-grower Burgundy cooperative that produces affordable, drinkable table wines mostly for the European market. At that price, there's not much left to complain about.
What we have here is mostly a case of expectations: I wasn't counting on a La Tâche experience and didn't get one. But I can't afford to pay La Tâche prices for everyday drinking, or, now that I think about it, for any day drinking. To be frank, with a limited number of good, interesting table wines for less than $10 in today's market, it's worth celebrating when you find one.
Bourgogne Pinot Noir, the most generic appellation in Burgundy, may incorporate Pinot Noie grapes grown anywhere in the Burgundy region, although the chances that any of them came from vineyards favored by microclimate or history are slim. But in a good vintage, even the more modest wines can stand out, and Burgundy is shaping up with two decent, albeit very different, vintages in a row.
The season of 2009 in Burgundy was one of those favored years that produced ripe red wines that are easy to enjoy; when you see an '09 within your price range, it's usually a safe bet. The 2010 vintage was a little more, um, "exciting" for the region's producers, with a combination of cool and wet conditions inspiring little hope until conditions improved toward harvest time. The result, according to early reports, tends toward wines more lean and acidic, yet with the character that well structured wines can show when fruit and acidity come into balance. Even at this bargain-basement price, the 2009 Blason de Bourgogne clearly says "Burgundy" from the glass.
Look for it at your local Trader Joe's, or if you can't find this one, browse other 2010 Bourgogne Pinot Noir on Wine-Searcher.com.
Today's Tasting Report
Blason de Bourgogne 2010 Bourgogne Pinot Noir ($7.99)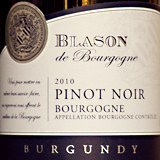 Clear ruby with reddish-orange glints. Good, typical basic Bourgogne, tart cherries and a hint of spice on the nose and palate. Good, crisp acidity frames simple but juicy tart-cherry fruit, moderate in alcohol at 12.5 percent. Fine tale wine and an exceptional value. U.S. importer: Plume Ridge, Claremont, Calif. (June 1, 2012)
FOOD MATCH: The back label offers good advice: "simple supper dishes such as pasta and pizza or tuna niçoise." Don't overlook summer's veggie bounty. It was outstanding with a gratin of fresh farmers' market zucchini, yellow summer squash and new red potatoes.
WHEN TO DRINK: Even simple Pinot Noir can reward cellaring, but at this price level it makes more sense to drink it up in a year or two.
VALUE: Back up the truck to the wine-shop door.
WEB LINK Here is Blason de Bourgogne's PDF fact sheet on the Bourgogne Pinot Noir.
FIND THIS WINE ONLINE:
Wine-Searcher.com shows only sources in Europe and Asia for Blason de Bourgogne, hinting that Trader Joe's cornered the U.S. Market on this goodie. Check with your nearest TJ's outlet in hope it's in stock; contact importer Plume Ridge for information about other vendors, or use this Wine-Searcher.com link to browse other 2010 Bourgogne Pinot Noir.
Talk About Wine Online
If you have questions, comments or ideas to share about today's article or wine in general, you're always welcome to drop by our online WineLovers Discussion Group, the Internet's first and still the most civil online community. To find our forums, click:
http://www.wineloverspage.com/forum/village
Discussions are open for public viewing, but you must register to post. Registration is free and easy; we ask only that you join following our Real Names Real Format system, using your real name in the format "John Doe" or "John D". Anonymous, cryptic or first-name-only registrations are discarded without notice.
Once your registration has been approved, which usually happens quickly, you'll be able to participate in all our online wine, food and travel forums.
To contact me by E-mail, write wine@wineloverspage.com. I'll respond personally to the extent that time and volume permit.
Subscriptions and Administrivia
Unsubscribe:
We're sorry if you must leave us, but simply click the "unsubscribe"
link at the bottom of your Email edition to be instantly removed from the mailing list.
Change address:
The quickest and easiest way to change your Email address is simply to register anew, using the link below. If you are keeping your old address but no longer wish to get the Wine Advisor there, click the unsubscribe link below to take it off our list; if you are closing the mailbox, you needn't take any action, as our system will delete your old address as soon as the mail to your old address starts to "bounce."
Subscribe to this Email edition (free):
http://www.wineloverspage.com/wineadvisor
WineLoversPage.com RSS Feed (free):
http://feeds.feedburner.com/wineloverspage/tzva
Wine Advisor Archives:
http://www.wineloverspage.com/wineadvisor2/archives.php
Sponsorship Opportunities:
For information, E-mail wine@wineloverspage.com