This Week's sponsor
Treat Dad to a California Wine Adventure!
Give 4 months of award-winning wine for the price of 3! Special Offer: Save $49.95! Click here or call 1-800-777-4443 and use Promo Code: PERFECT when ordering and get a 4-month gift for just $145 (plus taxes where applicable; includes shipping and handling).
Click here!
Say it in Italiano
"La dolce vita." "O sole mio." "Cacciatore" and "Chianti," "Ferragamo" and "Ferrari," "Arrivederci" and "Ciao." You may not know it, but even if you don't believe you know a word of Italian, you may already be speaking it more fluently than you think.
Given the everyday exposure that most of us enjoy to Italian food, wine, music, pop culture and fine design, we hear Italian all around us and practically pick it up by osmosis.
Nevertheless, a lot of English speakers remain awkwardly uneasy about asking for Italian wines by name. Happily, I recently ran across an attractive Website that makes this task easy and entertaining.
Click to check out the Italian Grape Name and Appellation Pronunciation Project, a set of brief YouTube videos featuring Italian wine makers posed in their vineyards and wineries, briefly reciting the names of about 30 Italian wine-grape varieties. Want to know how to say "Aglianico del Vulture" or "Sangiovese Grosso" or even "Schioppetino" almost like a native? You'll find them here; and more, I imagine, are on the way.
Blogger Jeremy Parzen, a food and wine historian, Italian translator, and rock musician and Ph. D., says he was inspired to build this project "to share the aural experience of Italian ampelography, vinography, and toponymy" in the voices of the wine makers and grape growers themselves.
Parzen has published the Do Bianchi blog since 2007, he says, "to offer readers a humanist perspective into the world of Italian wine and food." I can certainly get on board with that, and recommend bookmarking or subscribing to his blog at the link above.
In my own continued celebration of things Italian, I recently picked up a refreshing Prosecco at Trader Joe's, at just $6.99 one of the best quality-price-ratio wines I've enjoyed in quite some time.
Martellozzo non-vintage Prosecco Vino Frizzante ($6.99) brings an artisanal look to the table with its cork tied down with soft white twine to hold the bubbles in. It was a rather fat cork in a surprisingly narrow bore, very difficult to pry out. I used my sturdiest waiter's style corkscrew on it, and would strongly advise against using a Rabbit or similar automated device for fear of damage. (Don't worry about opening this fizzy wine with a corkscrew, by the way. Although that's a dangerous practice with Champagne and similar fully carbonated sparkling wines, this Prosecco shows more gentle bubbles, opening with only a soft pop.
The wine's a good one, though, further underscoring my opinion that if you want cheap bubbly and aren't up to paying Champagne prices on any given day, you won't find better low-price fizz than Prosecco. My tasting notes are below.
Today's Sponsor
Treat Dad to a California Wine Adventure!
Give 4 months of award-winning wine for the price of 3!
Delicious, artisan handcrafted California wine is a unique gift he is sure to enjoy. And with The California Wine Club, he'll get to enjoy a new winery and a new wine adventure every month.
Each gift month is just $49.95 (includes shipping and handling) and features:
* Two bottles of award-winning, limited-production wine hand-selected from California's best "mom & pop" wineries.
* A tasty lesson in wine with Uncorked® magazine. Uncorked takes readers inside the featured winery and is filled with easy-to-read wine facts, tasting notes, wine tips, recipes, wine country insight and more!
* The California Wine Club's 100% satisfaction guarantee!
Special Offer: Save $49.95! Click Here or call 1-800-777-4443 and use Promo Code: PERFECT when ordering and get a 4-month gift for just $145 (plus taxes where applicable; includes shipping and handling). Send as many months as you wish and save even more on gifts of 6, 9, and 12 months!
Today's Tasting Report
Martellozzo NV Prosecco Vino Frizzante ($6.99)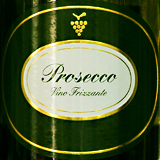 As the Italian description "frizzante" suggests, it opens with a gentle pop, not a bang, and pours out with frothy bubbles that dissipate quickly, leaving no bubbly fountain but a distinct prickly sense of carbonation on the tongue. Light aroma and flavor of citrus and pears, crisp and refreshing, quaffable at a light 10.5% alcohol, wrapping up with a clean and fresh if rather short finish. U.S. importer: Americal Beverage Group Inc., San Clemente, Calif. (June 5, 2012)
FOOD MATCH: The back label suggests drinking it as an aperitif or with fresh seafood or light fruit dishes. It was beautiful with garlicky roasted asparagus over creamy polenta made with Capriole Indiana goat cheese.
WHEN TO DRINK: Modest Prosecco is not a wine for keeping. Enjoy it this summer while it's young and fresh, then move on.
VALUE: The few U.S. hits on this wine reported on Wine-Searcher.com don't even come close to this bargain-basement toll I paid at Trader Joe's.
PRONUNCIATION:
Prosecco = "Proh-SEC-koh"
Martellozzo = "MAR-tell-LOWDZ-zoh"
To see and hear Veneto wine maker Matteo Bisol say "Prosecco" in Italian, Click this YouTube link.
FIND THIS WINE ONLINE:
As noted, Wine-Searcher.com offers little help for U.S. consumers on Martellozzo Prosecco, although some European prices are attractive. I suggest checking with your nearest Trader Joe's wine shop in hope you can find some of the stash I tapped into.
Talk About Wine Online
If you have questions, comments or ideas to share about today's article or wine in general, you're always welcome to drop by our online WineLovers Discussion Group, the Internet's first and still the most civil online community. To find our forums, click:
http://www.wineloverspage.com/forum/village
Discussions are open for public viewing, but you must register to post. Registration is free and easy; we ask only that you join following our Real Names Real Format system, using your real name in the format "John Doe" or "John D". Anonymous, cryptic or first-name-only registrations are discarded without notice.
Once your registration has been approved, which usually happens quickly, you'll be able to participate in all our online wine, food and travel forums.
To contact me by E-mail, write wine@wineloverspage.com. I'll respond personally to the extent that time and volume permit.
Subscriptions and Administrivia
Unsubscribe:
We're sorry if you must leave us, but simply click the "unsubscribe"
link at the bottom of your Email edition to be instantly removed from the mailing list.
Change address:
The quickest and easiest way to change your Email address is simply to register anew, using the link below. If you are keeping your old address but no longer wish to get the Wine Advisor there, click the unsubscribe link below to take it off our list; if you are closing the mailbox, you needn't take any action, as our system will delete your old address as soon as the mail to your old address starts to "bounce."
Subscribe to this Email edition (free):
http://www.wineloverspage.com/wineadvisor
WineLoversPage.com RSS Feed (free):
http://feeds.feedburner.com/wineloverspage/tzva
Wine Advisor Archives:
http://www.wineloverspage.com/wineadvisor2/archives.php
Sponsorship Opportunities:
For information, E-mail wine@wineloverspage.com