This Week's sponsor
Try it. You'll like it!
Special Offer for Wine Advisor Readers: Give The California Wine Club a try and get your first three monthly shipments for 50% off! Click here or call 1-800-777-4443 and use Promo Code: MAYWA.
High-octane wines getting pushback?
For the past year or so, I've taken to routinely mentioning the alcohol level of most of the wines I review, figuring that this might be useful information in a world of rising wine-alcohol content. To my interest, far more of you say you appreciate this as a guide to gentler wines than to the high-octane stuff.
It has been about a year since I last discussed this evergreen topic in "More alcohol, less pleasure?" in The 30 Second Wine Advisor, June 10, 2011. Then, the other night, thoughts of the pleasures of rational alcohol levels crossed my mind as we enjoyed a simple Burgundy table wine at 12.5 percent: Chevillon 2008 Bourgogne Passetoutgrain.
This morning, following a link posted on Facebook by the estimable wine maker and über wine geek Randall Grahm, I found "The Gray Report," a new-to-me wine blog by a guy named W. Blake Gray, whose Wednesday entry titled "Low-alcohol lovers have high-alcohol winemakers worried," covered the low-alcohol topic in words I thought I could pretty much have written myself.
"The battle over alcohol levels has been going on ever since California winemakers discovered in the '90s that they could get higher scores from (Wine Spectator writer) James Laube and (big-name wine critic) Robert Parker by letting the grapes hang an extra week or so," wrote Gray, a a former wine writer and editor for The San Francisco Chronicle and author of a Japanese-language guide to California wines.
"The high-alcohol forces have pretty much ruled the battlefield ever since," Gray wrote, later adding, "But the attitude that higher alcohol by itself is not an issue to be addressed, and the corresponding attitude that there is no upper limit for how high alcohol can be in a good wine - these are new philosophies, less than 20 years old for an industry that has been around for centuries.
"A decade ago, people who disagreed with these ideas were definitely on the outside. ... [But] The 'balance backlash' has gathered steam over the last five years, and without anybody realizing, it may have passed a tipping point. ... the Battle of the Wine Bulge is turning. Listen to the whispering on the Internet, in wine bars, in fine restaurants, at seminars, wherever people talk about wine. You can hear it."
I like this guy! Looking over his other recent blog posts, I've added The Gray Report to my wine subscriptions and recommend that you do, too. Click "Subscribe to this blog" a bit down the right-hand column on his main page.
As for that Bourgogne Passetoutgrain, it's a wine style worth getting to know, the everyday red table wine of Burgundy, in which it's permissible to add the usually banned-in-Bourgogne Gamay grape of Beaujolais to make up to one-third of the otherwise sacrosanct Pinot Noir. You'll find my tasting report below.
Today's Sponsor
Try It. You'll Like It!
Get 3 Shipments of Award-Winning Wine for 50% Off!
With The California Wine Club, you get a wine adventure featuring award-winning artisan wines hand-selected from California's best small "mom and pop" wineries delivered to your door. Even better, they include a fun lesson in wine with every shipment with their Uncorked(R) magazine!
Each delicious month of wine features a new winery and includes:
* Two bottles of award-winning, limited-production California wine.
* Uncorked(R) magazine, which includes an up-close look at the featured winery, wine tips, recipes, and insight into California's wine scene.
* A 100 percent satisfaction guarantee.
Plus, you can reorder your favorite wines for up to 50 percent off retail!
Special Offer for Wine Advisor Readers: Give The California Wine Club a try and get your first three monthly shipments for 50% off! Click here or call 1-800-777-4443 and use Promo Code: MAYWA.
After the first three months, each month is just $49.95, which includes shipping and handling. (Tax extra where applicable.)
There are no membership fees and no commitment - just pay as you go. If you are not happy, you are not stuck!
Today's Tasting Report
Chevillon 2008 Bourgogne Passetoutgrain ($15.99)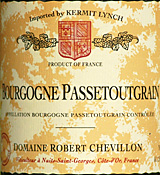 Ruby, with crimson glints. Good, basic Bourgogne aromas, black cherry and a whiff of "tomato skin," and perhaps a back note of mixed berries too, although it's hard to be certain if that's just my perceptions whispering "There's Gamay in there." In any case, it's pleasant and food-friendly, varietally appropriate fruit structured by firm, tart acidity and soft but present tannins, with a delightfully old-school alcohol level at 12.5 percent. U.S. importer: Kermit Lynch Wine Merchant, Berkeley, Calif. (May 19, 2012)
FOOD MATCH: Like both the Pinot Noirs of Burgundy and the Beaujolais of Gamay, this wine makes a versatile match with a wide variety of food from red meat, poultry and salmon to cheese and bean dishes. It was a fine dinner wine with oven-fried Gardein chick'n fillets and a fresh summer garden salad of kale and onions.
WHEN TO DRINK: Pinot Noir is made for aging. Gamay isn't, or at least not much. I wouldn't be afraid to drink Passetoutgrain a few years out from the vintage, but it's really meant for early consumption with food, not for the cellar. Drink up and enjoy!
VALUE: A fine value at this mid-teens price. Somewhat to my surprise, given that Louisville retail prices tend to run a few dollars above the national median, Wine-Searcher.com reports an average retail price of $25 from U.S. vendors. At that point I might start looking at comparably priced Bourgogne Pinot Noir or even Villages Burgundies.
PRONUNCIATION:
Passetoutgrain = "Pahss-too-gran"
Bourgogne = "Boor-gon-yuh"
WEB LINK:
Click here for a detailed fact sheet on Domaine Chevillon and its wines from importer Kermit Lynch.
FIND THIS WINE ONLINE:
Compare prices and find sources for Chevillon Bourgogne Passetoutgrain on Wine-Searcher.com.
Talk About Wine Online
If you have questions, comments or ideas to share about today's article or wine in general, you're always welcome to drop by our online WineLovers Discussion Group, the Internet's first and still the most civil online community. To find our forums, click:
http://www.wineloverspage.com/forum/village
Discussions are open for public viewing, but you must register to post. Registration is free and easy; we ask only that you join following our Real Names Real Format system, using your real name in the format "John Doe" or "John D". Anonymous, cryptic or first-name-only registrations are discarded without notice.
Once your registration has been approved, which usually happens quickly, you'll be able to participate in all our online wine, food and travel forums.
To contact me by E-mail, write wine@wineloverspage.com. I'll respond personally to the extent that time and volume permit.
Subscriptions and Administrivia
Unsubscribe:
We're sorry if you must leave us, but simply click the "unsubscribe"
link at the bottom of your Email edition to be instantly removed from the mailing list.
Change address:
The quickest and easiest way to change your Email address is simply to register anew, using the link below. If you are keeping your old address but no longer wish to get the Wine Advisor there, click the unsubscribe link below to take it off our list; if you are closing the mailbox, you needn't take any action, as our system will delete your old address as soon as the mail to your old address starts to "bounce."
Subscribe to this Email edition (free):
http://www.wineloverspage.com/wineadvisor
WineLoversPage.com RSS Feed (free):
http://feeds.feedburner.com/wineloverspage/tzva
Wine Advisor Archives:
http://www.wineloverspage.com/wineadvisor2/archives.php
Sponsorship Opportunities:
For information, E-mail wine@wineloverspage.com