This Week's sponsor
Wine maps, Metro style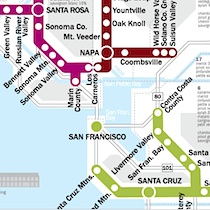 De Long does it again with Dr. David Gissen's new Metro WIne Map of California, a follow-up to his critically acclaimed Metro Wine Map of France. It's a fun and informative way to look at the wine regions, laid out pictorially in the format of a Paris Metro or New York subway map. These quality 18 x 24 inch maps are $24.95, £20 or 20€. Click the links above or visit De Long Company online
Is Chenin the new Riesling?
Okay, let's review: What is it about Germany's Riesling grape that makes its fanciers love it so?
Well, Riesling can make a white wine of great character, a wine that to an unusual degree can reflect its terroir, with a natural transparency that lets shine through the influence of the soil in which the grapes are grown.
Riesling makes outstanding wines at a variety of ripeness levels; but from dry to toothache sweet, its sugars are always nicely balanced by crisp to searing acidity that provides memorable structure.
Riesling can be uncommonly ageworthy, especially for a white wine, not merely keeping well but evolving and becoming even more remarkably complex and delicious after years in a temperature-controlled cellar.
And Riesling's roots lie deep in the history of the region where it was first cultivated, its tradition extending back to Charlemagne and beyond in the steep valleys of the Rhine and Mosel rivers in Western Germany.
Guess what! Chenin Blanc is a lot like that, too. Its history goes back just about as far in the more gently sloping, chateau-studded rolling hills of France's Loire Valley, and just about every bullet point listed above for Riesling applies just as well to Chenin.
Curiously, neither wine ranks among the world's most planted or most popular, although both have their fans, and those fans tend to be passionate and even single-minded in their love for the grape.
Both grapes have sent out missionaries around the world, and while they may not be the leading variety anywhere, Riesling has established strong outposts in New York's Finger Lakes, Ontario and Michigan, not to mention the U.S. West Coast, Australia and New Zealand. Chenin's international plantings are a bit more spotty, although it does very well in California's Clarksburg region and has been very widely planted in South Africa; less respectably, it's grown in industrial-agriculture style as an anonymous source of "jug" wines from California's Central Valley.
I may get some pushback for saying this, but I think I may like Chenin even more than I do Riesling. Riesling's characteristic style can be so aromatic that it's almost over-the-top for me; Chenin brings the delicate, subtle nature that's my particular cup of tea. Er, wine.
So make mine Loire, please! The subtle, mineral-driven character of good Loire Chenin Blanc, entwined with fresh fruit flavors that often evoke melon and sweet Meyer lemon, make a combination that's good for summer patio sipping and for more serious enjoyment at the dinner table.
I report today on Laurent Kraft 2009 Vouvray, a good, typical example of the genre and a good value in the lower teens. You'll find my tasting report below.
Vouvray, its neighbor Montlouis, and similarly styled Chenin Blancs from around the world are getting our attention this month in Vouvray Plus, Wine Focus topic for May in our online WineLovers Discussion Group. You're invited to become a part ofour friendly international crowd of online wine lovers as we taste and talk about the joys of Chenin. To participate in the conversation, simply click to the forum topic "Wine Focus for April: Vouvray Plus!"
All forum discussions are open for public viewing, but you must register to post your comments and participate actively in the conversation. Registration is free and easy; we ask only that you join following our Real Names Real Format system. For your user name, enter your real name in the format "John Doe" or "John D", with the capital letters and the space.
Having a real name on your name tag is so important to us that all non-conforming registrations will be quietly discarded. Redemption is possible, though. If you overlook this rule and get no response to your registration, feel free to contact me personally by Email at wine@wineloverspage.com, and we'll sort it out.
Once your registration has been approved, which usually happens quickly with correctly formed user names, you'll be able to participate in Wine Focus and in all our online wine and food forums.
Today's Tasting Report
Laurent Kraft 2009 Vouvray ($13.99)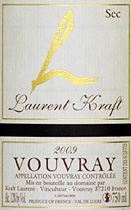 Clear straw color, with a few little bubbles around the rim. An appetizing scent of Meyer lemons leads into a crisp, fresh flavor, Meyer lemon and subtle mineral notes of chalk and "rainwater over rocks." It's not a sweet wine, but neither is it as dry as "Sec" on the label might suggest to those unfamiliar with Vouvray, Rather, a hint of refreshing fresh-fruit sweetness is well balanced by crisp acidity and gentle 12% alcohol. U.S. importer: Robert Kacher Selections, Washington, D.C. (May 5, 2012)

FOOD MATCH: It would be fine with delicate "white" meats like poulet l'estragon of simply prepared freshwater fish; the producer's info page in French suggests blanquette de veau, andouille, charcuterie and Tarte Tatin (apple pie!). I crafted a seasonal vegetarian Asian-style main dish with subtle aromatics to match, and fared very well stir-fried pea shoots and baked five-spice tofu.
VALUE: This lower teens price seems more than fair for this quality Vouvray, which shows up in the $16 range from most U.S. vendors on Wine-Searcher.com.
PRONUNCIATION:
Vouvray = "Voo-vray"
WEB LINK:
Here is importer Robert Kacher's fact sheet (PDF format) on the 2009 vintage of Laurent Kraft Vouvray.
Laurent Kraft's fact sheet about his Vouvrays is in French only; clicking the British flag for an English page, oddly, takes me back to the home page in French.
FIND THIS WINE ONLINE:
Wine-Searcher.com lists several U.S. Vendors, but I was frankly surprised not to find more for a wine from an importer as widely distributed as Kacher. Ask at your favorite wine shop or use this link to locate Kacher's regional managers for information about sources near you.
Talk About Wine Online
If you have questions, comments or ideas to share about today's article or wine in general, you're always welcome to drop by our online WineLovers Discussion Group, the Internet's first and still the most civil online community. To find our forums, click:
http://www.wineloverspage.com/forum/village
Discussions are open for public viewing, but you must register to post. Registration is free and easy; we ask only that you join following our Real Names Real Format system, using your real name in the format "John Doe" or "John D". Anonymous, cryptic or first-name-only registrations are discarded without notice.
Once your registration has been approved, which usually happens quickly, you'll be able to participate in all our online wine, food and travel forums.
To contact me by E-mail, write wine@wineloverspage.com. I'll respond personally to the extent that time and volume permit.
Subscriptions and Administrivia
Unsubscribe:
We're sorry if you must leave us, but simply click the "unsubscribe"
link at the bottom of your Email edition to be instantly removed from the mailing list.
Change address:
The quickest and easiest way to change your Email address is simply to register anew, using the link below. If you are keeping your old address but no longer wish to get the Wine Advisor there, click the unsubscribe link below to take it off our list; if you are closing the mailbox, you needn't take any action, as our system will delete your old address as soon as the mail to your old address starts to "bounce."
Subscribe to this Email edition (free):
http://www.wineloverspage.com/wineadvisor
WineLoversPage.com RSS Feed (free):
http://feeds.feedburner.com/wineloverspage/tzva
Wine Advisor Archives:
http://www.wineloverspage.com/wineadvisor2/archives.php
Sponsorship Opportunities:
For information, E-mail wine@wineloverspage.com