This Week's sponsor
Wine maps, Metro style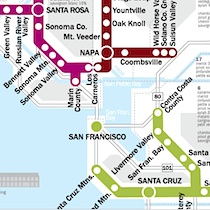 De Long does it again with Dr. David Gissen's new Metro WIne Map of California, a follow-up to his critically acclaimed Metro Wine Map of France. It's a fun and informative way to look at the wine regions, laid out pictorially in the format of a Paris Metro or New York subway map. These quality 18 x 24 inch maps are $24.95, £20 or 20€. Click the links above or visit De Long Company online

Spring into Beaujolais
As we move into spring in the Northern Hemisphere, we're about as far around the calendar from the much maligned Beaujolais Nouveau as we can get, and maybe that's a good thing.
The return of spring flowers and green leaves came to much of the U.S. unusually early this year, and its balmy glories open a delicious possibility for wine lovers: Come back to Beaujolais! Taste through the Crus, see how the recent Beaujolais-Villages vintages are doing.
Sure, check out the ubiquitous wares of the so-called "King of Beaujolais," Georges Duboeuf, whose flower-label bottles are hard to avoid at even the most basic bottle shops; but draw on The King's lesser-known competitors, too, to discover what's going on in the region outside his wine factories.
It might even be fun to unholster a dusty bottle of last year's leftover Nouveau to test the old wisdom that it won't last past Christmas. Personally I have little doubt that the old advise no longer applies in the age of sanitary wine making. I expect the 2011s are still just fine and even the '10s are surviving, but who cares about old Nouveau when we can enjoy the Beaujolais Crus, the wines from the 10 specific Beaujolais villages so well-regarded that their wines are labeled with the village names rather than the generic "Beaujolais."?
Listed alphabetically for your quick reference, the Beaujolais Crus are: Brouilly, Chénas, Chiroubles, Cote de Brouilly, Fleurie, Juliénas, Morgon, Moulin-à-Vent, Régnié and Saint Amour.
For a recent discussion about the Crus, with recommendations for specific producers who excel in some of those villages, click to a recent discussion in our WineLovers Discussion Group, Questions for Beaujolais fans.
I also talked about the Crus, and a very good Côte de Brouilly, the 2010 Cuvée Ambassades from Domaine du Pavillon de Chavannes, in Exceptional Beaujolais, The 30 Second Wine Advisor on Feb. 17, 2012.
We're featuring Beaujolais in all its forms as monthly Wine Focus for April in our online WineLovers Discussion Group. Come join our friendly international crowd of online wine lovers as we taste and talk about Beaujolais from last winter's Nouveau to a well-aged Cru. To participate in the conversation, simply click to the forum topic "Wine Focus for April: Beaujolais!"
If you happen to live in a Beaujolais-deprived part of the world, you're also more than welcome to contribute to the conversation with wines based on Gamay, the traditional varietal grape of Beaujolais, or even the rare Valdiguié, the Southwestern French grape once labeled in the U.S. as "Napa Gamay."
All forum discussions are open for public viewing, but you must register to post your comments and participate actively in the conversation. Registration is free and easy; we ask only that you join following our Real Names Real Format system. For your user name, enter your real name in the format "John Doe" or "John D", with the capital letters and the space.
Having a real name on your name tag is so important to us that all non-conforming registrations will be quietly discarded. Redemption is possible, though. If you overlook this rule and get no response to your registration, feel free to contact me personally by Email at wine@wineloverspage.com, and we'll sort it out.
Once your registration has been approved, which usually happens quickly with correctly formed user names, you'll be able to participate in Wine Focus and in all our online wine and food forums.
Today's Tasting Reports
Jean-Paul Brun 2010 "Terres Dorées" Côte de Brouilly ($20.99)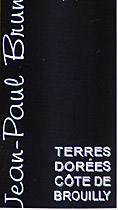 Clear dark cherry color. Consistent with past vintages it is subtle but by no means wimpy. Wild strawberry aromas add hints of tart cherry and red clay. Dry and crisp, distinct cherry-berry flavors and subtle minerality come together in a tart, mouth-watering flavor with soft tannins providing structure. If you're used to a more tutti-fritti style of Beaujolais with flowers on the label, this more "serious" - yet entirely enjoyable - model may open new vistas for you. U.S. importer: LDM Wines Inc., NYC; Louis/Dressner Selections. (March 31, 2012)
FOOD MATCH: I paired it with great success with a Spanish egg tortilla stuffed with potatoes, onions and garlic. It also serves well with poultry, pork or even beef.
VALUE: The price of this wine has jumped $4 since the 2008 vintage, a 24% increase that appears significantly greater than the inflation rate. I'm not excited about this, but in fairness, the wine is good enough to justify its $21 toll.
PRONUNCIATION:
Brouilly = "Brewl-yee"
WEB LINK: The home page of importer Louis/Dressner Selections offers this article about of Jean-Paul Brun and his wines.
FIND THIS WINE ONLINE:
Unfortunately, my source, Chambers Street Wines, appears to be out of Brun's Beaujolais at this time. However, this link to the wine shop returns a list of many other Beaujolais from fine artisanal producers.
Find other vendors and compare prices for J.P. Brun Côte de Brouilly on Wine-Searcher.com.
Talk About Wine Online
If you have questions, comments or ideas to share about today's article or wine in general, you're always welcome to drop by our online WineLovers Discussion Group, the Internet's first and still the most civil online community. To find our forums, click:
http://www.wineloverspage.com/forum/village
Discussions are open for public viewing, but you must register to post. Registration is free and easy; we ask only that you join following our Real Names Real Format system, using your real name in the format "John Doe" or "John D". Anonymous, cryptic or first-name-only registrations are discarded without notice.
Once your registration has been approved, which usually happens quickly, you'll be able to participate in all our online wine, food and travel forums.
To contact me by E-mail, write wine@wineloverspage.com. I'll respond personally to the extent that time and volume permit.
Subscriptions and Administrivia
Unsubscribe:
We're sorry if you must leave us, but simply click the "unsubscribe"
link at the bottom of your Email edition to be instantly removed from the mailing list.
Change address:
The quickest and easiest way to change your Email address is simply to register anew, using the link below. If you are keeping your old address but no longer wish to get the Wine Advisor there, click the unsubscribe link below to take it off our list; if you are closing the mailbox, you needn't take any action, as our system will delete your old address as soon as the mail to your old address starts to "bounce."
Subscribe to this Email edition (free):
http://www.wineloverspage.com/wineadvisor
WineLoversPage.com RSS Feed (free):
http://feeds.feedburner.com/wineloverspage/tzva
Wine Advisor Archives:
http://www.wineloverspage.com/wineadvisor2/archives.php
Sponsorship Opportunities:
For information, E-mail wine@wineloverspage.com