This Week's sponsor
Last Chance to Get Award-Winning Wines for $6.99!
The California Wine Club's Spring Wine Sale ends soon. Don't miss your last chance to get award-winning wines for up to 71% off!
Click here or call 1-800-777-4443.
Rare and well-done
Those who still remember with love the late classical music commentator Karl Haas surely won't object to my borrowing his familiar title for today's celebration of the Loire Valley wines of Puzelat-Bonhomme. These ultra-limited-production, hand-made wines are rare indeed, and indisputably well-done.
Brothers Thierry and Jean-Marie Puzelat ("Pu-zeh-lah") have worked together since 1994 on their family's wine estate, Le Clos du Tue-Boeuf, in the Touraine region of the Loire, making tiny quantities of traditional Loire wines using organic and biodynamic techniques. Joined in 2004 by Pierre-Olivier Bonhomme, they have added purchased negoçiant wines to their estate bottlings.
Still in limited quantities, these unusual wines tend to be mineral-driven, subtle and complex, offbeat to be sure, but in a good way. As Thierry Puzelat says on the winery website (translated by Google Translate from the French), "During winemaking, the objective is to support grapes, let them show in the wine that they carry within them. ... we can not claim that they appeal to everyone but fans are everywhere."
Mark me down as a fan. The wines aren't easy to find. In the U.S., retailers are largely limited to the Northeast, but I make it my business to seek out their new releases every year. Over the past month I've tasted three Puzelat-Bonhommes from the 2010 vintage: The Touraine Pinot Noir, the Pineau D'Aunis La Tesnière, and the Touraine La Tesnière Blanc.
You'll find my tasting notes below.
Today's Sponsor
Last Chance to Get Award-Winning Wines for $6.99!
Time is running out! The California Wine Club's Spring Wine Sale ends soon. Don't miss your last chance to get award-winning wines for up to 71% off!
Choose from hundreds of limited-production California wines including smooth Cabernets, buttery Chardonnays, silky Pinot Noirs and more at prices as low as $6.99 per bottle.
Every wine has been hand-selected from a small family winery by Bruce and Pam Boring, proprietors of The California Wine Club, and is backed by their 100% satisfaction guarantee.
To shop the full selection of wines on sale, click here or call 1-800-777-4443.
Today's Tasting Reports
Puzelat 2010 "La Tesnière" Touraine Blanc ($21.99)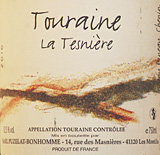 A blend of the rare white grape Menu Pineau with the Loire's Chenin Blanc, this remarkable white is a clear bright bronze color. Rich and complex aromas and flavors, intentionally oxidative, butterscotch and beeswax aromas, dance with subtle hazelnuts and toasted almonds that carry over on the palate in a rich, complex flavor that brings in pears and green figs and adds stony minerality and a distinct whiff of white pepper. Rich texture is contained by zippy acidity that finishes clean and dry. Remarkable white. U.S. importer: LDM Wines Inc., NYC; Louis/Dressner Selections. (March 16, 2012)
FOOD MATCH: An offbeat wine shows well with a pair of unexpected food matches: fresh spinach and swiss chard cakes made with free-range eggs, ricotta and Parmigiano; and sweet medjool dates stuffed with Capriole Indiana goat cheese. For a simpler match, try it with crab or other sweet shellfish.
WHEN TO DRINK: With the oxidative character going on, it's very difficult to gauge whether this strange but delicious white would benefit from cellaring: I'd just drink up, it's too good to waste.
Puzelat 2010 Touraine Pinot Noir ($19.99)
Ruby, not too dark, with a clear edge. Intriguing scents of raspberries and fresh herbs lead into a fresh, brightly acidic flavor red fruit and oregano and a distinct touch of peach-pit bitterness in the finish. U.S. importer: LDM Wines Inc., NYC; Louis/Dressner Selections. (March 23, 2012)
FOOD MATCH: Surprisingly good with spinach and walnut pesto over spaghetti; rare steaks or grilled chicken would also serve it well.
WHEN TO DRINK: Again unpredictable, but given Pinot's longevity, I wouldn't hesitate to experiment with a few years in the cellar if I had several bottles.
Puzelat 2010 Touraine "La Tesnière" Pinot d'Aunis ($27.99)
Red plum color, rather light and a bit hazy. Remarkable aromas, consistent with past vintages: rainwater running over limestone, fresh violets and a whiff of white pepper. Fresh and bright, red fruit and snappy acidity, with complex nuances that follow the nose. A rare wine, made in tiny quantities and hard to find, but worth the search if you enjoy these complex, minerally and not at all fruit-forward Loire Valley reds. U.S. importer: LDM Wines Inc., NYC; Louis/Dressner Selections. (March 27, 2012)
FOOD MATCH: Old-fashioned spaghetti with meat sauce; also, experimentally, with dabs of mild goat cheese from Indiana's Capriole Farm. A fine match, although its unusual flavor profile also suggests such widespread options as Chinese roast duck with five spice or wild mushroom ragout in a truffle cream.
WHEN TO DRINK: We drank through a case of Puzelat's 2004 Pineau d'Aunis for several years, finishing the last earlier this year. I can't say it evolved significantly over that time, but it maintained consistent character over the years and was still drinking well.
More information about these wines
VALUE: Driven perhaps by the inexorable tension between increasing interest and limited production, prices for these wines - particularly the Pineau d'Aunis - have doubled or more in recent years. Still, their rare and well-done quality and, to my tastes, intriguing mineral-driven complexity, make them well worth the toll.
WEB LINKS: The Puzelat-Bonhomme website is published only in French, but Google Translate does a credible job of converting it into English (or other languages of your choice).
Here's an article and interview about Puzelat-Bonhomme on the Web pages of U.S. Importer Louis/Dressner.
FIND THIS WINE ONLINE:
To order Puzelat wines from Chambers Street Wines in the U.S., use this link to the wine shop and search for the specific term "Puzelat-Bonhomme."
To find European vendors and international distributors, check this page on the Puzelat-Bonhomme website.
Check prices and locate vendors for Puzelat on Wine-Searcher.com.
Talk About Wine Online
If you have questions, comments or ideas to share about today's article or wine in general, you're always welcome to drop by our online WineLovers Discussion Group, the Internet's first and still the most civil online community. To find our forums, click:
http://www.wineloverspage.com/forum/village
Discussions are open for public viewing, but you must register to post. Registration is free and easy; we ask only that you join following our Real Names Real Format system, using your real name in the format "John Doe" or "John D". Anonymous, cryptic or first-name-only registrations are discarded without notice.
Once your registration has been approved, which usually happens quickly, you'll be able to participate in all our online wine, food and travel forums.
To contact me by E-mail, write wine@wineloverspage.com. I'll respond personally to the extent that time and volume permit.
Subscriptions and Administrivia
Unsubscribe:
We're sorry if you must leave us, but simply click the "unsubscribe"
link at the bottom of your Email edition to be instantly removed from the mailing list.
Change address:
The quickest and easiest way to change your Email address is simply to register anew, using the link below. If you are keeping your old address but no longer wish to get the Wine Advisor there, click the unsubscribe link below to take it off our list; if you are closing the mailbox, you needn't take any action, as our system will delete your old address as soon as the mail to your old address starts to "bounce."
Subscribe to this Email edition (free):
http://www.wineloverspage.com/wineadvisor
WineLoversPage.com RSS Feed (free):
http://feeds.feedburner.com/wineloverspage/tzva
Wine Advisor Archives:
http://www.wineloverspage.com/wineadvisor2/archives.php
Sponsorship Opportunities:
For information, E-mail wine@wineloverspage.com