This Week's sponsor
Save up to 71% on Award-Winning Wines!
The California Wine Club's Spring Wine Sale is going on now. Stock up and save up to 71% off retail prices with award-winning, limited-production artisan California wines priced as low as $6.99. Shop Now!

Speaking of Italian classics
By the ancient standards of Tuscany, Ruffino Chianti is a relatively recent arrival, tracing its history "only" to 1870 in a region where many existing producers boast a heritage back to the 1200s.
But that being said, Ruffino's 132-year history spans the entire modern era of this classic Tuscan wine. And it certainly seems old to me, as I've been enjoying Ruffino Chianti since before I was old enough to drink it legally, back when it came in a wicker-wrapped bottle and seemed the perfect answer to the question, "What shall we have with this spaghetti or pizza?"
I had been thinking about Chianti ever since last week's column, "Red wine? Pass the cheese," spoke of alternatives to Chianti with traditional hearty Southern Italian dishes and their robust Italian-American offspring. The other day I spotted a newly arrived bottle of Ruffino's "Aziano" Chianti Classico bottling and realized, "D'oh! I could have had a Chianti."
Chianti's "recipe" has changed a bit in modern times, and currently allows makers to choose a full-varietal Sangiovese or to blend in up to 20 percent of other regional and international varieties including the native Canaiolo, Colorino, Ciliegolo and Malvasia Nero or the international Cabernet or Merlot.
This allows some individual variation, and permits makers to choose either very traditional or very "modern" approaches. Yet I find that Chianti - and particularly Chianti Classico, which is a bit more regulated and limited to grapes from the historic central part of its ancient Tuscan region - boasts a consistent style that goes back at least as far as I can remember and likely a whole lot longer.
Tart, fresh and crisp, aromas often evoking black cherries, natural but never over-the-top fruit and perhaps a whiff of subtle spice, opening up mouth-watering acidity and sometimes soft tannins, even in its cheaper manifestations Chianti generally brings to the table everything it needs to marry well with food. Especially those tomato-based sauces, long-simmered and sweet, with which it makes such a stereotypical match atop red-checked tablecloths, plastic grapevines and candles flickering in old wicker-wrapped jugs.
Or you can serve it with a steak, a burger, pizza or cheese. Good food wines, in their nature, are accommodating and rarely need be limited to a narrow choice of options.
I'm happy to report that Ruffino 2009 "Aziano" Chianti Classico ($15.99) is a fine example. If it's a bit on the simple side - I think it would reward a year or three in the cellar - it's already ready to serve with tomato-sauced dishes, roast chicken or steak. (The winery suggests also penne al ragù, omelet and bacon, mixed grill, Pecorino cheese and more.) You'll find my tasting report below.
Today's Sponsor
Save up to 71% on Award-Winning Wines!
The California Wine Club's Spring Wine Sale is going on now. Stock up and save up to 71% off retail prices with award-winning, limited-production artisan California wines priced as low as $6.99. Shop Now!
Shop early for best selection! Choose from:
* Award-winning, limited-production wines from California's best "mom & pop" wineries. These wines typically cannot be found outside their wineries.
* Limited-production wines from small artisan wineries around the world that have been imported directly by CWC and cannot be found anywhere else in the U.S.
* California's most coveted 90+ rated wines.
* Premium Napa Valley Cabernets aged 8-12 years under stringent, temperature-controlled conditions.
To shop now, click here or call 1-800-777-4443
Today's Tasting Report
Ruffino 2009 "Aziano" Chianti Classico ($15.99)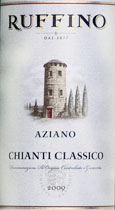 Clear ruby with reddish-orange glints. Black cherries, a touch of spice and just a hint of dark-roast espresso. Fresh and bright on the palate, tart cherries and palate-cleansing acidity. Alcohol at 13% is in range for table wine. A bit simple - a year or two in the cellar might help with that - but already a fine food wine in the Tuscan style, a natural match with tomato sauces, beef or roast chicken. Ruffino Import Co., Rutherford, Calif. (March 6, 2012)
FOOD MATCH: Testing the assumption that simple Chianti and simple Italian fare work well together, it was fine with a fresh cacciatore dish over conchiglie (mini-shells) pasta. Fine, too, with red meat, burgers or steak, roast chicken or pork.
VALUE: My mid-teens local price was within range in Wine-Searcher.com's list of U.S. prices between $10 to $20, but with many vendors tagging it at $10 to the lower teens, shopping around may pay off.
WHEN TO DRINK: Good now, and as noted, capable of possible evolution toward a bit more complexity with two to five years under good cellar conditions.
WEB LINK: Here's the Ruffino website's English-language page on the Aziano.
FIND THIS WINE ONLINE:
Find vendors and compare prices for Ruffino Aziano Chianti Classico on Wine-Searcher.com.
Talk About Wine Online
If you have questions, comments or ideas to share about today's article or wine in general, you're always welcome to drop by our online WineLovers Discussion Group, the Internet's first and still the most civil online community. To find our forums, click:
http://www.wineloverspage.com/forum/village
Discussions are open for public viewing, but you must register to post. Registration is free and easy; we ask only that you join following our Real Names Real Format system, using your real name in the format "John Doe" or "John D". Anonymous, cryptic or first-name-only registrations are discarded without notice.
Once your registration has been approved, which usually happens quickly, you'll be able to participate in all our online wine, food and travel forums.
To contact me by E-mail, write wine@wineloverspage.com. I'll respond personally to the extent that time and volume permit.
Subscriptions and Administrivia
Unsubscribe:
We're sorry if you must leave us, but simply click the "unsubscribe"
link at the bottom of your Email edition to be instantly removed from the mailing list.
Change address:
The quickest and easiest way to change your Email address is simply to register anew, using the link below. If you are keeping your old address but no longer wish to get the Wine Advisor there, click the unsubscribe link below to take it off our list; if you are closing the mailbox, you needn't take any action, as our system will delete your old address as soon as the mail to your old address starts to "bounce."
Subscribe to this Email edition (free):
http://www.wineloverspage.com/wineadvisor
WineLoversPage.com RSS Feed (free):
http://feeds.feedburner.com/wineloverspage/tzva
Wine Advisor Archives:
http://www.wineloverspage.com/wineadvisor2/archives.php
Sponsorship Opportunities:
For information, E-mail wine@wineloverspage.com