This Week's sponsor
A great gift for wine lovers


A wine reference disguised as a fine-art print, the innovative Wine Grape Varietal Table mimics the familiar periodic table of the elements to show a world of wine grape varieties.
Click to buy!
Red wine? Pass the cheese
Spaghetti with tomato sauce? Call for a Chianti. Light and crisply acidic, the Sangiovese-based Tuscan treat seems to play naturally with the tart-sweet flavor of the juicy, fresh tomatoes that go into this classic Italian-style pasta dish.
But suppose you're in the mood for a bigger, more structured red? I'm not sure I would ever recommend a blockbuster California Cabernet, say, or a top-level Bordeaux with pasta and Italian "gravy." That would be too much like using a sledgehammer to put up a little nail for a picture frame.
On the other hand, the hearty reds of France's Southern Rhône Valley, and to some extent their varietal imitators from around the world, offer aroma and flavor profiles that aren't entirely different from Tuscan reds, albeit typically a bit more big and bold. It's not hard to bring spaghetti and tomato sauce up to meet these big boys: Just bring a little cheese to the party.
The formula is as simple as this: Cheese, particularly the grated Italian hard cheeses like Parmigiano-Reggiano or Pecorino Romano that go so well with tomato-sauced pasta, add a touch of creamy fat that gives the zippy acidity and puckery tannins of Rhône-style reds something to push back against.
It worked just that way with today's featured wine, Liberty School 2008 "Cuvée," a Rhône-style red blend from California's Central Coast. Good with the spaghetti alone, it was a significantly better match with Parmigiano-Reggiano grated on for just the reasons stated: When I took a taste of pasta and sauce with the wine but no cheese, the wine was quenching but seemed to wash the tomato sauce right off my palate. With the cheese, it all came together, and the combination seemed to amplify the flavors. Grated cheese for the win!
Speaking of Rhône-style wines, we're looking at the full range, not only red but pink and white, in our monthly Wine Focus for March in our online WineLovers Discussion Group.
You're welcome to join in. Come join our friendly international crowd of online wine lovers as we taste and talk about international reds based on Syrah, Grenache-Syrah-Mourvedre and other Rhône varieties as well as whites based on the region's grapes. To participate in the conversation, simply click to the forum topic "New World Rhone Varieties."
We don't want to leave our European friends out in the cold, so if you don't have access to New World Rhône Rangers, please feel free to join in with your local wines.
All forum discussions are open for public viewing, but you must register to post your comments and participate actively in the conversation. Registration is free and easy; we ask only that you join following our Real Names Real Format system. For your user name, enter your real name in the format "John Doe" or "John D", with the capital letters and the space.
Having a real name on your name tag is so important to us that all non-conforming registrations will be quietly discarded. Redemption is possible, though. If you overlook this rule and get no response to your registration, feel free to contact me personally by Email at wine@wineloverspage.com, and we'll sort it out.
Once your registration has been approved, which usually happens quickly with correctly formed user names, you'll be able to participate in Wine Focus and in all our online wine and food forums.
Today's Tasting Report
Liberty School 2008 Central Coast "Cuvée" ($14.99)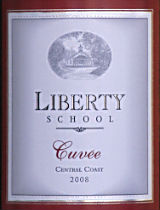 Syrah dominates this Rhône-style blend, with smaller amounts of Grenache, Petite Sirah and Viognier, with a splash of not-so-Rhônish Cabernet Sauvignon. It's dark reddish-purple almost all the way to a clear garnet edge. Plums and red berries and a whiff of brown spices come forward on the nose; bright and tart red fruit on the palate with a hint of oak. It's hearty and acidic, alcohol level reasonable at 13.5 percent, with a distinct edge of tannic astringency to provide structure. (March 1, 2012)
FOOD MATCH: Fine with spaghetti with tomato sauce frozen from last summer's garden, best with a good grating of Parmigiano-Reggiano cheese to bring it up to the robust red wine.
VALUE: Wine-Searcher.com shows U.S. Prices ranging from $10 to $19; my local price falls in the middle and seems fair enough, although I'd shop around, and send a message to the higher-priced shops by spending elsewhere.
WHEN TO DRINK: The 2009 vintage is in the market now, but I'd have no worries about buying the 2008. Its blend and its good balance of fruit, acidity and tannins should ensure reasonable ageworthiness for at least a few years under good cellar conditions.
WEB LINK: Click here for a winery fact sheet about the Liberty School "Cuvée," anong with a link to buy it direct from the winery for $14.
FIND THIS WINE ONLINE:
Check prices and locate vendors for Liberty School "Cuvée" on Wine-Searcher.com.
Talk About Wine Online
If you have questions, comments or ideas to share about today's article or wine in general, you're always welcome to drop by our online WineLovers Discussion Group, the Internet's first and still the most civil online community. To find our forums, click:
http://www.wineloverspage.com/forum/village
Discussions are open for public viewing, but you must register to post. Registration is free and easy; we ask only that you join following our Real Names Real Format system, using your real name in the format "John Doe" or "John D". Anonymous, cryptic or first-name-only registrations are discarded without notice.
Once your registration has been approved, which usually happens quickly, you'll be able to participate in all our online wine, food and travel forums.
To contact me by E-mail, write wine@wineloverspage.com. I'll respond personally to the extent that time and volume permit.
Subscriptions and Administrivia
Unsubscribe:
We're sorry if you must leave us, but simply click the "unsubscribe"
link at the bottom of your Email edition to be instantly removed from the mailing list.
Change address:
The quickest and easiest way to change your Email address is simply to register anew, using the link below. If you are keeping your old address but no longer wish to get the Wine Advisor there, click the unsubscribe link below to take it off our list; if you are closing the mailbox, you needn't take any action, as our system will delete your old address as soon as the mail to your old address starts to "bounce."
Subscribe to this Email edition (free):
http://www.wineloverspage.com/wineadvisor
WineLoversPage.com RSS Feed (free):
http://feeds.feedburner.com/wineloverspage/tzva
Wine Advisor Archives:
http://www.wineloverspage.com/wineadvisor2/archives.php
Sponsorship Opportunities:
For information, E-mail wine@wineloverspage.com