This Week's sponsor
Save up to 71% on Award-Winning Wines!
The California Wine Club's Spring Wine Sale is going on now. Stock up and save up to 71% off retail prices with award-winning, limited-production artisan California wines priced as low as $6.99. Shop Now!
Simple value
I've devoted a few recent columns to the quest for value in some of the more lofty quarters of French wine, trying to spot the occasional bargain in realms like Bordeaux and Burgundy where the more sought-after treasures command top-tier prices.
Today let's celebrate a long-time favorite from French vineyards in which an attractive quality-price ratio comes with the territory: Côtes-du-Rhône ("Hillsides of the Rhone"), is a generic appellation for miles of vineyards that dot the hillsides - and despite the name, in some cases the valley floor - along an extended swath of the Northern and Southern Rhône river valley.
We've talked often about the Côtes-du-Rhône Villages, specific villages whose surrounding vineyards have earned notice by consistently producing particularly good fruit. The wines bearing this label have been grown and made under more stringent regulations aimed at ensuring quality standards: Limited production per acre, for instance, and higher minimum levels of alcohol.
But today we're sticking to the basics, plain and generic Côtes-du-Rhône, a wine that I've been enjoying since my first wine trips to France quite a few years ago. Even with my fractured French, it didn't take me long to learn how to order a "petit pichet" (small carafe) of "vin rouge" (red wine). This fluid would be cheap and somewhat drinkable, and went okay with sidewalk café fare; but this low-end stuff was often thin, acidic and harsh.
For just a couple of francs more, though, I could upgrade to un petit pichet du Côtes-du-Rhône, and then we'd be talking. Add some cheese, a baguette and a salad and I had a good, cheap French dinner to make me happy; and it would be years before I discovered that the Rhône had even better stuff to offer.
This week's featured wine, Les Domaines d'Auriol 2010 "cdr" Côtes du Rhône, takes me right back to those days. Available here for a buck under $10, it's a well-made blend of red Grenache and Syrah grapes in equal proportions. (Any of the 13 grapes permitted in Chateauneuf-du-Pape may be used in Côtes du Rhône, but Grenache, with its ripe raspberry scent and tart, bright acidity, is usually the workhorse grape, and Syrah, with its plums and fragrant black pepper, is its most frequent companion.)
Look for a simple Côtes du Rhône soon. This bottling, showing a simple, basic "cdr" on the front label, is a fine, affordable example, but the market is full of options. Pour a glass, or even two; enjoy it with cheese or red meat, and pretend you're relaxing in a sidewalk café in Avignon or Paris. Enjoy! My tasting notes are below.
Today's Sponsor
Save up to 71% on Award-Winning Wines!
The California Wine Club's Spring Wine Sale is going on now. Stock up and save up to 71% off retail prices with award-winning, limited-production artisan California wines priced as low as $6.99. Shop Now!
Shop early for best selection! Choose from:
* Award-winning, limited-production wines from California's best "mom & pop" wineries. These wines typically cannot be found outside their wineries.
* Limited-production wines from small artisan wineries around the world that have been imported directly by CWC and cannot be found anywhere else in the U.S.
* California's most coveted 90+ rated wines.
* Premium Napa Valley Cabernets aged 8-12 years under stringent, temperature-controlled conditions.
To shop now, click here or call 1-800-777-4443
Today's Tasting Report
Les Domaines d'Auriol 2010 "cdr" Côtes du Rhône ($8.99)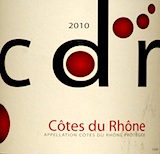 Clear dark garnet shading to a clear edge. Fresh, young, good and typical aromas in a young CdR: red berries, a dash of Chambord raspberry liqueur and a quick grind of black pepper. Red berries carry over on the palate in a bright, palate-cleansing flavor, crisp acidity and light but textured tannins providing balance. A typical Rhône blend of 50% Grenache and 50% Syrah, it comes in at a rational 13.5% alcohol. U.S. importer: Heidelberg Distributing Co., Independence, Ohio. (Feb. 9, 2012)
FOOD MATCH: Red meat, cheese or tomato-based pasta all work fine with acidic Rhône reds. We enjoyed it with spaghetti in a light marinara sauce kept frozen from our garden last summer.
VALUE: No, it's not a fancy wine, but it offers about as much value as I've seen for a while in a $9 bottle.
WHEN TO DRINK: The screwcap should keep it fresh for a year or two, but modest Côtes du Rhône is really a wine to drink up while it's fresh.
WEB LINK: Here's a page from distributor Testa Wines with some information on Les Domaines Auriol "cdr."
FIND THIS WINE ONLINE:
Unfortunately, the short trade name "cdr" is not searchable on Wine-Searcher.com. To find it, try local wine shops, or contact distributors Testa Wines of the World or Heidelberg Distributing for Ohio or Kentucky.
For a broader quest, this article on Wine-Searcher.com tells a bit about Côtes du Rhône and provides links to some 500 specific wines.
Talk About Wine Online
If you have questions, comments or ideas to share about today's article or wine in general, you're always welcome to drop by our online WineLovers Discussion Group, the Internet's first and still the most civil online community. To find our forums, click:
http://www.wineloverspage.com/forum/village
Discussions are open for public viewing, but you must register to post. Registration is free and easy; we ask only that you join following our Real Names Real Format system, using your real name in the format "John Doe" or "John D". Anonymous, cryptic or first-name-only registrations are discarded without notice.
Once your registration has been approved, which usually happens quickly, you'll be able to participate in all our online wine, food and travel forums.
To contact me by E-mail, write wine@wineloverspage.com. I'll respond personally to the extent that time and volume permit.
Subscriptions and Administrivia
Unsubscribe:
We're sorry if you must leave us, but simply click the "unsubscribe"
link at the bottom of your Email edition to be instantly removed from the mailing list.
Change address:
The quickest and easiest way to change your Email address is simply to register anew, using the link below. If you are keeping your old address but no longer wish to get the Wine Advisor there, click the unsubscribe link below to take it off our list; if you are closing the mailbox, you needn't take any action, as our system will delete your old address as soon as the mail to your old address starts to "bounce."
Subscribe to this Email edition (free):
http://www.wineloverspage.com/wineadvisor
WineLoversPage.com RSS Feed (free):
http://feeds.feedburner.com/wineloverspage/tzva
Wine Advisor Archives:
http://www.wineloverspage.com/wineadvisor2/archives.php
Sponsorship Opportunities:
For information, E-mail wine@wineloverspage.com