This Week's sponsor
A Delicious Dilemma!
"The only problem with The California Wine Club is that I have a new favorite wine almost every month," says Club member Jim Wiley. Try two award-winning artisan wines for $49.45 (includes s/h).
Click here or call 1-800-777-4443.

Is $20-plus wine affordable?
If you've been following American politics lately, you'll know that there's been a lot of talk about wealth and who's got it. One of the presidential candidates claims a net worth of $7 million, but another hopeful's tax returns suggest riches that could reach $250 million. Even President Obama's net worth is safely into the millions, according to The Center for Responsive Politics. Meanwhile, billionaire Warren Buffett just watches all the drama, pays his taxes and smiles.
Let's face it: None of these 1 percenters is going to let a $3,000 price tag stand between him and a bottle of Romanee-Conti if he's in the mood for a little Burgundy with his pot roast.
Most of us, though, need to keep a keen eye on the fine line between budget and value in the wines we enjoy. And that may go double for Burgundy, where the combination of limited supply, high demand and cachet come together to make a market in which the finest wines are pricey indeed, and even the bottom-end, generic bottlings aren't cheap.
What's more, when we're bottom-feeding, looking for value among the lowest-price offerings in the category, success isn't guaranteed. In some cases, what's good isn't cheap, and what's cheap isn't good.
Still, I love Burgundy, and if I can't afford the high-end stuff, I'm going to keep on trying, and if I spot what looks like a decent risk in the lower $20s - or better yet, the teens - chances are I'll gamble on a bottle even though it's a bit out of my everyday comfort zone.
This week, for example, I gambled and scored with the 2009 Domaine Bertrand Ambroise Bourgogne Rouge. It set me back $23, which made me think twice. For that price I could get two bottles of a nice California red blend. Or, to be frank, three six-packs of decent local microbrewery beer.
But hey, it's decent Burgundy, characteristic and interesting, if not Romanee-Conti. At the end of the meal, I thought the investment was justified. If you try it, I hope you do, too.
Today's Sponsor
It's a Delicious Dilemma!
"The only problem with The California Wine Club is that I have a new favorite wine almost every month. Thanks!"
--Jim Wiley, PA, CWC Member
The California Wine Club features a new artisan California winery and new award-winning wines every month. In the coming year, we hope that your toughest problem is having new favorite wines on a regular basis. CWC invites you to try two award-winning artisan wines for $49.45 (includes shipping and handling). Click here or call 1-800-777-4443 for details.
Today's Tasting Report
Domaine Bertrand Ambroise 2009 Bourgogne Rouge ($22.99)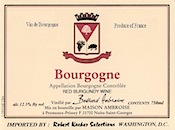 Dark garnet. Typical Burgundy aromas, red plum and tomato skin and a whiff of woodsmoke. Good tart fruit flavors, juicy plums, crisp acidity and soft but astringent tannins; appropriate 13% alcohol for a traditional-style table wine. A bit on the simple side, perhaps, but it offers an excellent introduction to Burgundy at a comparatively affordable price. U.S. importer: Robert Kacher Selections, NYC. (Jan. 17, 2012)
FOOD MATCH: Burgundy will almost always make a natural match with rare beef, and it's as good as Pinot Noir gets with wild salmon; we went with its third standard pairing, mushrooms, and scored with an intense mushroom risotto made with a mix of dried porcini and fresh brown mushrooms.
VALUE: It's about as good a value as you'll find for true Burgundy, even at this generic level. Frankly, in competition with many world wines of similar quality, it's pushing the limit for value in the lower $20s range. But sometimes you just want a Burgundy, and this offers a good starting point. It may also pay to shop around, especially if direct wine shipping is allowed where you live, as Wine-Searcher.com reveals an unusually wide range of U.S. prices from $15 to $29 for this item.
WHEN TO DRINK: I don't see any reason why this young Burgundy couldn't last and evolve a bit for five years under excellent cellar conditions, but I'd be dubious about keeping it longer.
PRONUNCIATION:
Bourgogne Rouge = "Boor-gon-yuh Roozh"
WEB LINK: Warning: Google warns of apparent malware on the destination that the search engine reveals as the winery's Website: "... contains content from assolkh.blackhulu.com, a site known to distribute malware. Your computer might catch a virus if you visit this site." Accordingly, I won't link it here, and don't recommend that you try to find it until the issue is resolved. However, here's a safe, if short, fact sheet on the wine from importer Robert Kacher.
FIND THIS WINE ONLINE:
Find vendors and compare prices for Domaine Bertrand Ambroise 2009 Bourgogne Rouge on Wine-Searcher.com.
Talk About Wine Online
If you have questions, comments or ideas to share about today's article or wine in general, you're always welcome to drop by our online WineLovers Discussion Group, the Internet's first and still the most civil online community. To find our forums, click:
http://www.wineloverspage.com/forum/village
Discussions are open for public viewing, but you must register to post. Registration is free and easy; we ask only that you join following our Real Names Real Format system, using your real name in the format "John Doe" or "John D". Anonymous, cryptic or first-name-only registrations are discarded without notice.
Once your registration has been approved, which usually happens quickly, you'll be able to participate in all our online wine, food and travel forums.
To contact me by E-mail, write wine@wineloverspage.com. I'll respond personally to the extent that time and volume permit.
Subscriptions and Administrivia
Unsubscribe:
We're sorry if you must leave us, but simply click the "unsubscribe"
link at the bottom of your Email edition to be instantly removed from the mailing list.
Change address:
The quickest and easiest way to change your Email address is simply to register anew, using the link below. If you are keeping your old address but no longer wish to get the Wine Advisor there, click the unsubscribe link below to take it off our list; if you are closing the mailbox, you needn't take any action, as our system will delete your old address as soon as the mail to your old address starts to "bounce."
Subscribe to this Email edition (free):
http://www.wineloverspage.com/wineadvisor
WineLoversPage.com RSS Feed (free):
http://feeds.feedburner.com/wineloverspage/tzva
Wine Advisor Archives:
http://www.wineloverspage.com/wineadvisor2/archives.php
Sponsorship Opportunities:
For information, E-mail wine@wineloverspage.com