Wine Focus on Southern Italy
This month we're enjoying the wines of Southern Italy, the "foot" of the Italian "boot," as our Wine Focus topic in the WineLovers Discussion Group. Often called Il Mezzogiorno ("The Midday"), this region was settled by the ancient Greeks even before the Romans came, and so arguably hosts Italy's oldest wine culture.
On the "instep" lies Campania, the region of Naples, home of pizza; and Mount Vesuvius, Pompeii, sweet Sorrento, Capri and the lemon groves of the Amalfi coast . In ancient times, the Romans considered Falernum from this region among their greatest wines, and the name, at least, remains in the wine region Falerno. One of Campania's most famous wines is Lachryma Christi del Vesuvio (red and white), but serious wine enthusiasts will probably find more joy in the ancient, rich and aromatic whites, Greco di Tufo and Fiano di Avellino; want red? Taurasi is a full-bodied favorite.
Apulia (Puglia), the Italian boot's high heel, is known for focaccia bread, its groves of ancient olive trees and seafood from the waters that surround it. It is also the home of Primitivo, the red grape, rooted across the Adriatic in Croatia, that DNA studies has shown to be genetically the same as Zinfandel, albeit subject to clonal differences that make the wines anything but identical twins. Salice Salentino is another Pugliese red. Like California's Central Valley or Languedoc's inland plains, though, Apulia is Italy's most prolific grape producer, with most of its industrially grown fruit destined for an anonymous fate in simple table wines.
Basilicata fills the "sole" of the boot. Largely rural with a relatively small population, it doesn't play a major role on the wine scene, but its hearty red Aglianico del Vulture, grown on volcanic soil, boasts a heritage back to the ancient Greeks. Its sugary, prickly Moscato and Malvasia satisfy the wine lover's sweet tooth.
Calabria, the "toe" of the boot, joins Sicily as one of the primary sources of the Italian immigrant stream to the U.S. through Ellis Island, and during that same era to Argentina. The rural poverty that drove emigration leaves a lightly populated region with its economy primarily driven by olive oil and commercial fishing. Nevertheless, its iconic wine, Ciro, dating back to the Greeks, is a potent red made from the Gaglioppo grape.
In addition to these mainland regions, Il Mezzogiorno also includes the islands Sicily and Sardinia, and the regions that lie on its northern edge, Abruzzi and Molise. We'll welcome reports on wines from any of these regions this month. To get things started, I opened an excellent white Falanghina, made by Ocone in the Taburno wine region of Campania, in the hills above Naples. My tasting report is below.
You're invited to join our friendly international crowd of online wine lovers as we taste and talk about the wines of Southern Italy. To participate in the conversation, simply click to the forum topic "January: The South of Italy"
All forum discussions are open for public viewing, but you must register to post your comments and participate actively in the conversation. Registration is free and easy; we ask only that you join following our Real Names Real Format system. For your user name, enter your real name in the format "John Doe" or "John D", with the capital letters and the space.
Having a real name on your name tag is so important to us that all non-conforming registrations will be quietly discarded. Redemption is possible, though. If you overlook this rule and get no response to your registration, feel free to contact me personally by Email at wine@wineloverspage.com, and we'll sort it out.
Once your registration has been approved, which usually happens quickly with correctly formed user names, you'll be able to participate in Wine Focus and in all our online wine and food forums.
Today's Tasting Report
Ocone 2009 Taburno Falanghina ($9.99)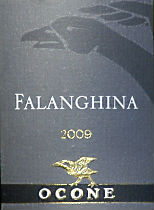 This wine made from Falanghina grapes in Campania's Taburno wine region is a bright, clear gold color. Lovely, subtle scents of white fruit and beeswax lead into a delicious flavor, good body, dry, juicy pears and fresh-fruit acidity, rational 12.5% alcohol, with just a touch of appetite-whetting bitterness in the finish. Well balanced and food-friendly, in a rich style that's distinctly Southern Italian. U.S. importer: Scoperta Importing Co., Cleveland Heights, Ohio. (Jan. 5, 2012)
FOOD MATCH: It would be just fine with the seafood and saltwater fish that abound off the Naples coast; it was splendid, too, with a vegetable main course of lima beans and diced turnip long braised in olive oil with onions and garlic and a touch of Dijon mustard.
VALUE: On sale at a local retailer thanks to a distributor's close-out, it's a back-up-the-truck buy. Even at its more normal price point in the lower to middle teens, it's still an excellent value.
WHEN TO DRINK: It's not for long-term cellaring, but I'd say its richness and color promise at least a couple of years' aging potential. No rush to drink it up.
PRONUNCIATION:
"Falanghina" = "FA-lan-GHEE-nah," with a hard "g".
WEB LINK: This link leads to another U.S. distributor's fact sheet on Ocone Estate and its 2010 Falanghina..
FIND THIS WINE ONLINE:
Find vendors and compare prices for Ocone Taburno Falanghina on Wine-Searcher.com.
Talk About Wine Online
If you have questions, comments or ideas to share about today's article or wine in general, you're always welcome to drop by our online WineLovers Discussion Group, the Internet's first and still the most civil online community. To find our forums, click:
http://www.wineloverspage.com/forum/village
Discussions are open for public viewing, but you must register to post. Registration is free and easy; we ask only that you join following our Real Names Real Format system, using your real name in the format "John Doe" or "John D". Anonymous, cryptic or first-name-only registrations are discarded without notice.
Once your registration has been approved, which usually happens quickly, you'll be able to participate in all our online wine, food and travel forums.
To contact me by E-mail, write wine@wineloverspage.com. I'll respond personally to the extent that time and volume permit.
Subscriptions and Administrivia
Unsubscribe:
We're sorry if you must leave us, but simply click the "unsubscribe"
link at the bottom of your Email edition to be instantly removed from the mailing list.
Change address:
The quickest and easiest way to change your Email address is simply to register anew, using the link below. If you are keeping your old address but no longer wish to get the Wine Advisor there, click the unsubscribe link below to take it off our list; if you are closing the mailbox, you needn't take any action, as our system will delete your old address as soon as the mail to your old address starts to "bounce."
Subscribe to this Email edition (free):
http://www.wineloverspage.com/wineadvisor
WineLoversPage.com RSS Feed (free):
http://feeds.feedburner.com/wineloverspage/tzva
Wine Advisor Archives:
http://www.wineloverspage.com/wineadvisor2/archives.php
Sponsorship Opportunities:
For information, E-mail wine@wineloverspage.com