Love 'em or hate 'em?
If you insist on the finest crystal for your wine, you may hate this idea. But if you like the idea of a clear, reusable or recyclable food-safe pharmaceutical-grade polymer (okay, plastic) stemless wine glass that you can pack for travel, picnics or tailgating, you might just be excited about these lightweight, thin Govino Shatterproof Stemless Wine Glasses.
Click to buy them now from Amazon.com, $25.90 for eight.
Occupy this bubbly
A decent sparkling wine that won't break the bank is a rational way to welcome in the New Year and see out the Old. I think at least 99 percent of us can agree on this.
So, without begrudging $300 vintage Champagnes to those who can afford them, let's cut to the chase for the rest of us: I've long recommended Northeastern Italy's Prosecco as a viable bridge between price and quality for everyday bubbly, and I'll double down that recommendation for the modest bubbly I enjoyed with lunch today.
Tasting ahead of midnight tomorrow so you won't have to, I was delighted with the Prosecco from Ruffino, a major Tuscan producer better known heretofore for its Chianti (including the modest, classically styled model that I featured about a year ago in the Nov. 5, 2010 30 Second Wine Advisor, Good cheap Chianti, no basket).
Fresh and bubbly, with good fresh lime-lemon and peach scents and a crisp, nearly dry flavor that finishes light, not cloying, it's a winner for New Year's Eve or just about any other time, and at $10 to $12 in most markets, the cash register experience won't make your head explode. It's an excellent choice for New Year's toasting, interesting enough to serve your wine-geek friends and accessible enough for the whole gang to enjoy. At 11 percent alcohol, you can enjoy a second glass, but be careful out there on New Year's Eve!
Pop the cork ... without a sound!
(A sparkling wine tip from our WineLovers' Questionary.)
Popping a sparkling wine cork is fun, but letting it fly with a bang isn't really a great idea. You might break the china, poke out a pal's eye, or, in any case, make a mess and waste good wine. So here's my alternative method for opening bubbly--a trick that will impress your friends because you end up nonchalantly holding the cork safely in your hand!
Make sure the wine is ice-cold, and avoid shaking the bottle.
Carefully peel the foil and unwind and remove the wire cage that holds the cork in place.
If there's any gunk around the cork, wipe it off with a damp cloth or paper towel.
Now, here's the trick: Assuming you're right-handed, grip the bottle with your right hand and hold the cork tightly with your left, either bare-handed or using a cloth or paper towel. Hold the cork steady while you gently twist the bottle. The cork will ease loose with a soft hiss, and you'll find yourself holding the cork in one hand and an open bottle in the other.
Today's Tasting Report
Ruffino Prosecco ($12.99)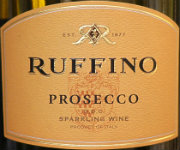 Very pale in color, light straw shading to clear. A frothy mass of bubbles fills the glass, then falls back to a light but lasting sparkle. Its fresh, citric scent offers subtle lime and lemon and a hint of peach, and the palate follows through with a light, limey, prickly flavor that's crisp and almost dry, with just a touch of fresh-fruit sweetness to make it food-friendly but not cloying. An excellent pick for New Year's toasting, affordably priced, interesting enough to serve your wine-geek friends and accessible enough for the whole gang to enjoy. At 11 percent alcohol, you can enjoy a second glass, but be careful out there on New Year's Eve! U.S. importer: Ruffino Import Co., Rutherford, Calif. (Dec. 29, 2011)
FOOD MATCH: I enjoyed it today with a light lunch of curried cauliflower soup - an inspired match, the crisp fruit played well with the creamy cauliflower; the bubbles calmed the curry fire, and the wine's quenching character put an exclamation point on the sentence. Of course it would go well with a broad range of foods, and will serve you just fine for New Year's toasting.
VALUE: In the lower teens or below, you ought to be able to supply toasts and a few extra sips for a New Year's Eve party of decent size.
WHEN TO DRINK: You can keep it on the rack or in the fridge for a year or so, but why? Enjoy it now, or the next time you feel celebratory.
WEB LINK: Here's the winery's fact sheet on Ruffino Prosecco.
FIND THIS WINE ONLINE:
Find vendors and compare prices for Prosecco Ruffino on Wine-Searcher.com.
Talk About Wine Online
If you have questions, comments or ideas to share about today's article or wine in general, you're always welcome to drop by our online WineLovers Discussion Group, the Internet's first and still the most civil online community. To find our forums, click:
http://www.wineloverspage.com/forum/village
Discussions are open for public viewing, but you must register to post. Registration is free and easy; we ask only that you join following our Real Names Real Format system, using your real name in the format "John Doe" or "John D". Anonymous, cryptic or first-name-only registrations are discarded without notice.
Once your registration has been approved, which usually happens quickly, you'll be able to participate in all our online wine, food and travel forums.
To contact me by E-mail, write wine@wineloverspage.com. I'll respond personally to the extent that time and volume permit.
Subscriptions and Administrivia
Unsubscribe:
We're sorry if you must leave us, but simply click the "unsubscribe"
link at the bottom of your Email edition to be instantly removed from the mailing list.
Change address:
The quickest and easiest way to change your Email address is simply to register anew, using the link below. If you are keeping your old address but no longer wish to get the Wine Advisor there, click the unsubscribe link below to take it off our list; if you are closing the mailbox, you needn't take any action, as our system will delete your old address as soon as the mail to your old address starts to "bounce."
Subscribe to this Email edition (free):
http://www.wineloverspage.com/wineadvisor
WineLoversPage.com RSS Feed (free):
http://feeds.feedburner.com/wineloverspage/tzva
Wine Advisor Archives:
http://www.wineloverspage.com/wineadvisor2/archives.php
Sponsorship Opportunities:
For information, E-mail wine@wineloverspage.com