Love 'em or hate 'em?
If you insist on the finest crystal for your wine, you may hate this idea. But if you like the idea of a clear, reusable or recyclable food-safe pharmaceutical-grade polymer (okay, plastic) stemless wine glass that you can pack for travel, picnics or tailgating, you might just be excited about these lightweight, thin Govino Shatterproof Stemless Wine Glasses.
Click to buy them now from Amazon.com, $25.90 for eight.
Nouveau worth the wait
You may have noticed last month that, after many years of marking the arrival of the annual Beaujolais Nouveau on the third Thursday of November, I didn't even bother to do that this year.
Frankly, as I reported in November 2010, the Nouveau trend, a postwar invention created more for profit than for pleasure, appears to have "jumped the shark." As I said then, "there's mounting evidence that the Nouveau trend, running since soon after World War II, has peaked and gone into free fall: Sales of Nouveau have dropped by half since 2005. That's a marker that would have any sensible buyer selling off his stocks."
So, when the still-sizable river of Nouveau began to flow last month, much of it bearing the colorful label of "The King of Beaujolais," Georges Duboeuf, I passed on by.
Last week, though, browsing my neighborhood wine shop for something to open with dinner, I spotted a second row of Nouveau bottles under the poster colors of the Duboeuf shelf. These bore an old-school French label unaffected by the appeals of public-relations advisors or focus groups; and to my delight, when I turned a bottle around to look at the back label, it was an Alain Junguenet Selection imported by Wines of France Inc., of Mountainside, N.J., one of my favorite suppliers of Chateauneuf-du-Pape and other appealing Rhone wines. For $13.99 it was an easy sell, and a last-minute chance to keep my annual string of Nouveau intact after all.
Domaine Rochette 2011 Beaujolais Villages Nouveau, made by Matthieu and Joel Rochette in the Beaujolais-Villages region of Regnie, proved to be all that I had expected. A great wine, no, but that's not what you expect from Nouveau. A fun wine, rather, fully deserving of the French term "gouleyant" ("gulpable") that was allegedly coined to describe Beaujolais. My tasting notes follow.
The old wisdom holds that Beaujolais Nouveau is best drunk up before Christmas, but in fairness, with modern wine making technology and, frankly, sanitation, most will last - if not improve - for a year or so. This one, with its good balance and rustic style, might hang on for two, but why bother? Drink up, and enjoy the 2012 next winter.
Today's Tasting Report
Domaine Rochette 2011 Beaujolais Villages Nouveau ($13.99)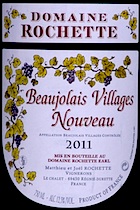 Clear ruby color. Very ripe strawberry aroma, typical nouveau but happily without the banana or bubble-gum overtones that make Nouveau widely loathed. A hint of red-clay minerality adds aroma and flavor interest, and crisp, fresh-fruit acidity makes it a natural at the table. One of the better Nouveaus I've tried, and an extra month in bottle certainly hasn't done it any harm and may have helped. U.S. importer: Wines of France Inc., Alain Junguenet Selection, Mountainside, N.J. (Dec. 18, 2011)
FOOD MATCH: It fared well with a meatless dish of lima beans braised with onions, garlic, butter and sage and three peppers. The beans, butter and sage "tamed" the wine's wild strawberry flavors and took advantage of its fruit, minerality and crisp acidity as a fine table wine. Of course the wine would be fine, too, with more traditional pairings, simple red meats, chicken or a variety of cheeses.
VALUE: The low teens are the usual neighborhood for better Nouveau, and this one certainly qualifies.
WHEN TO DRINK: It won't fade for months or maybe a year or two, but I suggest drinking it up soon. That's what Nouveau is all about.
WEB LINK: Domaine Rochette's Web page appears to be published only in French, but even if your command of the language, like mine, is largely limited to food and wine terms, it's worth poking through it for the photos and to get a sense of the producer.
FIND THIS WINE ONLINE:
Because Nouveau moves through the market so quickly, it doesn't linger on the shelves. However,
Wine-Searcher.com lists many vendors and prices for the Beaujolais wines of Domaine Rochette, all worth consideration; many of these vendors should have the Nouveau.
Talk About Wine Online
If you have questions, comments or ideas to share about today's article or wine in general, you're always welcome to drop by our online WineLovers Discussion Group, the Internet's first and still the most civil online community. To find our forums, click:
http://www.wineloverspage.com/forum/village
Discussions are open for public viewing, but you must register to post. Registration is free and easy; we ask only that you join following our Real Names Real Format system, using your real name in the format "John Doe" or "John D". Anonymous, cryptic or first-name-only registrations are discarded without notice.
Once your registration has been approved, which usually happens quickly, you'll be able to participate in all our online wine, food and travel forums.
To contact me by E-mail, write wine@wineloverspage.com. I'll respond personally to the extent that time and volume permit.
Subscriptions and Administrivia
Unsubscribe:
We're sorry if you must leave us, but simply click the "unsubscribe"
link at the bottom of your Email edition to be instantly removed from the mailing list.
Change address:
The quickest and easiest way to change your Email address is simply to register anew, using the link below. If you are keeping your old address but no longer wish to get the Wine Advisor there, click the unsubscribe link below to take it off our list; if you are closing the mailbox, you needn't take any action, as our system will delete your old address as soon as the mail to your old address starts to "bounce."
Subscribe to this Email edition (free):
http://www.wineloverspage.com/wineadvisor
WineLoversPage.com RSS Feed (free):
http://feeds.feedburner.com/wineloverspage/tzva
Wine Advisor Archives:
http://www.wineloverspage.com/wineadvisor2/archives.php
Sponsorship Opportunities:
For information, E-mail wine@wineloverspage.com