Today's Sponsor
Rioja is pure genius for wine lovers
For people who love wine, novices and experts alike, Rioja is a guaranteed choice - in fact, pure genius.
Vibrant Rioja

The ongoing timeline of wine
Every year it's fun to watch the seasons come and go. Baseball, football, basketball ... no, wait! Summer, autumn, winter, spring, warm to cool to freeze and back again; drops of dew and flakes of snow, frost and cold, ice and sleet, storm clouds and thunderbolts: "To every thing there is a season, and a time to every purpose under the heaven."
Seasonal changes keep us centered in life and remind us that the years come and the years go, changing us and the world we live in with each new circle around the sun.
What inspires me to these deep thoughts? The approaching Winter Solstice? Maybe a little; that, and Advent leading up to Christmas. But mostly, to be honest, it was the recent arrival of the 2009 vintage of Falesco Vitiano Rosso, a good red wine from Umbria in Central Italy that I've been enjoying in each new vintage for many years.
There's something about the fun of seeing an old friend return in each new vintage, the ongoing timeline of wine, that brings together the simple pleasure of wine with the deeper satisfaction of relating its enjoyment to our passage though the journeys of our lives.
Vintage, after all, reflects more than just a different number on the bottle. As I wrote in a prior rumination on this topic, it is both fun and educational to pay attention to the similarities that the grape, the land and the wine maker's hand bring to a particular wine each year, and to contrast these fixed points against the inevitable changes that result from differences in each vintage's weather and other variables.
You'll find my notes on Falesco 2009 "Vitiano" Rosso Umbria "Winemaker's Selection" just below. It's a blend of the French-heritage Cabernet Sauvignon variety with Italy's own Sangiovese. Note that there's also a Cab-Merlot-Sangiovese blend without the "Winemaker's Selection" label, which is very widely available and sells for a few dollars less. I'd be happy with either.
Today's Tasting Report
Falesco 2009 "Vitiano" Rosso Umbria "Winemaker's Selection" ($12.99)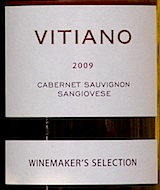 Dark garnet, almost black at the center. Black fruit aromas, cherry and plum, carry over intact on the palate in a dry, appropriately tart and very well balanced table wine that goes very well with food. A Cabernet Sauvignon and Sangiovese blend, it's a reasonably priced Umbrian analogue of the "super Tuscan" wines from Tuscany, Umbria's next-door neighbor. U.S. importer: Winebow Inc., NYC; Leonardo Locascio Selections. (Nov. 25, 2011)
FOOD MATCH: It was excellent with a stereotypical choice for Sangiovese, spaghetti with a simple tomato-based Italian-American "gravy." It would be fine, too, with that other Tuscan favor, grilled rare red meat.
VALUE: This price is entirely fair for a wine of this quality. If you run into the regular Vitiano, the Cab-Merlot-Sangiovese blend, expect it to be tagged for $10 or under; it should be a good value too.
WHEN TO DRINK: Our WineLovers Discussion Group forum did a cellaring experiment with Falesco Vitiano a while back, putting bottles aside for comparative tasting a few years later. We found that the wine didn't suffer with short-term aging, but didn't really evolve, either. I'd say drink up, and enjoy watching for future vintages.
WEB LINK: Here is a Vitiano fact sheet (PDF format) on the U.S. Importer's website.
FIND THIS WINE ONLINE:
Compare prices and find vendors for Falesco Vitiano at Wine-Searcher.com.
Wine Focus on Holiday sweets
It's December, the multicultural season of holidays, and we've chosen an appropriate Wine Focus topic for the month in our WineLovers Discussion Group.
You're invited to join our friendly international crowd of online wine lovers as we taste and talk about the world's great variety of sweet wines and dessert wines. Bring out your French Sauternes, the German Beerenauslesen, Trockenbeerenauslesen and Eiswein (Canada's, too!); delectable Port or sweet Sherry, Madeira, Marsala, Malaga; Loire Moelleux and Quarts de Chaume, Alsatian SGN, those Aussie Liqueur Muscats and just about any other nectar you can think of.
Grab a sweet wine and settle in for some holiday cheer! To participate in the conversation, simply click to the forum topic "December: Holiday Sweets."
All forum discussions are open for public viewing, but you must register to post your comments and participate actively in the conversation. Registration is free and easy; we ask only that you join following our Real Names Real Format system. For your user name, enter your real name in the format "John Doe" or "John D", with the capital letters and the space.
Having a real name on your name tag is so important to us that all non-conforming registrations will be quietly discarded. Redemption is possible, though. If you overlook this rule and get no response to your registration, feel free to contact me personally by Email at wine@wineloverspage.com, and we'll sort it out.
Once your registration has been approved, which usually happens quickly with correctly formed user names, you'll be able to participate in Wine Focus and in all our online wine and food forums.
Today's Sponsor
Rioja is pure genius for wine lovers
For people who love wine, novices and experts alike, Rioja is a guaranteed choice - in fact, pure genius.

Why? For starters, there's a style for every occasion, taste and budget, from crisp whites to refreshing rosés to robust reds, all at great value (very affordable).

Wait, there's more - every Rioja is ready to drink when purchased, providing instant gratification.

Not to mention, Rioja wines are considered by many chefs and sommeliers to be the best food-pairing wines on Earth, created to enhance food, not overwhelm the flavors.

Need more reasons? The quality is guaranteed by the DOCa Rioja, the government body overseeing production of every bottle with the highest standards, ensuring every sip will satisfy.

Try a Rioja today and discover why Rioja is pure genius. Rioja wines make great gifts too - don't be afraid to share the love!

Visit us at www.VibrantRioja.com, join the community, and enter to win a case of Rioja.
Talk About Wine Online
If you have questions, comments or ideas to share about today's article or wine in general, you're always welcome to drop by our online WineLovers Discussion Group, the Internet's first and still the most civil online community. To find our forums, click:
http://www.wineloverspage.com/forum/village
Discussions are open for public viewing, but you must register to post. Registration is free and easy; we ask only that you join following our Real Names Real Format system, using your real name in the format "John Doe" or "John D". Anonymous, cryptic or first-name-only registrations are discarded without notice.
Once your registration has been approved, which usually happens quickly, you'll be able to participate in all our online wine, food and travel forums.
To contact me by E-mail, write wine@wineloverspage.com. I'll respond personally to the extent that time and volume permit.
Subscriptions and Administrivia
Unsubscribe:
We're sorry if you must leave us, but simply click the "unsubscribe"
link at the bottom of your Email edition to be instantly removed from the mailing list.
Change address:
The quickest and easiest way to change your Email address is simply to register anew, using the link below. If you are keeping your old address but no longer wish to get the Wine Advisor there, click the unsubscribe link below to take it off our list; if you are closing the mailbox, you needn't take any action, as our system will delete your old address as soon as the mail to your old address starts to "bounce."
Subscribe to this Email edition (free):
http://www.wineloverspage.com/wineadvisor
WineLoversPage.com RSS Feed (free):
http://feeds.feedburner.com/wineloverspage/tzva
Wine Advisor Archives:
http://www.wineloverspage.com/wineadvisor2/archives.php
Sponsorship Opportunities:
For information, E-mail wine@wineloverspage.com