Today's Sponsor
Today only! Give a Gift, Get a (Wine) Gift!
Black Friday has come early! Special offer for 30 Second Wine Advisor readers: Get a $26 bottle of Pinot Noir with every gift purchase from The California Wine Club! Use Promo Code: ROBIN during check out when ordering gifts.
Click Here to Order Gifts Now!

Pass the Port ... and the cheese
It's almost Thanksgiving Day in the U.S. Happy Thanksgiving, everyone! Tomorrow, many of us will be enjoying sumptuous family feasts, good wine, and, perhaps, a glass of Port after dinner.
Ah, Port. We've talked before about this Portuguese classic, a wine made in the scenic, steep Douro river valley and traditionally "fortified" with the addition of brandy. This trick was originally done to help the wine keep well in barrels on its sea voyage to England, where Port became beloved in the 17th century, inspiring the canny Douro producers to alter what had been a simple, hearty red table wine into something more iconic.
Not only did fortification preserve the wine, but coincidentally it provided alcoholic strength to make a warming wine for blustery English winters; it halted fermentation before all the grape sugar had been eaten by yeast, resulting in a deliciously sweet after-dinner wine; and it created a wine that aged very nicely, gaining character and complexity over years in barrel and bottle.
"Connoisseurs" often demand Vintage Port, which is made only in years when good weather conditions fostered ripe grapes to make extraordinary wine. But the categories of Tawny Port (non-vintage, aged in barrel until it turns mellow and brown) or Ruby Port (non-vintage, simpler, more accessible in its youth) offer the rest of us an opportunity to try Port without the initial expense or the need for long-term cellaring.
The other day, checking out the recently opened branch of Trader Joe's in my home town, I spotted a bottle of Quarles Harris Ruby Porto going for a cool $9.99. I had sampled this smaller producer's ports in the Douro but hadn't seen it in the U.S. At that price, who could resist? I took a bottle home and sampled it on a chilly autumn evening. (My tasting notes are below.)
Which brings us to the obvious follow-up question: What do you serve with Ruby Port? The easy answer is "more Port," as this dessert-in-a-glass goes well enough on its own. But it's nice to have something to munch, and so we put down a plate of some obvious suspects: nuts (specifically walnuts), dried fruit (Mission figs), fresh fruit (Satsuma tangerines) and a tangy cheese (a local favorite, mild Capriole Farmstead goat cheese from nearby Southern Indiana).
The results were interesting. First, I tried each item by itself with the Port. The cheese went pretty well, coating the palate with a smooth, tart-sweet creaminess that seemed to mellow the wine's harsh edges.
The walnuts were okay with the Port, too, and so were the dried purple figs, although there was no special synergy going on. The tangerine pieces, sweet as they seemed alone, came across as sour with the wine.
But when I tried a little of the mild, soft white goat cheese together with the other bites, the cheese somehow bridged the gaps to create new and interesting flavor sensations among all three items and the wine. The cheese softened the acidity of the tangerine to a sweet cream effect that, with the wine, was strangely - and pleasantly - reminiscent of Dreamsicles. The flavor of both the cheese and the walnuts seemed to intensify when I tasted them together, and the wine brought the combination home. Ditto for figs spread with cheese and tasted with the Port.
Best of all, though, a bit of dried fig, walnut and cheese together showed a symphonic synergy with the Port that put this combo in the winner's circle.
Playing with Port. Try it after Thanksgiving dinner, or on a wintry evening some time soon.
Today's Sponsor
Today only! Give a Gift, Get a (Wine) Gift!
Black Friday has come early!
Special offer for 30 Second Wine Advisor readers: Get a $26 bottle of Pinot Noir with every gift purchase from The California Wine Club! Use Promo Code: ROBIN during check out when ordering gifts.
Click Here to Order Gifts Now!
Your gift bottle:
Castoro Cellars 2010 "Blind Faith" Paso Robles Pinot Noir
Concentrated fruit aromas that are a hallmark of Castoro's "Blind Faith" Pinot Noir ... black cherry and tea notes, toasty, smoky flavors and every reason to take another sip! Tasting Room Retail: $26
Gifts from The California Wine Club start at just $49.45 (includes shipping) and feature:
* Two Bottles of award-winning, limited-production wine from California's best "mom & pop" wineries
* Fun and informative Uncorked(R) magazine
* A 100% bottle guarantee
* Your holiday gift message
* Bonus gifts for your recipients: $25 CWC Wine Credit and a fun wine-bottle shaped notepad
Send as many gift months as you wish. Special discounts are available on 3, 6, 9, and 12-month gifts. It's a fun and unique holiday gift that will be remembered!
Call 1-800-777-4443 or Click here to give a holiday gift and get a gift bottle of Pinot Noir for yourself! Remember to use Promo Code: ROBIN during check out!
Hurry: Offer ends at midnight, PST, Nov. 23, 2011.
Today's Tasting Report
Quarles Harris Ruby Porto ($9.99)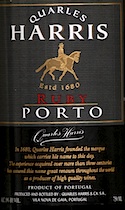 Dark ruby, shading to a clear reddish-purple line at the edge. Good dried fruit aromas, plum and berry, with an edge of alcohol (at 19 percent typical of Port) a little more noticeable on the nose than the palate. Ripe and sweet dried-fruit flavor follows the nose, fresh-fruit sugars bound up with firm acidity. There's some tannic astringency present, but nothing compared to the searing tannins of a young vintage Port. Good intro to Port, good value. U.S. importer: International Wine Imports, American Canyon, Calif. (Nov. 22, 2011)
FOOD MATCH: We enjoyed it with a tray of traditional Port snacks: walnuts, dried Mission figs, Satsuma tangerines and mild goat cheese. As detailed in today's article, the cheese proved to be the magic ingredient that brought all the flavors together.
VALUE: We got this top value at the new Trader Joe's in Louisville. If you have a Trader Joe's nearby, stock up.
WHEN TO DRINK: Unlike Vintage Port, which is considered a finer wine and is usually priced to match, Ruby Port isn't made for long-term aging. That being said, however, the same factors that make Vintage Port cellarworthy - alcoholic strength, residual sugar and tannins - would surely carry a good Ruby through several years in the cellar.
WEB LINK: Quarles Harris is a relatively minor player in the major Port conglomerate Symington Family Estates.
FIND THIS WINE ONLINE:
In the U.S., Trader Joe's may be the only reliable source of Quarles Harris Ruby Porto at this price or any other. However, Wine-Searcher.com offers a wide selection of Ruby from other producers, available at vendors around the world.
Talk About Wine Online
If you have questions, comments or ideas to share about today's article or wine in general, you're always welcome to drop by our online WineLovers Discussion Group, the Internet's first and still the most civil online community. To find our forums, click:
http://www.wineloverspage.com/forum/village
Discussions are open for public viewing, but you must register to post. Registration is free and easy; we ask only that you join following our Real Names Real Format system, using your real name in the format "John Doe" or "John D". Anonymous, cryptic or first-name-only registrations are discarded without notice.
Once your registration has been approved, which usually happens quickly, you'll be able to participate in all our online wine, food and travel forums.
To contact me by E-mail, write wine@wineloverspage.com. I'll respond personally to the extent that time and volume permit.
Subscriptions and Administrivia
Unsubscribe:
We're sorry if you must leave us, but simply click the "unsubscribe"
link at the bottom of your Email edition to be instantly removed from the mailing list.
Change address:
The quickest and easiest way to change your Email address is simply to register anew, using the link below. If you are keeping your old address but no longer wish to get the Wine Advisor there, click the unsubscribe link below to take it off our list; if you are closing the mailbox, you needn't take any action, as our system will delete your old address as soon as the mail to your old address starts to "bounce."
Subscribe to this Email edition (free):
http://www.wineloverspage.com/wineadvisor
WineLoversPage.com RSS Feed (free):
http://feeds.feedburner.com/wineloverspage/tzva
Wine Advisor Archives:
http://www.wineloverspage.com/wineadvisor2/archives.php
Sponsorship Opportunities:
For information, E-mail wine@wineloverspage.com