Quest for good cheap Bordeaux
Bordeaux. It's a name to conjure with, a French wine region that has been producing highly regarded red wines since before the 12th Century, when Eleanor of Aquitaine brought the land that is now Bordeaux under the English crown, at least for a while, with her marriage to King Henry II.
The British have been drinking Bordeaux ever since, and just about all the rest of the world eventually followed suit. After all, there's plenty to like about this stylish blend of Cabernet Sauvignon, Merlot and, often, splashes of juice from other local grapes including Cabernet Franc, Merlot and Petit Verdot. Over many centuries of experience, the Bordelaise have really got the wine-making process down pat.
But a funny thing happened around 1855, when the wine merchants of Bordeaux's Medoc region got together and settled on a formal classification, a regulatory process that created a hierarchy of value based, crassly enough, on the prices each producer ("chateau") earned in the marketplace. It was at that point that top-rank producers Margaux, Lafite-Rothschild, Lafite, Latour and Ch. Haut-Brion (joined about a century later by Mouton-Rothschild) earned the title "First Growth" and began commanding prices well beyond everyday drinking for most of us.
The rise of popular, widely published critics like Robert M. Parker Jr. and Wine Spectator's tasting panels in the 1980s put the icing on the cake, until it has come to the point that classified Bordeaux is simply no longer within a range that I am usually willing to pay for wine.
Okayfine. That's life in the fast lane. But it occurred to me recently that, in what can only be described as a Bordeaux-related tantrum, I've been unconsciously boycotting the entire Bordeaux genre.
That's not so smart.
After all, even if I can't sip Chateau Pétrus with the big dogs, there's still plenty of modest Bordeaux around, so much that it makes up about one-third of the value of all French wine exports.
No, it's not at the same rarified level; but it's worth bearing in mind that even the most generic category of the region, the controlled appellation just-plain Bordeaux, is still made from the classic Bordeaux grapes by producers who share the region's DNA and its tradition. We're talking about dry, acidic varietal blends with a substantial heritage, everyday wines with character in their own right, wines that for centuries have been made with the dinner table as their destination.

I promptly suited action to idea and got out among the bargain bins. Here's one for $12, there a tenner, and wait, what's this? Le Cluzet 2009 Bordeaux Rouge for $7.99? In this day and age when it's getting hard to find "interesting" wines under 10 bucks, I'm willing to risk eight bucks on simple Bordeaux, figuring that at worst I'll be able to choke it down.
This goodie proved far better than mere choke-able, though. While it's no wine for the ages, it gave me what I expect of basic Bordeaux: Crisp and tart, cherry and plum aromas, and a good, snappy acidity on the palate to make it a friendly companion with food.
The bad news? Searching online, I can't find this wine except in a more pricey version with a different label that seems to be available mostly in Holland and France. I'm not at all certain whether I got lucky and nabbed a tiny shipment that happened to find its way here, or if more is on the way. With regrets that it's not going to be easy for you to find, I present it so you can keep the name handy in hope it does show up.
Meanwhile, the moral of today's sermon is simple: Don't boycott cheap Bordeaux. Keep your expectations within reason, but when you spot a fresh vintage at an appealing price, give one a try. The "Find this Wine Online" link in the tasting report below may help you get started. Also, don't be shy about asking advice at your friendly neighborhood wine shop. The results may be well worth the small effort.
Today's Sponsor
Why Wait?
Reserve your Holiday Gift now and The California Wine Club won't bill you or ship your gifts until December.
Click here!
Award-winning, limited-production wine from California's best artisan wineries is the perfect holiday gift for all the hard-to-buy-for people on your list. With The California Wine Club, you can send your gift recipients on an armchair tour of California's best "mom & pop" wineries. It's fun, unique and memorable.
Each holiday gift month is just $49.45 (includes shipping) and features two bottles of award-winning, limited-production wine and an in-depth look inside the featured winery with Uncorked(R) magazine.
Club owners Bruce and Pam Boring hand-select every wine and their commitment to quality is evident with every bottle they send out.
"We guarantee that your gift recipients will love the wines we feature, or we'll give you your money back!" --Bruce & Pam Boring
Send more, save more: Special discounts are available on 3, 6, 9, and 12-month gifts. Send as many months as you wish. Call 1-800-777-4443 or visit www.cawineclub.com.
Today's Tasting Report
Le Cluzet 2009 Bordeaux Rouge ($7.99)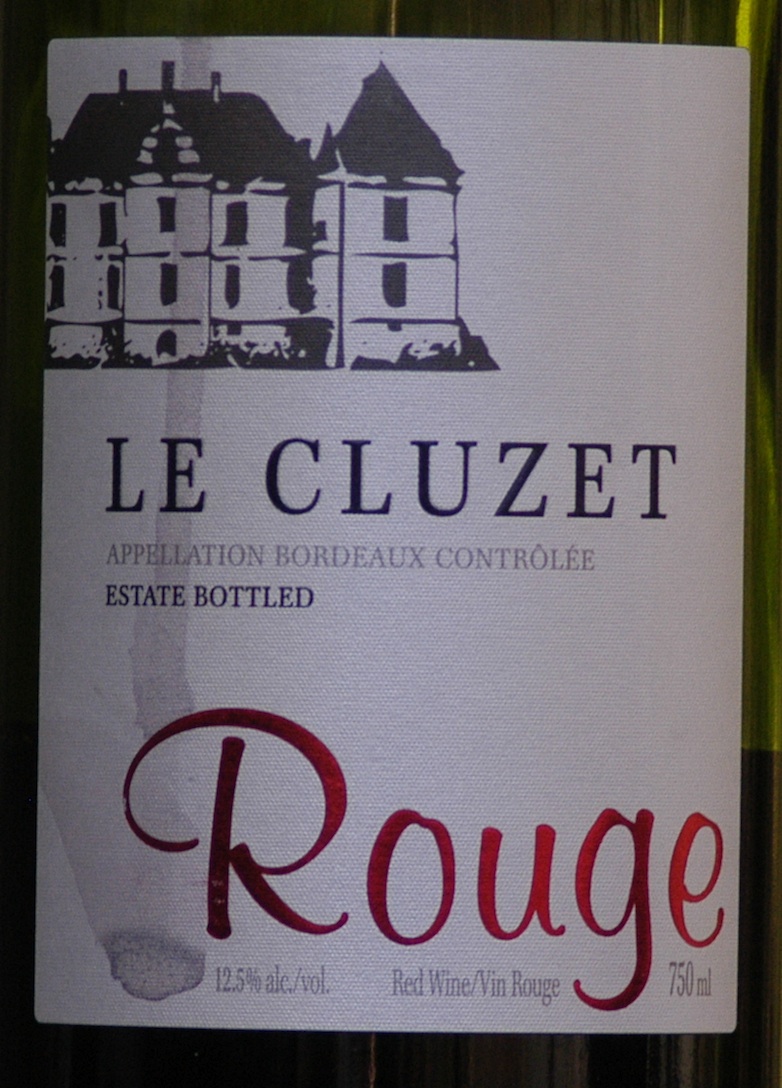 Garnet, with a clear edge. Cranberry, red plum and a whiff of brown spice on the nose. Tart red fruit flavor, fresh and dry, appropriate table wine alcohol at 12.5%; snappy acidity lingering. A blend of 75% Merlot with 25% Cabernet Sauvignon. U.S. importer: Prestige Wine Group, Princeton, Minn. (Nov. 6, 2011)
FOOD MATCH: Excellent pairing of an autumn dish of roasted pumpkin and potatoes with lots of browned onions to bring the roasted veggies up to meet the dry red wine. The back label suggests more traditional matches with lamb, steak, burgers and Cheddar, all of which should work fine.
VALUE: If you can find this serviceable, balanced and food-friendly table red anywhere near this price, I suggest buying it by the case.
WHEN TO DRINK: Low-end Bordeaux from the generic Bordeaux-wide appellation isn't made for cellaring, but I have no reason to believe this one wouldn't fare well under good storage conditions for a few years. No rush to drink it up.
WEB LINK: The U.S. Importer's Website doesn't seem to show Le Cluzet at this time, but you might use this link for more information about it and other wines in their portfolio.
FIND THIS WINE ONLINE:
This link to Wine-Searcher.com a random selection of Bordeaux Rouge under $10 from vendors around the world.
Talk About Wine Online
If you have questions, comments or ideas to share about today's article or wine in general, you're always welcome to drop by our online WineLovers Discussion Group, the Internet's first and still the most civil online community. To find our forums, click:
http://www.wineloverspage.com/forum/village
Discussions are open for public viewing, but you must register to post. Registration is free and easy; we ask only that you join following our Real Names Real Format system, using your real name in the format "John Doe" or "John D". Anonymous, cryptic or first-name-only registrations are discarded without notice.
Once your registration has been approved, which usually happens quickly, you'll be able to participate in all our online wine, food and travel forums.
To contact me by E-mail, write wine@wineloverspage.com. I'll respond personally to the extent that time and volume permit.
Subscriptions and Administrivia
Unsubscribe:
We're sorry if you must leave us, but simply click the "unsubscribe"
link at the bottom of your Email edition to be instantly removed from the mailing list.
Change address:
The quickest and easiest way to change your Email address is simply to register anew, using the link below. If you are keeping your old address but no longer wish to get the Wine Advisor there, click the unsubscribe link below to take it off our list; if you are closing the mailbox, you needn't take any action, as our system will delete your old address as soon as the mail to your old address starts to "bounce."
Subscribe to this Email edition (free):
http://www.wineloverspage.com/wineadvisor
WineLoversPage.com RSS Feed (free):
http://feeds.feedburner.com/wineloverspage/tzva
Wine Advisor Archives:
http://www.wineloverspage.com/wineadvisor2/archives.php
Sponsorship Opportunities:
For information, E-mail wine@wineloverspage.com