Riesling with a prickly tickle
I often wonder why Riesling isn't more popular.
Sure, this historic grape has its fierce partisans, who argue passionately that this German-born white grape makes some of the world's most noble wines, wrestling on even terms with contenders like Pinot Noir and Cabernet Sauvignon for the crown.
Riesling can make wine of depth, clarity and transparency, wondrous in its capability to extract mineral complexity from the soil. It can be delicious in youth, yet it ages beautifully. It can be made syrup-sweet, bone-dry, and, perhaps most often, stylishly in-between, with light fresh-fruit sugars perfectly balanced by mouth-watering acidity. Fresh, thirst-quenching, fruity and aromatic, relatively light in alcohol, with gentle, well-balanced sweetness. And wait! There's more! There's hardly another wine, saving possibly Pinot Noir, that's as versatile on the dinner table.
All this sounds like it ought to be an easy recipe for commercial success; but try this: Compare the shelf space given to Chardonnay or Zinfandel against the Riesling shelves at your local wine shop. If you can find the Riesling at all, let me know how many bottles you find.
What's not to like? Not much that I can see. And yet, as I've admitted before, I am no poster boy for Riesling. Whatever my intentions, I end up opening the stuff maybe a half-dozen times a year.
My personal Riesling resistance is based more on the simple reality that Riesling is different. It requires a paradigm shift, to use a buzzword, to move over from the familiar flavor profiles of dry French and Italian table wines and their New World descendants to Riesling's aromatic, tart-sweet style.
But it's more than worth the effort now and then, if only for a pleasant change of pace. And there couldn't be a better time than right now, as we're talking about Riesling in this month's Wine Focus in our WineLovers Discussion Group.
I've brought along today an offbeat but appealing Riesling from Down Under, Frisk 2010 Victoria "Prickly" Riesling, fills that bill and then some: It's a crisp-sweet, limey Aussie Riesling, food-friendly and easy to quaff at a light 9 percent alcohol.
And yes, it's prickly. The winery Website explains: "And the prickle? A gentle spritz produced by those clever yeasts, captured to deliver a tickle that will rouse your palate. It's downright Frisky."
Join us as our friendly international crowd of wine lovers delve this month into a world of Rieslings. To tell us about your choice, click to the forum topic "October Wine Focus: Riesling, Riesling and more Riesling."
All forum discussions are open for public viewing, but you must register to post your comments and participate actively in the conversation.
Registration is free and easy; we ask only that you join following our Real Names Real Format system. For your user name, enter your real name in the format "John Doe" or "John D", with the capital letters and the space.
Having a real name on your name tag is so important to us that all non-conforming registrations will be quietly discarded. Redemption is possible, though. If you overlook this rule and get no response to your registration, feel free to contact me personally by Email at wine@wineloverspage.com, and we'll sort it out.
Once your registration has been approved, which usually happens quickly with correctly formed user names, you'll be able to participate in Wine Focus and in all our online wine and food forums.
Today's Sponsor
Why Wait?
Holiday shop now and get no billing and no shipping until December.
Click here!
The perfect holiday gift for that hard-to-buy-for person is award-winning, limited-production wine that can't be found in local stores.
With The California Wine Club, you can send your gift recipients on an armchair tour of California's best "mom & pop" wineries. It's fun, unique and memorable.
Each gift month is just $36.45 plus s/h and includes two bottles of award-winning, limited-production wine and an in-depth look inside the featured winery with Uncorked(R) magazine.
Club owners Bruce and Pam Boring hand-select every wine and their commitment to quality is evident with every bottle they send out.
"We guarantee that your gift recipients will love the wines we feature, or we'll give you your money back!" --Bruce & Pam Boring
Send more, save more: Special discounts are available on 3, 6, 9, and 12-month gifts. Send as many months as you wish. Call 1-800-777-4443 or visit www.cawineclub.com.
Today's Tasting Report
Frisk 2010 Victoria "Prickly" Riesling ($9.99)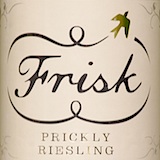 Transparent pale straw color. The metal screw cap breaks with a soft pop, and a light froth of bubbles comes up when the wine is poured but don't persist in the glass. A good scent of lime zest, characteristic of Australian Riesling, provides an appealing invitation, and there is, indeed, a gently prickly sensation from light carbonation on the first taste. There is limeade there, lime and soft sweetness well balanced by snappy acidity, particularly while the wine is cold. As it warms, sweetness becomes a little more apparent, so I for one would enjoy this sprightly, low (9%) alcohol wine the most, I think, as a refreshing sipper - friendly with picnic fare - on a hot day. There should be a few more of those before autumn settles in once and for all around in this part of the world. U.S. importer: Old Bridge Cellars, Napa, Calif. (Oct. 1, 2011)
FOOD MATCH: It made a fine match with a main-course garden dinner of fresh green beans with tomatoes and lots of browned onions and garlic.
VALUE: A fine value locally at $10. If Internet wine buying is legal in your area, price-shopping may be worth while, as Wine-Searcher.com finds it at U.S. prices from $8 to $15. Where you live can make a difference in wine buying.
WHEN TO DRINK: Both its fresh, limey fruit and its prickly tickle are made to be enjoyed soon. The sturdy metal cap will be protective, and Riesling ages very well, but I don't see this one as a candidate for cellaring. Enjoy it over the next year or two.
WEB LINK: Frisk has an enjoyably quirky Website here; even the silly music behind the "Click if you're 21" page is fun. For still more about Frisk, check out U.S. Importer Old Bridge Cellars' product page.
FIND THIS WINE ONLINE:
Find vendors and compare prices for Frisk Prickly Riesling on Wine-Searcher.com.
Talk About Wine Online
If you have questions, comments or ideas to share about today's article or wine in general, you're always welcome to drop by our online WineLovers Discussion Group, the Internet's first and still the most civil online community. To find our forums, click:
http://www.wineloverspage.com/forum/village
Discussions are open for public viewing, but you must register to post. Registration is free and easy; we ask only that you join following our Real Names Real Format system, using your real name in the format "John Doe" or "John D". Anonymous, cryptic or first-name-only registrations are discarded without notice.
Once your registration has been approved, which usually happens quickly, you'll be able to participate in all our online wine, food and travel forums.
To contact me by E-mail, write wine@wineloverspage.com. I'll respond personally to the extent that time and volume permit.
Subscriptions and Administrivia
Unsubscribe:
We're sorry if you must leave us, but simply click the "unsubscribe"
link at the bottom of your Email edition to be instantly removed from the mailing list.
Change address:
The quickest and easiest way to change your Email address is simply to register anew, using the link below. If you are keeping your old address but no longer wish to get the Wine Advisor there, click the unsubscribe link below to take it off our list; if you are closing the mailbox, you needn't take any action, as our system will delete your old address as soon as the mail to your old address starts to "bounce."
Subscribe to this Email edition (free):
http://www.wineloverspage.com/wineadvisor
WineLoversPage.com RSS Feed (free):
http://feeds.feedburner.com/wineloverspage/tzva
Wine Advisor Archives:
http://www.wineloverspage.com/wineadvisor2/archives.php
Sponsorship Opportunities:
For information, E-mail wine@wineloverspage.com