Check that label again
Shopping for wine the other day, I wandered down an aisle full of Spanish reds, and suddenly thought, like Homer Simpson salivating over a burger, "Mmmm, RiOOOOja." It had been a while since I last sampled this historic, Tempranillo-based red from the Basque country in northeastern Spain, and it's usually easy to find a few $10 goodies among the highly rated trophy bottles.
There's a familiar name: Montecillo. And whoa! Look at that red label! "Desde 1874"? You've got to be kidding me! A 137-year-old wine?
Well, no. "Desde" means "from" or "since" in Spanish, and the sizable golden numerals that stand out on the front of the bottle don't represent its vintage (actually 2007) but celebrate the historic winery's 19th century founding. The lesson, of course, is simple: If you see something on a wine label that seems too good to be true, check again, and read the smaller print.
In fairness, I don't believe Montecillo sought to deceive. The actual vintage is also prominently displayed, and if I don't translate Spanish words like "Desde" on sight, I have no one but myself to blame for being an obligate Anglophone.
And the wine itself, Montecillo 2007 Rioja Crianza, was a goodie, in the dry, tart and tannic European style. The name "Crianza," (pronounced "Cree-ahn-zah,") comes from the Spanish word for "nursing" or "bringing up." In Rioja and the Ribera del Duero region, the law requires that Crianza spends 12 full months in oak, plus at least 12 more in bottles.
This may seem like a long time in wood, but in Spain, where oak aging is traditional, Crianzas are actually in the least-oaked category - you'll need to look for "Riserva" or "Gran Riserva" if you want still more.
The wine is appealing, a fine food match with meat, cheese or hearty vegetarian fare, and the price is more than fair. You'll find my tasting report below.
iPhone App!
Get Food and Wine Pairing Tips On-the-Go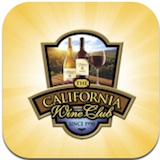 Get Food and Wine Pairing Tips On-the-Go with The California Wine Club's Food and Wine Pairing Wheel.
I've already got this app running on my iPhone. It makes it easy to pair food and wine like the experts, easily choosing wine matches that will bring out the best in every meal or snack.
Use this app as your personal wine consultant:
* In restaurants, to help you pick the perfect bottle from the wine list to enjoy with your meal.
* In the grocery store, when you are picking up ingredients for your dinner.
* At home, if you need a suggestion for this evening's dinner.
The app is intuitive and user-friendly.
* Simply pick your meal category from the top menu bar.
* Spin the wheel to find your tasty choice.
* See the wines that pair perfectly.
The wine listed in bold type will be your No. 1 choice to pair with this selection.
Find it in the App Store on your iPad, iPhone or other iOS device, or click this link to find the app in iTunes.
Today's Tasting Report
Montecillo 2007 Rioja Crianza ($9.99)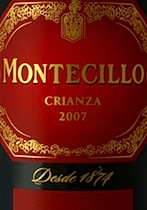 Dark garnet, with reddish-orange glints against the light. There's a distinct presence of oak in this Crianza, notes of leather and a whiff of fennel over austere black-cherry fruit. Markedly acidic on the palate, a tart, mouth-watering acidity that males a good backdrop for food. Tart cherries and a whiff of rose petals at the back of the palate, and a buzz of tannic astringency joins in the finish. An old-style Rioja, and there's nothing wrong with that. A good introduction to the genre in its classic form at a very affordable point of entry. U.S. importer: Underdog Wine Merchants, Livermore, Calif. (Sept. 30, 2011)
FOOD MATCH: It was excellent with an experimental dish, pulled "pork" barbecue made with soy curls, a meatless alternative, but it would be just as good with the real thing, or red meat in just about any form, or a chunk of Spanish Manchego cheese or just about any milder cheese of your fancy.
VALUE: As noted, my local price at the $10 point is quite fair for a decent, well-balanced entry-level Rioja. It is widely, internationally available, and Wine-Searcher.com shows a wide range of retail prices from about $8 to $14, with one Colorado shop asking an insane $20, so if your local market is on the high side, you may wish to shop around.
WHEN TO DRINK: Quite drinkable now, but if you have decent cellar conditions, there's no reason not to save it, and watch it evolve, for five years or more.
WEB LINK: Here is the U.S. Importer's information page about Montecillo.
FIND THIS WINE ONLINE:
Find vendors and compare prices for Montecillo Rioja Crianza on Wine-Searcher.com.
Today's Sponsor
Rioja is pure genius for wine lovers
For people who love wine, novices and experts alike, Rioja is a guaranteed choice - in fact, pure genius.

Why? For starters, there's a style for every occasion, taste and budget, from crisp whites to refreshing rosés to robust reds, all at great value (very affordable).

Wait, there's more - every Rioja is ready to drink when purchased, providing instant gratification.

Not to mention, Rioja wines are considered by many chefs and sommeliers to be the best food-pairing wines on Earth, created to enhance food, not overwhelm the flavors.

Need more reasons? The quality is guaranteed by the DOCa Rioja, the government body overseeing production of every bottle with the highest standards, ensuring every sip will satisfy.

Try a Rioja today and discover why Rioja is pure genius. Rioja wines make great gifts too - don't be afraid to share the love!

Visit us at www.VibrantRioja.com, join the community, and enter to win a case of Rioja.
Talk About Wine Online
If you have questions, comments or ideas to share about today's article or wine in general, you're always welcome to drop by our online WineLovers Discussion Group, the Internet's first and still the most civil online community. To find our forums, click:
http://www.wineloverspage.com/forum/village
Discussions are open for public viewing, but you must register to post. Registration is free and easy; we ask only that you join following our Real Names Real Format system, using your real name in the format "John Doe" or "John D". Anonymous, cryptic or first-name-only registrations are discarded without notice.
Once your registration has been approved, which usually happens quickly, you'll be able to participate in all our online wine, food and travel forums.
To contact me by E-mail, write wine@wineloverspage.com. I'll respond personally to the extent that time and volume permit.
Subscriptions and Administrivia
Unsubscribe:
We're sorry if you must leave us, but simply click the "unsubscribe"
link at the bottom of your Email edition to be instantly removed from the mailing list.
Change address:
The quickest and easiest way to change your Email address is simply to register anew, using the link below. If you are keeping your old address but no longer wish to get the Wine Advisor there, click the unsubscribe link below to take it off our list; if you are closing the mailbox, you needn't take any action, as our system will delete your old address as soon as the mail to your old address starts to "bounce."
Subscribe to this Email edition (free):
http://www.wineloverspage.com/wineadvisor
WineLoversPage.com RSS Feed (free):
http://feeds.feedburner.com/wineloverspage/tzva
Wine Advisor Archives:
http://www.wineloverspage.com/wineadvisor2/archives.php
Sponsorship Opportunities:
For information, E-mail wine@wineloverspage.com