Today's Sponsor
A great gift for wine lovers


A wine reference disguised as a fine-art print, the innovative Wine Grape Varietal Table mimics the familiar periodic table of the elements to show a world of wine grape varieties.
Click to buy!
Wine keeps us young? Not so fast ...
The theory of evolution is true. Global warming is really happening. And red wine may help us lead longer, healthier lives.
That's three biggies on the list of controversial propositions that generate noisy if not always enlightening debate. And while I am not about to take on either of the first two topics in these pages, the one about wine is worth a few moments of thought on a Friday afternoon.
Theory: Red wine is good for us. Most wine enthusiasts happily embrace the hypothesis that the regular, moderate use of wine as part of a healthy diet is good for our hearts, circulatory health and longevity.
One prominent school of thought holds that wine's benefits are the result of polyphenols - chemical components such as quercetin and resveratrol - which fight the effects of LDL ("bad" cholesterol), by keeping it from becoming oxidized. This "anti-oxidant" effect, in theory, would be most effective with red wine, which is rich in polyphenols from the dark grape skins.
Sounds good to me! I've always been happy to reach for a glass of red, and if I can tell myself that it may actually help me fight off heart disease and the ravages of aging, why, so much the better. Even if scientists are still debating the point, that hasn't stopped the marketplace from voting with its dollars, euros and pounds sterling: Red wine has become far more popular since "The French Paradox," reports that red wine seems to help French wine lovers enjoy good heart health in spite of all that rich food the rest of us believe they eat.
But now a new British study has called the role of resveratrol in longevity into serious question, kicking off a "Yes it is!" "No it isn't!" argument reminiscent of climate change or Darwinism debates significant enough to get the attention of The New York Times.
In a story headlined Longevity Gene Debate Opens Trans-Atlantic Rift, Times reporter Nicholas Wade rote last week, "A trans-Atlantic dispute has opened up between two camps of researchers pursuing a gene that could lead to drugs that enhance longevity. British scientists say the longevity gene is 'nearing the end of its life,' but the Americans whose work is under attack say the approach remains as promising as ever."
The issue turns on laboratory studies on mice, the article explained. Lab mice placed on a very-low-calorie diet saw a 40 percent increase in life expectancy, a development apparently fostered by genes that produce proteins called sirtuins that control the animals' metabolism.
Although a diet this low in calories would not be feasible in humans, the research raises the possibility of drugs that would activate sirtuin with similar lifespan effects. If resveratrol can activate sirtuin, this would lend credibility to the idea of resveratrol - or red wine rich in the stuff - as the magic anti-aging bullet.
This is more than mere wine-party talk. Serious money is involved, and that means serious politics is in play. The Times reported that the Big Pharma firm GlaxoSmithKline paid $720 million in 2008 to take over Sirtris, a start-up company that is trying to develop a synthetic resveratrol drugs that would activate sirtuins in humans.
This theory is a long way from proof, however, and both resveratrol's role in activating sirtuins and surtuins' role in longevity remain unproven. The latest anti-sirtuins barrage, from aging researchers at University College London, reported that experiments on roundworms and flies, initially said to show the life-extending effect, actually were flawed and demonstrated no such thing. "The biology of aging is a young field with emerging pitfalls," London researchers David Gems and Linda Partridge wrote.
Want to read more? Here are links to a couple of reports on the debate:
* The report in The New York Times.
* Research Looks Again at Red Wine And Longevity in Medical Daily online. (Warning: This site will play an annoying video ad in the background if you don't make it stop.)
* "What's in that glass may not prevent aging after all," on a National Public Radio blog.
My advice? As I've been saying all along, enjoy your red wine. But don't take it as medicie. That's not what it's for.
Today's Tasting Report
Santa Martina 2008 Toscana Rosso ($12.99)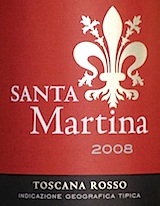 Dark ruby with crimson glints. Good Tuscan black cherry and a hint of something like blueberry liqueur on the nose. Dark cherries and black plum flavors and a whiff of fragrant black pepper; very dry and built on a sturdy acidic framework. Just a touch of soft tannins join the acidity and rational 13% alcohol in a good structure. A new Tuscan blend of 40% Sangiovese and 20% each Merlot, Cabernet Sauvignon and Syrah, it's balanced and food-friendly, not over-the-top at 13% alcohol. U.S. importer: Kobrand Corp., NYC. (Sept. 10, 2011)
FOOD MATCH: Tuscan reds find their natural match in rare beef or even game, but they're just as amiable with tomatoes. We loved it with a simple, fresh sauce of mushrooms sauteed with onions and garlic with garden tomatoes over spaghetti.
VALUE: It's a decent buy at this price, a "Super Tuscan" at the price of an everyday Chianti. Shop around, though, as the retail price I paid in Louisville is at the high end for this wine, which shows up for well under $10 on many vendors listed at Wine-Searcher.com.
WHEN TO DRINK: It's ready to go now, not intended for long aging; but with its good balance and varietal blend, it wouldn't hurt to lose a few in the cellar for two or three years or even longer if you have some to spare.
WEB LINK: Here's an overview on Santa Martina Rosso from Kobrand Corp., the importer, with links for more information.
FIND THIS WINE ONLINE:
Find vendors and compare prices for Santa Martina 2008 Toscana Rosso on Wine-Searcher.com.
Talk About Wine Online
If you have questions, comments or ideas to share about today's article or wine in general, you're always welcome to drop by our online WineLovers Discussion Group, the Internet's first and still the most civil online community. To find our forums, click:
http://www.wineloverspage.com/forum/village
Discussions are open for public viewing, but you must register to post. Registration is free and easy; we ask only that you join following our Real Names Real Format system, using your real name in the format "John Doe" or "John D". Anonymous, cryptic or first-name-only registrations are discarded without notice.
Once your registration has been approved, which usually happens quickly, you'll be able to participate in all our online wine, food and travel forums.
To contact me by E-mail, write wine@wineloverspage.com. I'll respond personally to the extent that time and volume permit.
Subscriptions and Administrivia
Unsubscribe:
We're sorry if you must leave us, but simply click the "unsubscribe"
link at the bottom of your Email edition to be instantly removed from the mailing list.
Change address:
The quickest and easiest way to change your Email address is simply to register anew, using the link below. If you are keeping your old address but no longer wish to get the Wine Advisor there, click the unsubscribe link below to take it off our list; if you are closing the mailbox, you needn't take any action, as our system will delete your old address as soon as the mail to your old address starts to "bounce."
Subscribe to this Email edition (free):
http://www.wineloverspage.com/wineadvisor
WineLoversPage.com RSS Feed (free):
http://feeds.feedburner.com/wineloverspage/tzva
Wine Advisor Archives:
http://www.wineloverspage.com/wineadvisor2/archives.php
Sponsorship Opportunities:
For information, E-mail wine@wineloverspage.com