Good Pinot under the radar
About a month ago, you'll recall, I celebrated a small but growing body of evidence suggesting that decent, affordable Pinot Noir is coming back after a few years in AWOL status.
This week it's my delight to report another such sighting, a $12 Pinot that's delicious and a very good value, but on the marketing side, more than a bit mysterious. Simply labeled "The Seeker," with a fun graphic that looks like a 19th century engraving of a lighter-than-air flying machine, it's a 2008 Pinot Noir with the regional designation "Vin de Pays Vignobles de France."
Okay, let's back up a little and take a closer look at that. This appellation is so new that, chances are, you've never seen it before. It's also a little controversial within France, where some wine makers weaned on theories of real estate and terroir aren't excited about the authorities' decision to approve a vin de pays (wine of the country) that may be made from vineyards anywhere in France that vines are grown.
This new label - and similar but smaller new vins de pays for de l'Atlantique (Bordeaux) and de Gaules (Beaujolais) - were actually approved three or four years ago, but they've apparently been slow gaining traction. I got a peek of The Seeker - seemingly a U.S. negociant that also offers a New Zealand Sauvignon Blanc under a similar label - at a local wine shop the other day. I took it home on a whim, and after opening it with dinner was mighty glad I did.
Apparently produced in France by Loron et Fils and bottled for U.S. sale under The Seeker label, it's made from Pinot fruit grown in "two distinct grape-growing areas in France," according to the back label, which provides no more detailed information. "Paper, printing process and lightweight glass used for this wine result in a smaller carbon footprint," it added, greenly.
I wasn't able to dig up much more information on line. It's distributed in the U.S. by Kobrand Corp, but Kobrand's website is silent on The Seeker. The Seeker's own website, listed on the label, contains pretty photos and graphics, but links reveal only "Coming Soon."
There's not much else to do but drink it, but I'm up to that. Pop the metal screwcap and pour. I think you'll be satisfied, and maybe more than satisfied. I hope this wine is flying under the radar and coming up gradually, and not the dying gasp of a marketing notion that didn't pan out. Ask your local retailer about The Seeker. If we can spring it loose among us, we'll all be ahead.
Today's Sponsor
Are You Stocked Up for the Holidays?
Save Now on Award-Winning Wines!
Click here!
This is the perfect time to stock up for the coming holiday season! The California Wine Club is having their last big sale of 2011, and award-winning, limited-production wines are priced as low as $6.99 per bottle.
You can mix a case of 12 favorites or try some new wines. Every wine has been hand-selected from a small family winery by Bruce and Pam Boring, proprietors of The California Wine Club, and is backed by their 100% satisfaction guarantee!
Be sure to pick up some Pinot Noir to pair with your Thanksgiving dinner and some bubbly for holiday parties!
Take advantage of the rock-bottom prices and mix up a case (or two!) Click here or call The California Wine Club at 1-800-777-4443 to shop now and save!
Today's Tasting Report
The Seeker 2008 Pinot Noir Vin de Pays Vignobles de France ($11.99)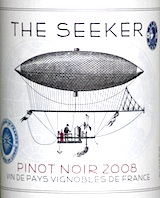 Dark ruby with bright crimson glints. Ripe cherry aromas and a subtle touch of clove, with an interesting mineral overtone reminiscent of fresh rainwater rippling over rocks. Tart cherry flavor follows the nose, well structured with firm, food-friendly acidity, moderate 12.5% alcohol, and soft tannins. One heck of a Pinot Noir and a versatile food wine, a memorable bargain for not much over $10. U.S. importer: Kobrand Corp., NYC. (Sept. 21, 2011)
FOOD MATCH: This classic-styled Pinot will go versatilely with a wide range of dishes, from beef and pork to poultry to mushrooms. It was fine with a quick, fresh garden take on ratatouille, with Italian eggplant, onions, green peppers and garlic and plenty of juicy ripe red tomatoes.
VALUE: Any time I can get Pinot Noir of this quality for this close to $10, I will go back for more.
WEB LINK: Here's a link to the wines in The Seeker program, but the Website appears not quite ready to launch. Keep tuning in!
WHEN TO DRINK: Ready to go now, it needs no cellaring, but Pinot this balanced and delicious at this price, and under a sturdy modern screw cap, too, would certainly justify an experiment in cellaring for up to five years just to see what it does.
FIND THIS WINE ONLINE:
Wine-Searcher.com has little on this item. Try getting in touch with Kobrand Corp., the importer.
Talk About Wine Online
If you have questions, comments or ideas to share about today's article or wine in general, you're always welcome to drop by our online WineLovers Discussion Group, the Internet's first and still the most civil online community. To find our forums, click:
http://www.wineloverspage.com/forum/village
Discussions are open for public viewing, but you must register to post. Registration is free and easy; we ask only that you join following our Real Names Real Format system, using your real name in the format "John Doe" or "John D". Anonymous, cryptic or first-name-only registrations are discarded without notice.
Once your registration has been approved, which usually happens quickly, you'll be able to participate in all our online wine, food and travel forums.
To contact me by E-mail, write wine@wineloverspage.com. I'll respond personally to the extent that time and volume permit.
Subscriptions and Administrivia
Unsubscribe:
We're sorry if you must leave us, but simply click the "unsubscribe"
link at the bottom of your Email edition to be instantly removed from the mailing list.
Change address:
The quickest and easiest way to change your Email address is simply to register anew, using the link below. If you are keeping your old address but no longer wish to get the Wine Advisor there, click the unsubscribe link below to take it off our list; if you are closing the mailbox, you needn't take any action, as our system will delete your old address as soon as the mail to your old address starts to "bounce."
Subscribe to this Email edition (free):
http://www.wineloverspage.com/wineadvisor
WineLoversPage.com RSS Feed (free):
http://feeds.feedburner.com/wineloverspage/tzva
Wine Advisor Archives:
http://www.wineloverspage.com/wineadvisor2/archives.php
Sponsorship Opportunities:
For information, E-mail wine@wineloverspage.com