Today's Sponsor
Rioja is pure genius for wine lovers
For people who love wine, novices and experts alike, Rioja is a guaranteed choice - in fact, pure genius.
Vibrant Rioja
Caprese salad, meet cheap Chianti
I'm a sucker for cheap Chianti. Chianti - yes, in the wicker-wrapped bottle - was one of the first "real" wines I learned to love, gulped in uncritical draughts alongside pizza or maybe a chunk of lasagna at modest Italian-American restaurants with the standard red-checked tablecloths and plastic grapevines.
I loved it then, and I love it still. Even after years as a wine guy whose good fortune it's been to sample a world of wines and even occasional sips of great, pricey vintages, I still take special pleasure out of uncorking a modest bottle of basic Chianti with a simple meal.
Today let's take a look at a low-price Chianti made by Borghetto, a fresh young Chianti from the recent 2010 vintage, sold locally for a budget-level $7.99. Borghetto is more familiar for relatively pricey Chianti Classicos and Riservas, and this generic-level, single-digit Chianti is apparently just entering the U.S. market. I hope it becomes more widely available soon. Keep an eye out for it.
Opening it on a hot summer day, it occurred to me to sample its fresh, tart flavors not against the usual red-sauced Italian-American fare but something unexpected, a fresh Caprese salad.
Wine with salad? Don't knock it if you haven't tried it. A colorful Caprese composed on an oversize platter - thick, juicy rounds of just-picked beefsteak tomatoes, dusted with salt and pepper, a drizzle of fruity olive oil and a shot of lemon juice, each topped with a round of moist, fresh-made mozzarella and a nest of thin-sliced basil leaves - makes a remarkably good match with simple Chianti. The tart, dry wine seems to cozy right up to the juicy tomatoes, creamy mozzarella and aromatic basil all three. Add a crusty loaf of bread and you've got a light summer dinner.
If you can't find the Borghetto in your neighborhood yet, substitute another favorite modest label - Gabbiano, for example, or the widely available Ruffino or the Whole Foods-label "365" Di Flora, both of which I reviewed in a 30 Second Wine Advisor report last autumn, "Good cheap Chianti, no basket."
But whatever you pair it with, do treat yourself to a Caprese before summer runs out. It's hard to imagine a better thing to do with fresh garden tomatoes.
Today's Sponsor
Rioja is pure genius for wine lovers
For people who love wine, novices and experts alike, Rioja is a guaranteed choice - in fact, pure genius.

Why? For starters, there's a style for every occasion, taste and budget, from crisp whites to refreshing rosés to robust reds, all at great value (very affordable).

Wait, there's more - every Rioja is ready to drink when purchased, providing instant gratification.

Not to mention, Rioja wines are considered by many chefs and sommeliers to be the best food-pairing wines on Earth, created to enhance food, not overwhelm the flavors.

Need more reasons? The quality is guaranteed by the DOCa Rioja, the government body overseeing production of every bottle with the highest standards, ensuring every sip will satisfy.

Try a Rioja today and discover why Rioja is pure genius. Rioja wines make great gifts too - don't be afraid to share the love!

Visit us at www.VibrantRioja.com, join the community, and enter to win a case of Rioja.
Today's Tasting Report
Borghetto 2010 Chianti ($7.99)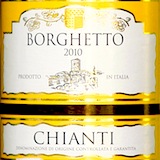 Clear, dark ruby, with reddish-orange glints against the light. A bit shy in the aroma department, light red fruit. Much more open in flavor, dried cherries and cranberries shaped by fresh, tart acidity. Clean and bone dry, moderate at 12% alcohol. Tart red berries linger in a long finish. U.S. importer: Cutting Edge Selections Inc., Mariemont, Ohio. (Aug. 27, 2011)
FOOD MATCH: Surprisingly good with Caprese salad; it was very good, too, with garlicky fried okra fresh from our garden. Of course it will also go well with simple Chianti's traditional companions, cheese and sausage or pepperoni pizza or pasta with tomato sauce.
VALUE: In today's market, it's not going to be easy to find a decent, appealing table wine at this price. If you can find this simple, rustic Chianti at this price, load up.
WHEN TO DRINK: Very low-end basic Chianti like this is at its best when it is young and fresh. Aging potential is doubtful. If you want to cellar a couple of bottles to see what happens, it would be a cheap experiment at this price, but I'd plan to buy it for early enjoyment.
FIND THIS WINE ONLINE:
This bottling may prove elusive. Wine-Searcher.com finds only one Ohio retailer offering the 2010 for $7.99 The Ohio-based importer also distributes in Louisville, where I found it. For more information about distribution, >try contacting the importer through this link.
Talk About Wine Online
If you have questions, comments or ideas to share about today's article or wine in general, you're always welcome to drop by our online WineLovers Discussion Group, the Internet's first and still the most civil online community. To find our forums, click:
http://www.wineloverspage.com/forum/village
Discussions are open for public viewing, but you must register to post. Registration is free and easy; we ask only that you join following our Real Names Real Format system, using your real name in the format "John Doe" or "John D". Anonymous, cryptic or first-name-only registrations are discarded without notice.
Once your registration has been approved, which usually happens quickly, you'll be able to participate in all our online wine, food and travel forums.
To contact me by E-mail, write wine@wineloverspage.com. I'll respond personally to the extent that time and volume permit.
Subscriptions and Administrivia
Unsubscribe:
We're sorry if you must leave us, but simply click the "unsubscribe"
link at the bottom of your Email edition to be instantly removed from the mailing list.
Change address:
The quickest and easiest way to change your Email address is simply to register anew, using the link below. If you are keeping your old address but no longer wish to get the Wine Advisor there, click the unsubscribe link below to take it off our list; if you are closing the mailbox, you needn't take any action, as our system will delete your old address as soon as the mail to your old address starts to "bounce."
Subscribe to this Email edition (free):
http://www.wineloverspage.com/wineadvisor
WineLoversPage.com RSS Feed (free):
http://feeds.feedburner.com/wineloverspage/tzva
Wine Advisor Archives:
http://www.wineloverspage.com/wineadvisor2/archives.php
Sponsorship Opportunities:
For information, E-mail wine@wineloverspage.com