Today's Sponsors
Save up to 70% on Award-Winning Wine!
Shop The California Wine Club's sale to get wines priced as low as $6.99.
Click here!

Rioja is pure genius for wine lovers
For people who love wine, novices and experts alike, Rioja is a guaranteed choice - in fact, pure genius.
Vibrant Rioja
No sulfites, and it's good!
As regular readers will have noticed, I have been restrained, at best, in my enthusiasm for wines made with no added sulfites (or at least not many).
It's true that a small number of people have been diagnosed by a physician as sulfite-sensitive asthmatics. These unfortunates may suffer a life-threatening allergic reaction if exposed to sulfites in wines, pickles, sausages and many other good things. If you fall into this category, you know what you must avoid.
But it's a shame that the federally mandated warning label has scared a much larger number into assuming that it's sulfites that cause their wine headaches or even, perhaps, impairs their ability to drive a car or operate machinery.
Hint: If wine gives you a headache and you're worried about this, consult your family physician. Don't deny yourself the joy of wine on the basis of self-diagnosis.
My problem with wines advertised as "low sulfite" or "no sulfites" is that this marketing technique plays on hysteria for profit, and demonizes a natural product that's been used in wine making as an effective preservative since the Bronze Age. Sulfites keep wine fresh, they preserve its fruit aromas and flavors, and they keep wine from turning as brown as a slice of apple exposed to the air.
Wines made without sulfites, in my experience, tend to spoil in the bottle and often turn brown and take on the nutty, Sherry-like character of oxidized wine before they're even opened.
But if you're truly sensitive - or even if you simply like the idea of a wine that's made with no added sulfites - I'm happy to recommend the California red wine made by Orleans Hill.
A red blend of Grenache and Syrah grapes with a little Viognier, it's labeled "No sulfites detected. Organic USDA organic, vegan friendly. Certified organic by California Certified Organic Farmers." It's also "vegan friendly," made without the use of any animal products whatsoever.
What's its secret? This wine-without-sulfites gains an extra layer of protection from its airtight, sturdy metal screwcap, the same strategy that also earned my thumbs-up rating from the same firm's "Our Daily Red," reviewed in the Sept. 4, 2009 30 Second Wine Advisor.
For more information on no-sulfite and organic wines and the strict new rules that the U.S. Government brings to bear on their labeling, see "The Organic Wine Guys'" discussion on the Orleans Hill Website.
Orleans Hill 2010 "Cote Zero" California Red Wine reminds me a lot of a rustic, hearty Côtes-du-Rhône. I'm a little bemused by the winery's Website description of it as "The mellowest of the line … a great summer quaffing wine," but if you like tart, tannic reds that work very well at the dinner table, this one's a splendid buy at $10 or less, whether you care about sulfites or not.
Today's Sponsor
Save up to 70% on Award-Winning Wine!
Shop The California Wine Club's sale to get wines priced as low as $6.99. Click here!
The California Wine Club's last wine sale of the year is going on now. You can save big on award-winning, handcrafted wines. They have hundreds of wines on sale, with everything from silky Sonoma Coast Pinot Noirs and buttery Santa Barbara Chardonnays to luscious Aged Napa Cabernets and exquisite blends from the Rhône valley.
A few favorites to check out:
* Clos LaChance Winery 2007 "Ruby-Throated" Central Coast Cabernet Sauvignon with two gold medals, Retail: $21/ SALE PRICE: $7.99.
* Kokomo Winery 2008 Windsor Oaks Vineyard, Russian River Valley Pinot Noir, Retail: $36 / SALE PRICE: $19
* DuMol Wine Company 2008 Russian River Valley Chardonnay, rated 95 points by the Connoisseurs' Guide, Retail: $71 / SALE PRICE: $52
It's the perfect opportunity to stock up for the holidays and save!
Click here or call The California Wine Club at 1-800-777-4443 to shop now and save!
Today's Tasting Report
Orleans Hill 2010 "Cote Zero" California Red Wine ($9.99)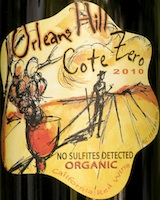 A red blend of Grenache and Syrah grapes with a little Viognier, it's a dark but clear ruby color. Good red fruit aromas, tart cherries and red berries, on the nose and palate, structured with tart acidity and astringent tannins; a whiff of fragrant black pepper in the background. A bit rustic for tasting alone, but just right with hearty fare. Sturdy metal screwcap seems to protect it, an effective solution to the threat of spoilage that otherwise lurks around very low sulfite wines. (Aug. 17, 2011)
FOOD MATCH: Japanese eggplant from the garden, slant-cut and sautéed with onions, garlic, green peppers and a light miso-curry sauce, inspired by a dish at Louisville's new Roots Heart & Soy restaurant.
VALUE: Not a thing to complain about at this everyday price, but bargain-hunters might check Wine-Searcher-com for some vendors offering it as low as $7.
WHEN TO DRINK: My primary concern with wines claiming no detectable sulfites is shelf life. In the absence of this traditional preservative, I'm inclined to recommend drinking such wines ASAP. That said, however, the sturdy, airtight screwcap is more reassuring than a natural cork or synthetic stopper would be.
WEB LINK: Here is the producer's fact sheet on Orleans Hill red.
FIND THIS WINE ONLINE:
Find vendors and compare prices for Orleans Hill "Cote Zero" on Wine-Searcher.com.
Today's Sponsor
Rioja is pure genius for wine lovers
For people who love wine, novices and experts alike, Rioja is a guaranteed choice - in fact, pure genius.

Why? For starters, there's a style for every occasion, taste and budget, from crisp whites to refreshing rosés to robust reds, all at great value (very affordable).

Wait, there's more - every Rioja is ready to drink when purchased, providing instant gratification.

Not to mention, Rioja wines are considered by many chefs and sommeliers to be the best food-pairing wines on Earth, created to enhance food, not overwhelm the flavors.

Need more reasons? The quality is guaranteed by the DOCa Rioja, the government body overseeing production of every bottle with the highest standards, ensuring every sip will satisfy.

Try a Rioja today and discover why Rioja is pure genius. Rioja wines make great gifts too - don't be afraid to share the love!

Visit us at www.VibrantRioja.com, join the community, and enter to win a case of Rioja.
Talk About Wine Online
If you have questions, comments or ideas to share about today's article or wine in general, you're always welcome to drop by our online WineLovers Discussion Group, the Internet's first and still the most civil online community. To find our forums, click:
http://www.wineloverspage.com/forum/village
Discussions are open for public viewing, but you must register to post. Registration is free and easy; we ask only that you join following our Real Names Real Format system, using your real name in the format "John Doe" or "John D". Anonymous, cryptic or first-name-only registrations are discarded without notice.
Once your registration has been approved, which usually happens quickly, you'll be able to participate in all our online wine, food and travel forums.
To contact me by E-mail, write wine@wineloverspage.com. I'll respond personally to the extent that time and volume permit.
Subscriptions and Administrivia
Unsubscribe:
We're sorry if you must leave us, but simply click the "unsubscribe"
link at the bottom of your Email edition to be instantly removed from the mailing list.
Change address:
The quickest and easiest way to change your Email address is simply to register anew, using the link below. If you are keeping your old address but no longer wish to get the Wine Advisor there, click the unsubscribe link below to take it off our list; if you are closing the mailbox, you needn't take any action, as our system will delete your old address as soon as the mail to your old address starts to "bounce."
Subscribe to this Email edition (free):
http://www.wineloverspage.com/wineadvisor
WineLoversPage.com RSS Feed (free):
http://feeds.feedburner.com/wineloverspage/tzva
Wine Advisor Archives:
http://www.wineloverspage.com/wineadvisor2/archives.php
Sponsorship Opportunities:
For information, E-mail wine@wineloverspage.com