A rose that's not a rose
"A rose is a rose is a rose," as Gertrude Stein once famously said. But is it? The other day, seeking to continue to build my growing relationship with dry rosé wine during an exceptionally beautiful summer, I dropped my my neighborhood wine shop in search of something pink.
Hey now! What's this? A classy-looking bottle with a modern-style label, a simple circle and a square. The square label reads "Rosé" but the circle bears the French words "Gris Blanc." The liquid inside appears to be white, or more precisely a pale, transparent bronzy-copper, maybe showing just the faintest blush.
"Gris Blanc Rosé?" Even with my rusty tourist French, I know that means "Gray White Pink," which is just plain confusing.
I grabbed a bottle of this Gerard Bertrand 2012 "Gris Blanc" Vin de Pays d'Oc Rosé, took it home and showed it to my wife, turning the labels to the back so she couldn't make them out. She squinted at it suspiciously, figuring there was trickery afoot. "It looks like a white," she said. "Is it a rosé?"
It's hard to fool someone with a good eye.
I still say it looks like a white, though, and after a light chill and a quick crack of the sturdy screw cap, it poured out subtle and fresh, blending gentle floral aromas with a crisp, dry citric flavor and hints of "biscuit" and "cocoa" that made me think of a good Pinot-based Champagne.
There is a simple lesson here: A rosé doesn't have to be pink. A light wine made from dark grapes by extracting the color-bearing skins before they have had much time to "bleed" color into the wine, rosés can vary from deep crimson through shocking pink, bright salmon, pale orange or copper right down to the fainter rosy hues and even - as in this instance - a "white" wine barely perceptible as pink at all.
Back in the 1980s, when the idea of turning red Zinfandel, and, eventually, other red grapes, into "white" wine first took the marketplace by storm, the early entries were "white," and they were dry. It was only as the category gained economic steam that market pressure moved virtually all of its entries toward brighter pink colors and sweeter tastes and the "blush" craze was born.
Gerard Bertrand 2012 "Gris Blanc" Vin de Pays d'Oc Rosé takes back the white. It's an excellent wine and a very good value.
Wine Focus: The Dog Days of Muscadet
Meanwhile, I'd like to invite you to catch up on Wine Focus, our monthly feature in the WineLovers Discussion Group, in which we're enjoying cool, crisp and refreshing Muscadet as our topic for August: The Dog Days of Muscadet.
You're welcome to join our wine enthusiasts as we discuss these intriguing, often "minerally" whites based on the Melon ("Meh-lawN") grape variety from near the mouth of the Loire Valley. The discussion topic begins here.
All forum discussions are open for public viewing, but you must register to post your comments and participate actively in the conversation. Registration is free and easy; we ask only that you join following our Real Names Real Format system, using your real name as your public user name. To join the forum, drop me a note at wine@wineloverspage.com with your real name, preferred format and a temporary password, and I'll take care of the rest.
Today's Tasting Report
Gerard Bertrand 2012 "Gris Blanc" Vin de Pays d'Oc Rosé ($13.99)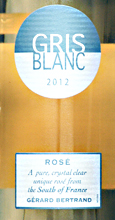 Very pale, transparent bronze color, copper with the faintest pinkish hue. The label reads "Rosé" (and "Gris" and "Blanc," too); but I would have guessed it was a rich white. Light wildflower scent, more floral than fruity but very subtle and fresh. Crisp and fresh flavor, citrus and an odd, appealing "biscuity" and "cocoa" character that I associate with fine Pinot-based Champagne but never - until now - from a still Rosé. An appropriate 13 percent alcohol level. Fascinating, a fine food wine or summer sipper, and a very good value. U.S. importer: USA Wine West LLC, Sausalito, Calif. (Aug. 9, 2013)
FOOD MATCH: This will work nicely in just about any white-wine situation from chicken and fish to cheese and veggie dishes. It was excellent with an aromatic, not overly fiery Indian-style eggplant and okra curry,.
WHEN TO DRINK: I don't see it as a long-term ager, but it's drinking beautifully now, and its sturdy modern metal screwcap is likely to keep it in good shape under cool cellar conditions for at least a year or two.
VALUE: I am more than willing to pay this lower-teens price for a white - er, a rosé - of this quality.
PRONUNCIATION:
Gris Blanc = "Gree BlahN"
WEB LINK:
This link will take you to the producer's fact sheet on the Gris Blanc rosé.
FIND THIS WINE ONLINE:
Look for vendors and check prices for Gerard Bertrand Gris Blanc Rosé on Wine-Searcher.com.
Today's Sponsor
VIP $1 Shipping Sale!
Because our readers are VIPs, you are invited to shop The California Wine Club's $1 Shipping Fall Wine Sale before it opens to the public on Aug. 19, 2013.
No membership is required to take advantage of savings of up to 57 percent off normal retail prices. Plus, you'll save up to $36 in shipping on every case.
Shop Now!
Treat yourself to award-winning, handcrafted wines from California's best small family wineries. Inventory is limited, so shop early and get the best selection.
The California Wine Club explores the dusty back roads of California's wine country seeking out tiny wineries handcrafting award-winning wines.  The best of these limited-production gems are then shared with their members, along with Uncorked®, an insider's guide to the winery.
1-800-777-4443 www.cawineclub.com
$1 Shipping Fall Wine Sale ends Sept. 30, 2013. Prices listed online are per bottle. Half, full and mixed cases are okay. Final order must be in increments of 6 or 12 bottles. Sale prices cannot be applied to previously placed orders and cannot be combined with other discounts. Some restrictions apply. Must be 21+ to order.
Talk About Wine Online
If you have questions, comments or ideas to share about today's article or wine in general, you're always welcome to drop by our online WineLovers Discussion Group, the Internet's first and still the most civil online community. To find our forums, click:
http://www.wineloverspage.com/forum/village
Discussions are open for public viewing, but you must register to post. Registration is free and easy; we ask only that you join following our Real Names Real Format system, using your real name in the format "John Doe" or "John D". Anonymous, cryptic or first-name-only registrations are discarded without notice.
Once your registration has been approved, which usually happens quickly, you'll be able to participate in all our online wine, food and travel forums.
To contact me by E-mail, write wine@wineloverspage.com. I'll respond personally to the extent that time and volume permit.
Subscriptions and Administrivia
Unsubscribe:
We're sorry if you must leave us, but simply click the "unsubscribe"
link at the bottom of your Email edition to be instantly removed from the mailing list.
Change address:
The quickest and easiest way to change your Email address is simply to register anew, using the link below. If you are keeping your old address but no longer wish to get the Wine Advisor there, click the unsubscribe link below to take it off our list; if you are closing the mailbox, you needn't take any action, as our system will delete your old address as soon as the mail to your old address starts to "bounce."
Subscribe to this weekly E-letter (free):
http://www.wineloverspage.com/wineadvisor
WineLoversPage.com RSS Feed (free):
http://feeds.feedburner.com/wineloverspage/tzva
Wine Advisor Archives:
http://www.wineloverspage.com/wineadvisor2/archives.php
Sponsorship Opportunities:
For information, E-mail wine@wineloverspage.com