This article was published in The 30 Second Wine Advisor on Friday, Jun. 27, 2014 and can be found at http://www.wineloverspage.com/wineadvisor2/tswa20140627.php.
Where did Sherry go?
Looking at trends in food and dining, you might expect Sherry to be the next big thing. Tapas and "small plates" are hip; and the art of the cocktail is booming. So why not turn to Sherry? This natural cocktail was the original drink for tapas, which were served on tiny dishes used as lids ("tapas," in the vernacular) to keep fruit flies out of one's drink while dining al fresco in Jerez.
But it's just not happening. If anything, good Sherry is all but disappearing from the marketplace, at least in this neck of the woods. I had a tough time finding quality Sherry for this report. Even quality wine shops that used to be reliable sources for decent Sherry producers like Emilio Lustau now seem limited to mass-market brands like Dry Sack or Harvey's Bristol Cream , if that. No, thanks!
I just don't get it. Sure, Sherry is very different from traditional table wine, but there's a great deal more to it than that crystal decanter half-filled with sickly sweet, months-old stuff that your elderly aunt used to keep on the sideboard for occasional after-dinner nips. The Food 52 blog ran an excellent article this week, declaring Sherry The Home Cook's Best Friend and pointing out that sommeliers love Sherry for its versatility and complex, concentrated flavors.
I had to browse three wine shops, though, including a big-box store where no one seemed to have any idea what Sherry is, before finding a good, fresh bottle of Fino from Osborne, a major Spanish producer, at my usually reliable neighborhood wine shop, The Wine Rack.
If you're a wine drinker who doesn't care for the darker, heavier style of Sherries like Oloroso, Amontillado or the sugar-sweet Pedro Ximenez, there's no better place to start than Fino. Lighter in color, bone-dry in flavor, it's still bold on the palate, redolent of pecans and roasted, toasted flavors backed by zippy acidity and a pleasantly bitter finish. You'll find my tasting report below.
Wine Focus for June: The wines of Spain
We're wrapping up a month-long look at Spain in Wine Focus in our online WineLovers Discussion Group,
We've been tasting red and white wines (and rosado, and Sherry, too) from all regions of Spain, and those who for any reason have a hard time finding Spanish wines may go for the nearest geographic or stylistic neighbors. Pyrenees or Roussillon in France, for instance, or non-Port Douro reds and Portuguese whites bordering on Galicia.
You're invited to share your questions and comments about Spain and its wines and contribute your tasting notes through this month in Wine Focus. Just click Wine Focus for June: The wines of Spain! to drop in. You'll be warmly welcomed in our friendly wine-loving community.
All forum discussions are open for public viewing, but you must register to post your comments and participate actively in the conversation. Registration is free and easy; we ask only that you join following our Real Names Real Format system, using your real name as your public user name. To join the forum, drop me a note at wine@wineloverspage.com with your real name, preferred format and a temporary password, and I'll take care of the rest.
Today's Sponsor
Drink Better!
Taste the delicious difference handcrafting makes.
Uncork artisan wines from California's best small family wineries with The California Wine Club. Since 1990 they have been discovering award-winning, small batch wines and sharing them, along with the rich histories of their wineries, with wine enthusiasts all across the country.
Each month you'll discover a different winery and two of their most delicious wines.
Special Offer: Try a membership now and enjoy $95 in bonus gifts in your first shipment!
• 2 Bonus Wines
• Beautiful set of wine country note cards
• $25 Wine Credit to use on any future order
Click here to learn more!
After the first month, monthly two-bottle shipments will be $39.95 plus shipping and handling, and tax where applicable. There are no membership fees and no commitments.
Don't Wait: This offer expires on July 27, 2014.
www.cawineclub.com 1-800-777-4443
Today's Tasting Report
Osborne Fino Sherry ($11.99)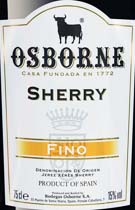 Clear, very pale gold color. Pleasant subtly nutlike Fino scent. The back label points us toward almonds, but I'd call something more like lightly roasted cracked pecans. Dry and crisp on the palate, which may come as a surprise to those who assume that all Sherry is sweet. Alcohol, too, though robust at 15 percent, is on the light side for Sherry. It's best served chilled, although I'd avoid palate-killing cold. Try taking it out of the refrigerator a half-hour or so before serving, then watch its flavor emerge as it opens up in the glass. U.S. importer: Evaton Inc., Stamford, Conn. (June 16, 2014)
FOOD MATCH: It was fine served by itself, as a cocktail-style aperitif, and also went well with creamy cheese. Fino will also serve at the dinner table, where it made an interesting match with a frittata filled with fresh garden green beans and browned onions, garlic and green pepper.
WHEN TO DRINK: Unlike sweeter Sherry, Fino is best served fairly fresh, but the Osborne's sturdy modern metal screw cap will help with that. Still, since it's non-vintage (as are all Sherries), you'll want to place your trust in a reliable merchant with good turnover who won't stick you with old, dusty bottles from the back of the shop.
VALUE: Wine-Searcher.com shows an average $15 retail price for Osborne Fino Sherry, but it's widely available, as I found it, in the lower teens, and a very good value at that price point.
WEB LINK: Here's a link to notes on all the Osborne Sherries, with further links to fact sheets and more.
FIND THIS WINE ONLINE:
Locate vendors and compare prices for Osborne Fino Sherry on Wine-Searcher.com.
Talk About Wine Online
If you have questions, comments or ideas to share about today's article or wine in general, you're always welcome to drop by our online WineLovers Discussion Group, the Internet's first and still the most civil online community. To find our forums, click:
http://www.wineloverspage.com/forum/village
Discussions are open for public viewing, but you must register to post. Registration is free and easy; we ask only that you join following our Real Names Real Format system, using your real name in the format "John Doe" or "John D". Anonymous, cryptic or first-name-only registrations are discarded without notice.
Once your registration has been approved, which usually happens quickly, you'll be able to participate in all our online wine, food and travel forums.
To contact me by E-mail, write wine@wineloverspage.com. I'll respond personally to the extent that time and volume permit.
Subscriptions and Administrivia
Unsubscribe:
We're sorry if you must leave us, but simply click the "unsubscribe"
link at the bottom of your Email edition to be instantly removed from the mailing list.
Change address:
The quickest and easiest way to change your Email address is simply to register anew, using the link below. If you are keeping your old address but no longer wish to get the Wine Advisor there, click the unsubscribe link below to take it off our list; if you are closing the mailbox, you needn't take any action, as our system will delete your old address as soon as the mail to your old address starts to "bounce."
Subscribe to this weekly E-letter (free):
http://www.wineloverspage.com/wineadvisor
WineLoversPage.com RSS Feed (free):
http://feeds.feedburner.com/wineloverspage/tzva
Wine Advisor Archives:
http://www.wineloverspage.com/wineadvisor2/archives.php
Sponsorship Opportunities:
For information, E-mail wine@wineloverspage.com

We're sorry if you must leave us, though.
If you choose to leave our list, I'd appreciate it if you'd take a moment or two to tell us
how we could have better served you. Email Robin Garr at wine@wineloverspage.com.