This article was published in The 30 Second Wine Advisor on Friday, May. 30, 2014 and can be found at http://www.wineloverspage.com/wineadvisor2/tswa20140530.php.
Austrian Tradition!
Tradition! Shout out the word, and you might start hearing Tevye the dairyman singing the popular tune from "Fiddler on the Roof" in your head. Then open a tall, cool green bottle of Gobelsburger Kamptal Grüner Veltliner from Austria, and you might just start singing "Tradition" yourself.
Even with a desirable if not-so-traditional metal screwcap to ensure clean freshness, it's hard not to hear the voice of tradition in a wine from Schloss Gobelsburg, a wine-producing property associated with the monks of Zwetti in Austria's Kamp river valley (Kamptal) for close to 1,000 years.
The Zwettl Monastery was founded in 1074, according to distributor Michael Skurnik, and in 1171 the Monks of Zwettl were granted their first vineyards. Now, that's tradition.
The monastery has contracted with Eva and Michael Moosbrugger for vine growing and wine making since1996, and Michael Moosbrugger was named Austria's "winemaker of the year" by the national wine magazine Falstaff in 2006.
Gobelsburg has come a long way, but it continues to deeply honor Austria's ancient wine-making tradition. Says Skurnik, "The winery continues to utilize organic winegrowing and has benefited from the fact that the monks of Zwettl Monastery began these practices as early as 1958.
"While many international cellars are attempting to produce clean, uniform wines, Moosbrugger is convinced that the future Gobelsburg lies in individuality and character. As a high level of technology is necessary to warrant uniformity, Moosbrugger believes that individuality can only be achieved through the reduction of machines."
For example, Moosbrugger developed what he calls a 'Dynamic Cellar Concept,' an approach that avoids pumping wine in production through hoses but gently transports them in wheeled barrels around the cellar.
Their care ... their tradition ... shows in the quality of the wine. My tasting notes are below.
Wine Focus for June: The wines of Spain
We're focusing on Spain for Wine Focus for June in our online WineLovers Discussion Group,
This will incorporate both red and white winess (and rosado!) from all regions of Spain, and those who for any reason have a hard time finding Spanish wines may go for the nearest geographic or stylistic neighbors. Pyrenees or Roussillon in France, for instance, or non-Port Douro reds and Portuguese whites bordering on Galicia.
This should be an interesting topic. To be honest, based on the selection of Spanish wines I see in my local market, I tend to think of huge, hot, global-warming and Parkerized bombs when I think of Spain, so I'm eager for an opportunity to reconnect with reality if possible.
You're invited to share your questions and comments about Spain and its wines and contribute your tasting notes through this month in Wine Focus. Just click Wine Focus for June: The wines of Spain! to drop in. You'll be warmly welcome in our friendly wine-loving community.
All forum discussions are open for public viewing, but you must register to post your comments and participate actively in the conversation. Registration is free and easy; we ask only that you join following our Real Names Real Format system, using your real name as your public user name. To join the forum, drop me a note at wine@wineloverspage.com with your real name, preferred format and a temporary password, and I'll take care of the rest.
Today's Sponsor
$1 Shipping Cellar Clearance Sale!
24 Hours Only - Save an EXTRA 10%
Stock up on award-winning, handcrafted wines already discounted to as low as $8.99 during The California Wine Club's Cellar Clearance Sale.
Special Offer: Order by 11:59 p.m. (PDT) on May 31, 2014 and save an EXTRA 10% when you use coupon code 10CELLAR14.
Plus, you'll enjoy $1 shipping on every case and half case!
The California Wine Club is your supplier of the hard-to-find wines that friends will envy and guests will love. Each delicious bottle they feature has been hand-selected from a dedicated, passionate, small family winery.
Shop now!
Don't wait - The Celebrated Cellar Clearance ends June 13, 2014.
www.cawineclub.com 1-800-777-4443
Sale cannot be combined with any other promotion or discount, nor applied to previously placed orders. Some restrictions apply. Must be 21+ to order.
Today's Tasting Reports
Gobelsburger 2012 Kamptal Grüner Veltliner ($17.99)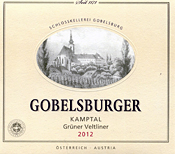 Transparent straw color. White fruit aromas, fresh green figs and a whiff of wine with a pleasant "woolly" note. Crisp and fresh on the palate, lime and white-fruit flavors follow the nose, tart and dry, with just a suggestion of Austria's characteristic stony rainwater-over-rocks minerality in the long finish. Food-friendly alcohol at 12.5 percent. U.S. importer: Michael Skurnik Wines, Syosset, N.Y. A Terry Thiese Estate Selection. (May 22, 2014)
FOOD MATCH: Grüner Veltliner makes a natural match with freshwater fish, goat cheeses or soft white cheeses like Camembert and Brie. I'll never forget traveling in Austria during spargel (white asparagus) season, so in homage to those memories I matched it with a fresh asparagus frittata loaded with onions and garlic.
WHEN TO DRINK: Grüner Veltliner can benefit from aging, and Wine-Searcher.com actually shows some European vendors offering vintages back to 1998. The wine's sturdy metal screw cap should also keep it clean and fresh. That said, it might make sense to buy the youngest available and cellar it yourself if that's your wish.
VALUE: My local price is a few bucks above the $15 U.S. average shown on Wine-Searcher.com, but I'm satisfied with its quality-price ratio in the upper teens.
WEB LINK: Schloss Gobelsburg offers its attractive website in German and English. Here's a link to its fact sheet on the Goldsburger Grüner Veltliner in English. It also publishes a Facebook Page in English.
Importer Michael Skurnik also provides a detailed article about Schloss Gobelsburg, with links to reports on many of its wines.
FIND THIS WINE ONLINE:
Locate vendors and compare prices for Gobelsburger Kamptal Grüner Veltliner on Wine-Searcher.com.
Talk About Wine Online
If you have questions, comments or ideas to share about today's article or wine in general, you're always welcome to drop by our online WineLovers Discussion Group, the Internet's first and still the most civil online community. To find our forums, click:
http://www.wineloverspage.com/forum/village
Discussions are open for public viewing, but you must register to post. Registration is free and easy; we ask only that you join following our Real Names Real Format system, using your real name in the format "John Doe" or "John D". Anonymous, cryptic or first-name-only registrations are discarded without notice.
Once your registration has been approved, which usually happens quickly, you'll be able to participate in all our online wine, food and travel forums.
To contact me by E-mail, write wine@wineloverspage.com. I'll respond personally to the extent that time and volume permit.
Subscriptions and Administrivia
Unsubscribe:
We're sorry if you must leave us, but simply click the "unsubscribe"
link at the bottom of your Email edition to be instantly removed from the mailing list.
Change address:
The quickest and easiest way to change your Email address is simply to register anew, using the link below. If you are keeping your old address but no longer wish to get the Wine Advisor there, click the unsubscribe link below to take it off our list; if you are closing the mailbox, you needn't take any action, as our system will delete your old address as soon as the mail to your old address starts to "bounce."
Subscribe to this weekly E-letter (free):
http://www.wineloverspage.com/wineadvisor
WineLoversPage.com RSS Feed (free):
http://feeds.feedburner.com/wineloverspage/tzva
Wine Advisor Archives:
http://www.wineloverspage.com/wineadvisor2/archives.php
Sponsorship Opportunities:
For information, E-mail wine@wineloverspage.com