This article was published in The 30 Second Wine Advisor on Friday, Jan. 31, 2014 and can be found at http://www.wineloverspage.com/wineadvisor2/tswa20140131.php.
Good Pinot Noirs for $10 and $20
Some days I wake up and realize that I've been writing about wine for a long time. I don't even want to count the years, but let's just say that I wrote my first wine column at The Louisville Times, where I was also a news reporter, in the early 1980s. Stop calculating! I just said I don't want to count the years!
I'm particularly conscious of this time span, though, when I stop and think about what's changed on the wine scene since those days. The Wine Spectator was a tabloid newspaper. Robert Parker was a wine-loving lawyer in Maryland who put out a little newsletter for his friends.
There was no Internet, or at least none that any of us knew about. Good wine came from France, lovable wine came from Italy, cheap sweet wine came from Germany, and only a few of us east of the Mississippi knew that California was starting to make some amazing wines in addition to all that stuff in big jugs. What's more, hardly anybody paid more than $6 for a bottle of wine.
And then there was the conventional wisdom that we'll examine in today's sermon: Pinot Noir was a finicky grape that didn't really grow well or make interesting wine anywhere but in Burgundy.
This may even have been true, although a handful of pioneers - not least Josh Jensen of California's Calera - were working hard to change that. Still, even into the 1990s, Pinot made outside Burgundy had a lot to prove, and a fair amount of prejudice to overcome from wine enthusiasts who thought they were savvy.
Talk about change! Nowadays, splendid Pinot comes from all over the globe, and it comes in a variety of styles that aren't all made in the Burgundian model. California is a Pinot-land beyond question, and some might argue that Oregon Pinot at its best can exceed the quality of the Golden State's. Travel around the world, from Northern Italy's Pinot Nero to Germany's Spätburgunder and on to New Zealand and beyond, and you'll find fine Pinot all over the place.
And if the average price tag of wine in general has risen significantly from those $6 days, there's still plenty of excellent Pinot to be had for $20 or so, and more than a few exceptional bottles as low as $10.
Today I highlight two California Pinots - one at each of those price points - that I would be happy to drink with dinner any night:
* Meiomi 2012 Pinot Noir, $20 in local retail stores in my area and available here and there for less, is fine, structured and potentially cellarworthy. "Meiomi," pronounced "May-OH-mee," means "coast" in the language of the California Wappo Indians. Wine maker Joseph J. Wagner makes this wine from roughly equal amounts of grapes from three coastal California wine regions: Monterey, Santa Barbara and Sonoma Counties.
* Mark West 2011 California Pinot Noir, just $10 locally and available in a few places for a buck or two less, is a simpler wine but pleasant and appealing, good at the table and showing distinct Pinot character despite its low-end price.
You'll find my tasting notes below.
Wine Focus for February: Cabernet from California and beyond
Just as Pinot is the great grape of Burgundy, Cabernet Sauvignon is the trademark grape of Bordeaux. It, too, has spread its fame around the world and prompted growers in almost every wine producing area around the globe to try their hand at this variety. At its best, it produces subtle, elegant wines of great depth and significant ageworthiness. Its best, particularly from Bordeaux but also in California, Australia and elsewhere, can be very expensive. In Bordeaux and often elsewhere, it turns up playing a major role in a blend of grapes. In the New World, it often stands alone as a 100 percent varietal wine.
Wine Focus for February on our WineLovers Discussion Group places a preferential option on California Cab as a full-varietal wine, but this is by no means binding. Bring your "Meritage" or Bordeaux blends; show up with Cab and Cab blends from all over the globe, and you'll be welcome. For newbies and even for experts, Cabernet offers its challenges and lots to learn. We hope a lot of you will take part.
You're invited to share your Cabernet experiences, tasting notes and questions in "Wine Focus: Cabernet from California and beyond."
All forum discussions are open for public viewing, but you must register to post your comments and participate actively in the conversation. Registration is free and easy; we ask only that you join following our Real Names Real Format system, using your real name as your public user name. To join the forum, drop me a note at wine@wineloverspage.com with your real name, preferred format and a temporary password, and I'll take care of the rest.
Today's Sponsor
Try California's Most Exquisite Wines!
Enjoy California's most coveted wines delivered to your door. The California Wine Club's Signature Series features 90+ rated California wines to collect and savor. These are wines that critics rave about, but consumers have trouble finding. Every bottle comes with a guide to the featured winery, winemaker's notes and our complete guarantee.
SPECIAL SAVINGS: Receive your first Signature Series shipment for half off.
Try Signature Series.
"If you love California wines and enjoy the pleasure of unusual, limited-production specialties, you can trust The California Wine Club's Signature Series to take the risk out of buying rare California wines." --Robin Garr
www.cawineclub.com 1-800-777-4443
Today's Tasting Report
Meiomi 2012 Monterey, Santa Barbara and Sonoma Pinot Noir ($19.99)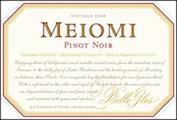 This is a dark reddish-purple wine, shading to a clear garnet edge. Ripe red plums on the nose with a whiff of brown spices lead into a full and ripe flavor, red fruit plus a minerally touch of clay. Zippy acidity and soft but perceptible tannins build a textured mouthfeel, not at all over-the-top at 13.8% alcohol. Good wine with clear Pinot character, clearly more Californian than Burgundian in its relatively forward fruit and spice, but still balanced and food-friendly. It's billed as a blend of grapes from coastal vineyards in Monterey County (35%), Santa Barbara County (34%) and Sonoma County (31%). (Jan. 21, 2014)
FOOD MATCH: Pinot is a standard choice with beef, fares well with grilled or roasted poultry, goes well with a range of cheese and makes a natural match with mushroom dishes. The Meiomi made a stunning match with roasted domestic mushrooms and porcini with garlic over goat cheese polenta.
WHEN TO DRINK: Pinot Noir may be one of the most unpredictable grapes for cellaring, showing dramatic and unpredictable ups and downs over time. That said, however, the fruit and structure of the Meiomi suggests that it could evolve into increased complexity and the elegance of maturity over at least the next five years, assuming undisturbed, consistently cool cellar conditions.
VALUE: My $20 local retail price was right on the median point at Wine-Searcher.com, but it may pay to shop around, especially if you have access to Internet shopping, as Wine-Searcher.com lists an unusually broad range of prices as low as $12.99 for the 2012 vintage.
WEB LINK: This link goes to the Meiomi main page.
You'll find a well produced video at this page, which you can also reach via a QR code on the back label.
FIND THIS WINE ONLINE:
Check prices and look for vendors for Meiomi Pinot Noir on Wine-Searcher.com.
Mark West 2011 California Pinot Noir ($9.99)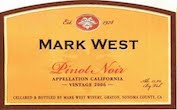 Clear, dark cherry red with a clear edge. Juicy and ripe aromas; fresh black cherries and plums on the palate, with hints of warm spice from its time in French and Hungarian oak. Crisp, food-friendly acidity lends a hand at the table and provides good structure, with reasonable 13.8% alcohol and just a wisp of buzzy tannins lingering with crisp black fruit in the finish. This is very good Pinot, with varietal character unexpected at this price point, a fine value. (Jan. 25, 2014)
FOOD MATCH: Again, this Pinot will sing with steaks, burgers, roast beef or chicken. We got a little more adventurous and found it a fine match with a roasted fennel risotto. The rich, caramelized flavors of the roasted anise-scented fennel, deeply browned onions and garlic brought the plant-based dish right up to meet the red wine.
WHEN TO DRINK: This fine, simple Pinot is drinking well now, and that's what it is made for. At this price you could certainly put a few down for three to five years to see what happens, but I would not invest in it as a wine for maturing.
VALUE: Again, my local $10 tag is a fine value for this good basic Pinot, and it meets the national median point listed by Wine-Searcher.com. but it can be found in the $7-$8 range in some markets.
WEB LINK: The Web address listed on the label is no longer functional. Use this link instead for the current Mark West web page.
FIND THIS WINE ONLINE:
Compare prices and find vendors for Mark West California Pinot Noir on Wine-Searcher.com.
Talk About Wine Online
If you have questions, comments or ideas to share about today's article or wine in general, you're always welcome to drop by our online WineLovers Discussion Group, the Internet's first and still the most civil online community. To find our forums, click:
http://www.wineloverspage.com/forum/village
Discussions are open for public viewing, but you must register to post. Registration is free and easy; we ask only that you join following our Real Names Real Format system, using your real name in the format "John Doe" or "John D". Anonymous, cryptic or first-name-only registrations are discarded without notice.
Once your registration has been approved, which usually happens quickly, you'll be able to participate in all our online wine, food and travel forums.
To contact me by E-mail, write wine@wineloverspage.com. I'll respond personally to the extent that time and volume permit.
Subscriptions and Administrivia
Unsubscribe:
We're sorry if you must leave us, but simply click the "unsubscribe"
link at the bottom of your Email edition to be instantly removed from the mailing list.
Change address:
The quickest and easiest way to change your Email address is simply to register anew, using the link below. If you are keeping your old address but no longer wish to get the Wine Advisor there, click the unsubscribe link below to take it off our list; if you are closing the mailbox, you needn't take any action, as our system will delete your old address as soon as the mail to your old address starts to "bounce."
Subscribe to this weekly E-letter (free):
http://www.wineloverspage.com/wineadvisor
WineLoversPage.com RSS Feed (free):
http://feeds.feedburner.com/wineloverspage/tzva
Wine Advisor Archives:
http://www.wineloverspage.com/wineadvisor2/archives.php
Sponsorship Opportunities:
For information, E-mail wine@wineloverspage.com