This article was published in The 30 Second Wine Advisor on Friday, Jan. 17, 2014 and can be found at http://www.wineloverspage.com/wineadvisor2/tswa20140117.php.
Gigondas: Sound your S, and your GSM
If you speak French like I speak French - mostly self-taught food, wine and tourist terms picked up along the way - you probably get as confused as I do about its unfamiliar ways. The gargled "r," that nasal "n," the liaison that runs words together when you least expect it; and all those consonants that get dropped off the end of words!
In Southern France, though, we get a break from some of those dropped consonants, which of course just makes things more confusing. Take today's featured wine, for instance: Gigondas. That's "Gee-gawn-dah," right? Drop the final consonant?
Nope! Thanks to the ancient language roots of Provence and neighboring Languedoc across France's Mediterranean coast, that "ess" gets sounded full and proud: "Gee-gawn-DASS." Do the same, by the way, with the Southern French "Mas" ("house") as in the pricey wine Mas de Daumas Gassac, which is spoken in those parts with all the sibilance of a hissing snake.
Enough about language, though. How does it taste? I'd say "Delicious," with full sound on the final "s." Gigondas, one of the many wine villages of the Southern Rhône, is a near neighbor of the storied Châteauneuf-du-Pape.
Like Châteauneuf, Gigondas may be made from any combination of 13 regional grapes but tends to focus primarily on just three: Grenache, Syrah and Mourvèdre, commonly abbreviated as "GSM." Pronounce all three of those initials, please!
Today's featured wine, Domaine du Cayron 2010 Gigondas, made by Michel Faraud and his daughters, is a very fine wine from an exceptional vintage for the region. A GSM blend with a plus, it's 70% Grenache,14% Syrah and 1% Mourvèdre, with an additional 15% Cinsault.
Frankly, it's more of a wine for cellaring than for drinking up soon, although I made that sacrifice on your behalf. Now it remains "closed," waiting for a few more years of cellar time to foster its full evolution into maturity. Indeed, we recorked and set aside half of the bottle for another day and found it much more complex and interesting after this extended exposure to air.
If you try it, I suggest that you do the same: Pour out a glass on the first night to sample for the sake of science; but if you find it harsh and astringent, pop the cork back in and let the rest of the wine commune with the air space you've left in the bottle for a few days. I think three days to a week of this "breathing" will serve it well.
Wine Focus: Châteauneuf du Pape and GSM Blends
You're invited to share your GSM experiences with the WineLovers Discussion Group in January's Wine Focus, where we're discussing all the world's Grenache, Syrah and Mourvère blends from Châteauneuf-du-Pape through the Rhône, Provence and Languedoc and around the world, every place that this splendid mix is honored.
Pay your money and take your choice, and come join us in Wine Focus: Châteauneuf du Pape & GSM Blends.
All forum discussions are open for public viewing, but you must register to post your comments and participate actively in the conversation. Registration is free and easy; we ask only that you join following our Real Names Real Format system, using your real name as your public user name. To join the forum, drop me a note at wine@wineloverspage.com with your real name, preferred format and a temporary password, and I'll take care of the rest.
Today's Sponsor
Discover California's Best Small Wineries!
Wouldn't it be wonderful to have hard-to-find, award-winning wines from California's best small family-run wineries conveniently delivered right to your home or office? Since 1990, The California Wine Club has been delivering exactly that, along with a unique promise to personally hand-select every one of the handcrafted, award-winning wines they feature. Real wineries, artisan wines and personal service — that is their promise and it is one that no other wine club can make.
This month's delivery brings Italian passion paired with California style from Napa Valley's Ca' Momi Winery.
Get to know Ca' Momi Winery in the short video on this page!
Special offer: Discover California's best small wineries starting with Ca' Momi Winery. You'll get your first 3 months for $26.50* per month.
*Includes shipping and handling. Tax extra where applicable.
www.cawineclub.com 1-800-777-4443
Today's Tasting Report
Domaine du Cayron 2010 Gigondas ($34.99)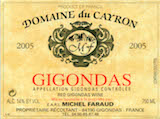 Clear dark garnet shading to a clear edge. Pleasant Rhône aromas, berries and leather and dried mixed herbs, leading into a dry, tart and tannic flavor with hints of clay and stony minerality. It carries its 14% alcohol well. It's 70% Grenache, 15% Cinsault, 14% Syrah and 1% Mourvèdre. U.S. importer: Vanguard Wines LLC, Columbus, Ohio. (Jan. 9, 2014)
FOOD MATCH: GSM is made to accompany rare red meat, steak or roast, beef or lamb, game or even grilled poultry or duck. It works well, too, with plant-based dishes brought up to meet a red; it was a big winner with a "meaty" red-lentil curry with browned onions and lima beans.
WHEN TO DRINK: Great vintages of Gigondas - including 2010 - can last for 20 years or more, assuming, always, excellent and undisturbed cellar conditions around 55F (13C). It was really a shame to drink this one so young, although as noted, the strategy of setting it aside in the recorked bottle for several days did make it more approachable.
VALUE: Gigondas isn't a cheap wine, but it falls into the "sweet spot" where higher price purchases memorable wine worth contemplating or cellaring for the future. That said, my local $35 price tag was a bit dear, as Wine-Searcher.com reports a $30 median for Cayron Gigondas with some vendors offering it for $25.
WEB LINK: Here's a short report on Domaine du Cayron, with links to fact sheets on the 2010 and 2011 Gigondas, from regional importer Michael Skurnik Wines.
FIND THIS WINE ONLINE:
Find vendors and compare prices for Domaine du Cayron Gigondas on Wine-Searcher.com.
Looking for something a little less pricey? Check out these links to 500 French Southern Rhône blends on Wine-Searcher.com.
Talk About Wine Online
If you have questions, comments or ideas to share about today's article or wine in general, you're always welcome to drop by our online WineLovers Discussion Group, the Internet's first and still the most civil online community. To find our forums, click:
http://www.wineloverspage.com/forum/village
Discussions are open for public viewing, but you must register to post. Registration is free and easy; we ask only that you join following our Real Names Real Format system, using your real name in the format "John Doe" or "John D". Anonymous, cryptic or first-name-only registrations are discarded without notice.
Once your registration has been approved, which usually happens quickly, you'll be able to participate in all our online wine, food and travel forums.
To contact me by E-mail, write wine@wineloverspage.com. I'll respond personally to the extent that time and volume permit.
Subscriptions and Administrivia
Unsubscribe:
We're sorry if you must leave us, but simply click the "unsubscribe"
link at the bottom of your Email edition to be instantly removed from the mailing list.
Change address:
The quickest and easiest way to change your Email address is simply to register anew, using the link below. If you are keeping your old address but no longer wish to get the Wine Advisor there, click the unsubscribe link below to take it off our list; if you are closing the mailbox, you needn't take any action, as our system will delete your old address as soon as the mail to your old address starts to "bounce."
Subscribe to this weekly E-letter (free):
http://www.wineloverspage.com/wineadvisor
WineLoversPage.com RSS Feed (free):
http://feeds.feedburner.com/wineloverspage/tzva
Wine Advisor Archives:
http://www.wineloverspage.com/wineadvisor2/archives.php
Sponsorship Opportunities:
For information, E-mail wine@wineloverspage.com