This article was published in The 30 Second Wine Advisor on Friday, Dec. 6, 2013 and can be found at http://www.wineloverspage.com/wineadvisor2/tswa20131206.php.
$10 recession-buster
I keep reading that the long-running recession is over. A news flash just came in! "Economy Added 203,000 Jobs in November; Unemployment Falls to 5-Year Low!
Funny I'm not feeling that, though, and neither are most people I know. Recession, Schmecession: We're not all out at wine auctions buying Domaine de la Romanée-Conti or Screaming Eagle or whatever today's trophy du jour might be.
But show me a decent, interesting red wine that goes well with food and bears a modest $10 price tag, and I'm all over it. Never mind that the threshold for "modest" has risen from $5 to $10 and is now zeroing in on $12 to $15, I still admire a wine that I can enjoy with dinner every day, not just for a special occasion, without feeling too profligate about it.

Say hello, then, to Delas 2012 Ventoux, a fresh, tart and very Euro-style red made by the Northern Rhone firm Delas Frères in the Côtes-du-Ventoux, on the slopes of Mont Ventoux where the Rhône meets Provence. Delas, now owned by the family that produces Champagne Deutz, is a 160-year-old firm that produces a full range of Rhône wines.
The Ventoux, subject of today's dissertation, is based on Grenache, mostly, the raspberry-scented workhorse grape of the Southern Rhône and Provence, with about 20 percent of Syrah to add complexity to the blend. It goes for $9.99 at my local wine shop, a tag that's right on the U.S. median price reported by Wine-Searcher.com. With luck you may find it for even a buck or two less.
You'll find my tasting notes below.
Wine Focus: Sweet, Fortified and Bubbly
It's holiday season around the world, and winter is coming in the North. These are two good reasons to enjoy life with the warming nature of sweet and/or fortified wines and to celebrate with the fun of cork-popping bubblies.
The whole world of these festive wines opens up for our inspection in our WineLovers Discussion Group's monthly Wine Focus for December, as we consider all the world's dessert, fortified and sparkling wines, from the great classics like Port, Sherry, late-harvest Rieslings and Chenins and, of course, Champagne, to all the other national and regional wines made in these styles.
You're warmly invited to join our wine enthustiasts as we feature "Sweet, Fortified and Bubbly." Bring your wine notes, and bring your comments and questions, and we'll hope for an active month filled with good conversation and tasting reports. The discussion topic begins here.
All forum discussions are open for public viewing, but you must register to post your comments and participate actively in the conversation. Registration is free and easy; we ask only that you join following our Real Names Real Format system, using your real name as your public user name. To join the forum, drop me a note at wine@wineloverspage.com with your real name, preferred format and a temporary password, and I'll take care of the rest.
Today's Sponsor
Get a 10% Savings Code!
The California Wine Club has a special "Thank You" for you!
Today Only: Finish your holiday shopping or stock up for New Year's Eve and we'll say "Thank you" with a 10% savings code to use on future orders for the rest of December.
Click to shop now!
Delight your gift recipients with a wine adventure from The California Wine Club. Monthly gift deliveries feature two handcrafted, award-winning wines plus an insider's look at the featured small family winery.
Extended Holiday Hours:
Monday - Friday: 7 a.m. to 5:30p.m. Pacific Standard Time
Saturday & Sunday: 8 a.m. to 2 p.m. Pacific Standard Time
Shop online any time!
Offer to receive 10% Savings Code ends at 9:30 a.m. PST on Dec. 7, 2013.
www.cawineclub.com 1-800-777-4443
Today's Tasting Report
Delas 2012 Ventoux ($9.99)
Clear dark reddish-violet, dark almost all the way to the edge. Red plums and a "dusty" clay-like minerality on the nose and palate. Tart, food-friendly acidity and substantial tannins, with plummy fruit and good acidic balance to serve it well at the dinner table. A bit volatile, almost a whiff of cider vinegar at first, but happily it blows off to reveal a more approachable old-style French country table wine, nicely balanced and carrying its listed 14% alcohol well. U.S. importer: Maisons, Marques & Domaines USA Inc., Oakland, Calif. (Nov. 19, 2013)
FOOD MATCH: A natural match with all of red wine's classic companions, from steak and roast beef to grilled turkey, pork chops, burgers and sharp cheeses. It was fine with a Cantonese-style pepper beef stir-fry with snow peas.
WHEN TO DRINK: Don't plan to cellar it for improvement, but it's drinking very well now and shouldn't start to go downhill for at least a few years under good cool storage conditions.
VALUE: For 10 bucks, it's a table-wine value that's hard to beat. Wine-Searcher.com lists $10 as median price for Delas Ventoux at retail in the U.S.
WEB LINK:
Here is the U.S. importer's overview sheet on Delas Frères, the producer. For more details and a tech sheet on the 2012 Ventoux, follow this link. The Delas Frères website is available only in French, and, bizarrely, requires visitors to submit an Email address and wait for confirmation before you can enter. Frankly, I didn't bother.
FIND THIS WINE ONLINE:
Check prices and locate vendors for Delas at Wine-Searcher.com.
Wine map posters make great gifts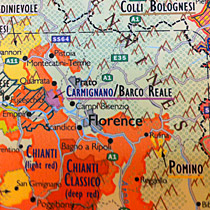 My friends Steve and Deborah De Long, creators of the innovative Wine Grape Varietal Table,proudly include a stunning Wine Map of Italy in their beautiful collection of quality, poster-size wine maps (all $29.95).
The Wine Map of Italy includes all the country's wine regions as well as adjacent wine regions in France, Switzerland, Slovenia, Croatia and Tunisia. (The image detail shows the regions around Florence in Tuscany.)
To order any of the De Long wine maps, click DeLongWine.com/wine-maps.php?PARTNER=WLP. Click this link for the fun and informative Wine Grape Varietal Table.
Talk About Wine Online
If you have questions, comments or ideas to share about today's article or wine in general, you're always welcome to drop by our online WineLovers Discussion Group, the Internet's first and still the most civil online community. To find our forums, click:
http://www.wineloverspage.com/forum/village
Discussions are open for public viewing, but you must register to post. Registration is free and easy; we ask only that you join following our Real Names Real Format system, using your real name in the format "John Doe" or "John D". Anonymous, cryptic or first-name-only registrations are discarded without notice.
Once your registration has been approved, which usually happens quickly, you'll be able to participate in all our online wine, food and travel forums.
To contact me by E-mail, write wine@wineloverspage.com. I'll respond personally to the extent that time and volume permit.
Subscriptions and Administrivia
Unsubscribe:
We're sorry if you must leave us, but simply click the "unsubscribe"
link at the bottom of your Email edition to be instantly removed from the mailing list.
Change address:
The quickest and easiest way to change your Email address is simply to register anew, using the link below. If you are keeping your old address but no longer wish to get the Wine Advisor there, click the unsubscribe link below to take it off our list; if you are closing the mailbox, you needn't take any action, as our system will delete your old address as soon as the mail to your old address starts to "bounce."
Subscribe to this weekly E-letter (free):
http://www.wineloverspage.com/wineadvisor
WineLoversPage.com RSS Feed (free):
http://feeds.feedburner.com/wineloverspage/tzva
Wine Advisor Archives:
http://www.wineloverspage.com/wineadvisor2/archives.php
Sponsorship Opportunities:
For information, E-mail wine@wineloverspage.com