This article was published in The 30 Second Wine Advisor on Friday, Nov. 8, 2013 and can be found at http://www.wineloverspage.com/wineadvisor2/tswa20131108.php.
Back-label inflation: Not quite Chateauneuf
I don't want to over-state my irritation here: Domaine Olivier Hillaire makes a fine Châteauneuf-du-Pape and an excellent Côtes du Rhône, the subject of today's tasting inquiry.
But in an age marred by advertising excess and marketing hype, I feel a need to push back a bit when I read a back label brag that goes like this:
"From vines located just across the Rhône River from Châteauneuf-du-Pape."
Uh huh. Back in my snarky youth, we used to have a saying, "'Close' only counts with horseshoes and H-bombs." Otherwise, as another old saying goes, a miss is as good as a mile. Generally, a miss literally is a mile when it comes to wine appellations.
To liken Châteauneuf-du-Pape, with its favored location and the characteristic large, oval "pierres roulez" ("rolled stones") that fill its vineyard soil and act as natural solar heat, to the simpler soils of the generic Côtes du Rhône on the other side of the broad Rhône, would be something like claiming that my old apartment in Astoria, Queens was just like a pied a terre across the East River on Manhattan's wealthy Upper East Side.
The moral of this story is simple: Don't trust anything on a wine label that isn't required to be there by law or regulation, and it might not hurt to be skeptical even of that.
Still, I love the Southern Rhône and all its wines - including food-friendly and delicious red Côtes du Rhône. I guess I don't begrudge Olivier Hillaire a little resume inflation. But please don't buy this wine thinking it's something that it's not. My tasting notes are below.
Wine Focus: The Wines of Piemonte
Bring out your Barolos and Barbarescos for the WineLovers Discussion Group's Wine Focus this month, and that's not all! We'll consider all the wines of Piemonte ("foothills"), the large, diverse region that makes up much of northwestern Italy's shoulder where it butts up against Alpine France and a bit of Switzerland. You're warmly invited to join our wine enthustiasts as we feature "the Wines of Piemonte."
Piemonte may be best known for those two powerful, ageworthy and often expensive "B" reds made from the great Nebbiolo grape; but there's much more here, and we're open to it all this month, from Barolo and Barbaresco through Spanna, Barbera, Dolcetto, even Freisa, and the sweet and often fizzy whites, Moscato and more.
Whatever's your pleasure from Piemonte, bring it, and bring your comments and questions, and we'll hope for an active month filled with good conversation and tasting reports. The discussion topic begins here.
All forum discussions are open for public viewing, but you must register to post your comments and participate actively in the conversation. Registration is free and easy; we ask only that you join following our Real Names Real Format system, using your real name as your public user name. To join the forum, drop me a note at wine@wineloverspage.com with your real name, preferred format and a temporary password, and I'll take care of the rest.
Today's Sponsor
Reserve Holiday Wine Gifts and Relax!
Since 1990 The California Wine Club has been delighting gift recipients with wine adventures featuring award-winning wines from California's best small family wineries. These wines are handcrafted in such limited quantities that they are rarely found outside of the wineries themselves, making this a unique tasting adventure.
Gifts include:
* Two award-winning wines, beautifully wrapped in the colors of the season.
* Every wine has a story and they share these stories in their travelogue, Uncorked®, along with wine tips, recipes, and insight into California's wine scene
* A complete guarantee.
* Bonus Gifts: Beautiful wine country note cards and a $25 Wine Credit.
Gifts start at $38.95, plus s/h. Tax extra where applicable.
Why Wait? Reserve gifts now! Pay nothing until December and gifts will be scheduled to arrive just before the Holiday. No shopping, no shipping, no wrapping. We take care of everything.
Send as many gift months as you wish. Discounts available on gifts of 3, 6, 9 and 12 months. 1, 2, and 3-Day delivery available.
Easy Ordering! Click Here or call 1-800-777-4443.
www.cawineclub.com
Today's Tasting Report
Domaine Olivier Hillaire 2011 Côtes du Rhône Vielles Vignes ($16.99)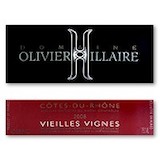 A typical regional blend of 60% Grenache and 40% Syrah, this is a clear, very dark garnet wine, showing scarlet glints against the light. Its good subtle raspberry scent adds intriguing fresh herbal notes, a smell of the French countryside in summer. Full and bright, red fruit follows the nose, framed by appropriately tart and food-friendly acidity, mouth-filling and textured at an appropriate 13.6% alcohol. U.S. importer: Wines of France Inc., Watchung, N.J.; an Alain Junguenet selection. (Sept. 2, 2013)
FOOD MATCH: Côtes du Rhône makes a natural match with beef or sharp cheese, but it's also fun to venture into more offbeat territory. I was delighted, for example, at its affinity for my smoky, fresh-made baba ganoush, made with local eggplants smoked over charcoal and hickory chunks, served with tomatoes and lettuce and Iranian flatbread.
WHEN TO DRINK: Côtes du Rhône is made to enjoy, not for cellaring. It won't hurt to keep it a year or three on the wine rack, but it's really best bought, drunk up, and replaced with the next vintage down the line.
VALUE: The mid-teens range seems fair, but note that Wine-Searcher.com reports a U.S. median retail price of $14, so it may be worth shopping around.
WEB LINK:
Click here for an importer's info page on Olivier Hillaire, with an interesting video (French, with English subtitles) as well as a link to download a tech sheet (PDF) on the Côtes du Rhône Vielles Vignes.
FIND THIS WINE ONLINE:
Check prices and locate vendors for Olivier Hillaire 2011 Côtes du Rhône Vielles Vignes on Wine-Searcher.com.
Talk About Wine Online
If you have questions, comments or ideas to share about today's article or wine in general, you're always welcome to drop by our online WineLovers Discussion Group, the Internet's first and still the most civil online community. To find our forums, click:
http://www.wineloverspage.com/forum/village
Discussions are open for public viewing, but you must register to post. Registration is free and easy; we ask only that you join following our Real Names Real Format system, using your real name in the format "John Doe" or "John D". Anonymous, cryptic or first-name-only registrations are discarded without notice.
Once your registration has been approved, which usually happens quickly, you'll be able to participate in all our online wine, food and travel forums.
To contact me by E-mail, write wine@wineloverspage.com. I'll respond personally to the extent that time and volume permit.
Subscriptions and Administrivia
Unsubscribe:
We're sorry if you must leave us, but simply click the "unsubscribe"
link at the bottom of your Email edition to be instantly removed from the mailing list.
Change address:
The quickest and easiest way to change your Email address is simply to register anew, using the link below. If you are keeping your old address but no longer wish to get the Wine Advisor there, click the unsubscribe link below to take it off our list; if you are closing the mailbox, you needn't take any action, as our system will delete your old address as soon as the mail to your old address starts to "bounce."
Subscribe to this weekly E-letter (free):
http://www.wineloverspage.com/wineadvisor
WineLoversPage.com RSS Feed (free):
http://feeds.feedburner.com/wineloverspage/tzva
Wine Advisor Archives:
http://www.wineloverspage.com/wineadvisor2/archives.php
Sponsorship Opportunities:
For information, E-mail wine@wineloverspage.com