This article was published in The 30 Second Wine Advisor on Friday, Oct. 11, 2013 and can be found at http://www.wineloverspage.com/wineadvisor2/tswa20131011.php.
Can I learn to love Zin again?
Bring out your Zins! This month we're aiming our WineLovers Discussion Group's Wine Focus at Zinfandel, America's grape with its roots in Italy, or so we thought, until Carole Meredith & Co. traced its roots to Croatia. Accordingly, we'll open the topic to a world range of Zinfandel and its cousins, not only in California but in the other places around the world - particularly Western Australia - where it is grown; we'll check out Puglia's Primitivo (which, oddly, also is planted here and there in the New World); and, if you can find any, wines from Zin's progenitor grape, Croatian Crljenik Kasteljanski ("Kurl-YEN-ik Kahs-tel-YAN-ski").
I have to confess that I've been on a Zin diet for years, rarely tasting the stuff in the past decade, when - with Turley's 17-percent monsters as the poster children, but what I saw as a general rush toward massive fruit and high alcohol - I felt that Zin was leaving me. I'm willing to take this month, though, in an effort to rehab Zin in my mind's palate. Will I be happy?
My initial trip to the wine shop wasn't reassuring. A neighborhood shop with maybe a dozen Zins ranging from mass-market stuff up to Ridge Paso Robles (at $30) showed me mostly alcohol levels in the range from 15.5% upward, with mostly only low-end "pop" labels coming in for less.
The best option I could find was an organic favorite, Mendocino's Bonterra, which was still on the hefty side at 14.5%, placing it among the more "moderate" Zin options in the shop. I'm not sure what I think of that, but I did like the wine. This is a Zin I can drink with pleasure, although it still shows Zin's tendency toward big fruit and high alcohol. I'm sorry, but when I learned wine a generation ago, I was taught that subtlety and finesse are good things, and I still feel bad about the way that the big-name critics have led a charge away from this simple truth.
Now, give us your best Zin-tasting tips in this month's Wine Focus! You're welcome to join our wine enthustiasts as we feature "Zinfandel and its cousins" all month. The discussion topic begins here.
All forum discussions are open for public viewing, but you must register to post your comments and participate actively in the conversation. Registration is free and easy; we ask only that you join following our Real Names Real Format system, using your real name as your public user name. To join the forum, drop me a note at wine@wineloverspage.com with your real name, preferred format and a temporary password, and I'll take care of the rest.
Today's Sponsor
Reserve Holiday Wine Gifts and Relax!
Since 1990 The California Wine Club has been delighting gift recipients with wine adventures featuring award-winning wines from California's best small family wineries. These wines are handcrafted in such limited quantities that they are rarely found outside of the wineries themselves, making this a unique tasting adventure.
Gifts include:
• Two award-winning wines, beautifully wrapped in the colors of the season.
• Every wine has a story and they share these stories in their travelogue, Uncorked®, along with wine tips, recipes, and insight into California's wine scene.
• A 100% guarantee.
• Bonus Gifts: Beautiful wine country note cards and a $25 Wine Credit.
Gifts start at $38.95, plus s/h. Tax extra where applicable.
Why Wait? Reserve gifts now! Pay nothing until December and gifts will be scheduled to arrive just before the Holiday.
Send as many gift months as you wish. Discounts available on gifts of 3, 6, 9 and 12 months. 1, 2, and 3-Day delivery available.
Easy Ordering! Click Here or call 1-800-777-4443.
www.cawineclub.com
Today's Tasting Report
Bonterra 2010 Mendocino County Zinfandel ($12.99)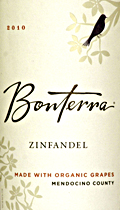 Made with organic grapes from a winery and grapes certified by the California Certified Organic Farmers (CCOF), this is a very dark purple wine shading to a clear garnet edge. Classic Zin "bramble fruit" scents of raspberries and blackberries, good fruit but stops well short of "jammy" fruit, which to my mind is a good thing, as subtlety remains a plus in wine ... even Zinfandel. Juicy and bright on the palate, ripe and fresh mixed-berry fruit. Frankly, alcoholic warmth is present at its listed 14.5%, but this was one of the lower-alcohol wines on my local wine shop's shelf, with many bottles, even rather modest examples, coming in at 15.5%. (Oct. 10, 2013)
FOOD MATCH: Zins go well with simple, spicy fare, from chile con carne to a grilled burger or steak. This one went nicely with an aromatic mjadra, Palestinian lentils and basmati rice pilaf, a recipe from Louisville's Ramsi's Cafe on the World.
WHEN TO DRINK: I'd enjoy this one over the next year or so; there's debate over the ageworthiness of Zin, but this one is doing well now and will likely continue shedding its Zin fruit with time. Drink up.
VALUE: I'm 100 percent satisfied with this wine at this low-teens price. Wine-Searcher.com reports a $14 average U.S. retail.
WEB LINK:
Here's a fact sheet on Bonterra 2010 Zinfandel and an order form to buy it from the winery where the law permits.
FIND THIS WINE ONLINE:
Find vendors and compare prices for Bonterra Zinfandel on Wine-Searcher.com.
Talk About Wine Online
If you have questions, comments or ideas to share about today's article or wine in general, you're always welcome to drop by our online WineLovers Discussion Group, the Internet's first and still the most civil online community. To find our forums, click:
http://www.wineloverspage.com/forum/village
Discussions are open for public viewing, but you must register to post. Registration is free and easy; we ask only that you join following our Real Names Real Format system, using your real name in the format "John Doe" or "John D". Anonymous, cryptic or first-name-only registrations are discarded without notice.
Once your registration has been approved, which usually happens quickly, you'll be able to participate in all our online wine, food and travel forums.
To contact me by E-mail, write wine@wineloverspage.com. I'll respond personally to the extent that time and volume permit.
Subscriptions and Administrivia
Unsubscribe:
We're sorry if you must leave us, but simply click the "unsubscribe"
link at the bottom of your Email edition to be instantly removed from the mailing list.
Change address:
The quickest and easiest way to change your Email address is simply to register anew, using the link below. If you are keeping your old address but no longer wish to get the Wine Advisor there, click the unsubscribe link below to take it off our list; if you are closing the mailbox, you needn't take any action, as our system will delete your old address as soon as the mail to your old address starts to "bounce."
Subscribe to this weekly E-letter (free):
http://www.wineloverspage.com/wineadvisor
WineLoversPage.com RSS Feed (free):
http://feeds.feedburner.com/wineloverspage/tzva
Wine Advisor Archives:
http://www.wineloverspage.com/wineadvisor2/archives.php
Sponsorship Opportunities:
For information, E-mail wine@wineloverspage.com