This article was published in The 30 Second Wine Advisor on Friday, Jun. 7, 2013 and can be found at http://www.wineloverspage.com/wineadvisor2/tswa20130607.php.
Bouquet of Roses
Think pink! It's hard to imagine a more refreshing option on a sultry summer evening than a chilled, crisp rosé wine, sipped by itself or chosen to accompany a salad, cheese course or light summer evening meal.
Let's celebrate the nearness of summer during a year in which many of us thought that spring would never arrive by focusing on pink wines for the month of June. It doesn't matter where it comes from, what variety it is or how it gets its color, if it's pink, rosé. saignée, blanc de noirs or whatever - even blush if that's your style.
You're welcome to join the wine enthustiasts in our WineLovers Discussion Group as we feature "Bouquet of Rosés" in our monthly Wine Focus feature this month. The discussion topic begins here.
All forum discussions are open for public viewing, but you must register to post your comments and participate actively in the conversation. Registration is free and easy; we ask only that you join following our Real Names Real Format system, using your real name as your public user name. To join the forum, drop me a note at wine@wineloverspage.com with your real name, preferred format and a temporary password, and I'll take care of the rest.
Today's Sponsor
Something Special for Dad!
Give Dad finely crafted, hard-to-find wines from California's best small family wineries.
Special Offer: Get 3 months of award-winning wines for the price of 2 ... Just $104!*
Each month he'll be treated to a different California winery and a new wine adventure, including an insider's look at the featured winery with our fun field guide, Uncorked. Pick 2 reds, 2 whites, or one of each delivered each month, just in time for summertime celebrations.
For more than two decades, CWC proprietors Bruce and Pam Boring have traveled California's wine country searching for limited-production wines from small, family wineries dedicated to the art of making fine wine. Every bottle is guaranteed.
Send a gift now!
www.cawineclub.com 1-800-777-4443
*Price includes shipping and handling. Tax extra where applicable. Offer cannot be combined with any other promotion or discount and/or previously placed orders.
Today's Tasting Report
Domaine Lafond 2012 "Roc-Epine" Tavel ($19.99)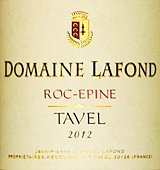 We jokingly call rosé wines in general "pink," but this one really is, the clear, bright color of a fresh pink rose in bloom. A classic Rhône blend of Grenache, Syrah, Cinsaut and other regional varieties, it offers fresh and appealing scents of strawberries, raspberries and a hint of ripe summer watermelon. Crisp and full, juicy red-berry fruit framed by snappy acidity, a lot of red-wine character in a rosé. U.S. importer: Wines of France LLC, Mountainside, N.J. (June 6. 2013)
FOOD MATCH: Versatily and food-friendly, this pink wine would go nicely with fresh vegetable dishes, lighter cheeses, poultry, veal or pork. For us it made a fine companion with an early-summer dinner of cheesy cauliflower soup and avocado salad.
WHEN TO DRINK: Its good weight and full style, with the sturdy metal screw cap, suggests that this wine won't go around the bend in the next year or two. That said, though, rosé is not a wine for cellaring. Enjoy it while its young, crisp and fresh, then move on to the next vintage.
VALUE: Maybe I'm conservative, but $20 strikes me as a little over the top for a pink wine, even a fine Tavel. Wine-Searcher.com shows a $17 U.S. median price, with some vendors offering it in the lower teens. Those are the bargains to watch.
PRONUNCIATION:
Rosé = "Roh-zeh"
Tavel = "Tah-vehl
WEB LINK:
The wine fact page on Wine-Searcher.com offers information on Domaine Lafond 2012 "Roc-Epine" Tavel.
FIND THIS WINE ONLINE:
Find vendors and compare prices for Domaine Lafond 2012 "Roc-Epine" Tavel on Wine-Searcher.com.
Mas de Gourgonnier 2012 Les Baux de Provence Rosé ($17.99)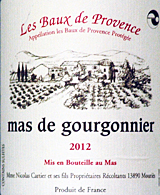 This delicious rosé from a respected organic producer in Provence is labeled "made with organically grown grapes, certified organic by Ecocert France SAS." Unlike Gourgonnier's flask-style red-wine package, the pink wine comes in a standard Bordeaux-style bottle. It's a pretty, transparent copper color. Appetizing, subtle red-berry aromas, raspberries and strawberries lead into a fresh, gently tart and appealing fresh-fruit flavor, berries and a snappy squirt of lime. We enjoyed this on a steamy late-spring evening with a bowl of fresh veggies simmered, then finished with a quick poach in good butter and olive oil. U.S. importer: Vintner Select, Mason, Ohio. (Feb. 1, 2013)
FOOD MATCH: A wonderful match with the bounty of summer vegetables that's starting to come in now, it was fine with a ragout of fresh veggies that included tiny new white creamer potatoes, yellow summer squash and zucchini parboiled, then finished with browned onions and crimini mushrooms for a quick poach in butter and olive oil.
WHEN TO DRINK: As above, it's got the body and character to hold up for a fiew years, but pink wine really calls for early quaffing while it's at its most young and fresh.
VALUE: Wine-Searcher.com shows a $15 U.S. median price, a fine bargain. My local $18 toll will pass for this fine rosé, but if you're in a competitive market or have access to wine shipping, go for the best price if you buy it by the case.
PRONUNCIATION:
Gourgonnier = "Goor-gun-yay"
Les Baux de Provence = "Lay Bo duh Pro-vahnss
WEB LINK:
Here's a little information and a buy link on the Website of New York City's Chambers Street Wines.
FIND THIS WINE ONLINE:
Check prices and locate vendors for Mas de Gourgonnier Les Baux de Provence Rosé on Wine-Searcher.com.
Talk About Wine Online
If you have questions, comments or ideas to share about today's article or wine in general, you're always welcome to drop by our online WineLovers Discussion Group, the Internet's first and still the most civil online community. To find our forums, click:
http://www.wineloverspage.com/forum/village
Discussions are open for public viewing, but you must register to post. Registration is free and easy; we ask only that you join following our Real Names Real Format system, using your real name in the format "John Doe" or "John D". Anonymous, cryptic or first-name-only registrations are discarded without notice.
Once your registration has been approved, which usually happens quickly, you'll be able to participate in all our online wine, food and travel forums.
To contact me by E-mail, write wine@wineloverspage.com. I'll respond personally to the extent that time and volume permit.
Subscriptions and Administrivia
Unsubscribe:
We're sorry if you must leave us, but simply click the "unsubscribe"
link at the bottom of your Email edition to be instantly removed from the mailing list.
Change address:
The quickest and easiest way to change your Email address is simply to register anew, using the link below. If you are keeping your old address but no longer wish to get the Wine Advisor there, click the unsubscribe link below to take it off our list; if you are closing the mailbox, you needn't take any action, as our system will delete your old address as soon as the mail to your old address starts to "bounce."
Subscribe to this weekly E-letter (free):
http://www.wineloverspage.com/wineadvisor
WineLoversPage.com RSS Feed (free):
http://feeds.feedburner.com/wineloverspage/tzva
Wine Advisor Archives:
http://www.wineloverspage.com/wineadvisor2/archives.php
Sponsorship Opportunities:
For information, E-mail wine@wineloverspage.com