This article was published in The 30 Second Wine Advisor on Friday, Jun. 21, 2013 and can be found at http://www.wineloverspage.com/wineadvisor2/tswa20130621.php.
Almost-red Rosato
Rosé is pink the world around, no matter what you call it: It's Ros&eacute in France, Rosato in Italy, Rosado in Spain; Americans pick up the French Rosé or call it pink or "blush;" and we can even pick out such obscure wine-trivia terms as Blanc de Noirs ("White from blacks") or Oeil de Perdrix ("Partridge's eye") in French or even Weissherbst ("White autumn") in German.
Whatever we call it, it's still pink wine. Not quite red, not quite white, but something in-between. Many people think it's a mix of red and white, but only a few of the most insipid pinks use this short-cut process. Most often, as the French Blanc de Noirs implies, rosé (or even the sweetish, cheapish and much-maligned American "blush") is made by crushing red grapes, then removing the grape skins - which contain the color-rich compounds - before the juice turns darker than a rosy pink.
At its best, pink wine can be a quaff of delight: Crisp, herbal and fresh, bone-dry, tart and interesting, a delicious companion with a range of foods at the brunch, lunch or dinner table. At its worst, driven by profit, it can be soft, boring and, well, insipid. That's why I buy with care, looking more often to France - where rosé boasts a long tradition in Provence, the Rhône and the Loire - than to much of the rest of the world, where success in the quest isn't so sure.
Today, though, I was delighted to find a bold, flavorful and food-friendly pink from Italy - where the name translates as "Rosato." This sturdy, affordable pink comes from the Masserie Pizari firm in Salento, Puglia - the "heel" of the Italian "boot" - where it makes good use of the powerful Negroamaro grape, a variety better known for making the rich, flavorful reddish-black wines of the region.
Negro-Amaro, literally, means "black bitter," which may sound more like a patent medicine than a wine. But in this pink, as in the region's bold reds, the moniker is explicitly descriptive of a characteristic wine style that's worth getting to know.
You might not mistake this pink for a full-bodied red, even with your eyes closed. But it has a lot of character for a ros&eacute (or rosato). This wine, or if you can't find the relatively obscure Masserie Pizari, then another Pugliese Negroamaro Rosato of a recent vintage, is well worth seeking out.
While you're in the mood for rosato or rosé, we're focusing on pink wines in our WineLovers IDiscussion Group for the month of June. It doesn't matter where it comes from, what variety it is or how it gets its color, if it's pink, rosé. saignée, blanc de noirs or whatever - even blush if that's your style.
You're welcome to join our wine enthustiasts in as we feature "Bouquet of Rosés" in our monthly Wine Focus feature this month. The discussion topic begins here.
All forum discussions are open for public viewing, but you must register to post your comments and participate actively in the conversation. Registration is free and easy; we ask only that you join following our Real Names Real Format system, using your real name as your public user name. To join the forum, drop me a note at wine@wineloverspage.com with your real name, preferred format and a temporary password, and I'll take care of the rest.
Today's Sponsor
You are invited ...
23 years ago, Bruce and Pam Boring decided to bring their love and knowledge of boutique California wineries, and the fine wines they craft, to the world. They founded The California Wine Club.
You are invited to discover the hidden gems of California wine country, delivered right to your door. 
Each month features a different winery, two award-winning wines and a new wine adventure.
"Every wine we feature comes from a real-working small family winery.  We never feature private label, bulk or closeout wine." --Bruce and Pam Boring, CWC Proprietors
Get Your First 3 Months for $26/Month.*
No membership fees and no commitment -- just pay as you go.  Not happy? Not stuck. 
1-800-777-4443 www.cawineclub.com
*Includes shipping and handling. Tax extra where applicable. After the first three months, monthly shipments will be $38.95 plus shipping and handling. Offer cannot be combined with other promotions nor applied to previously placed orders.  
Today's Tasting Report
Masserie Pizari 2012 Salento Rosato Negroamaro ($12.99)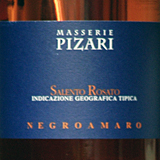 This is a beautiful, clear wine, more copper than pink, clearly a rosé but with a perceptible reddish-saffron-sunset hue. Light red-berry and fresh herbal aromas lead into a crisp flavor with juicy but subtle red fruit and zippy acidity on the palate, with a distinct note of peach-pit bitterness joining bone-dry acidity and a citric snap in a very long finish. Great for summer sipping and a fine food wine. U.S. importer: deGrazia Imports LLC, Evanston, Ill. (June 20. 2013)
FOOD MATCH: It's got the stuffing to stand up to poultry or pork, and should go very well with mild white fish. Mild goat cheeses would serve it very well, and so would roasted or grilled garden veggies. It was fine with a summery dinner salad of fresh baby kale leaves rubbed with olive oil until they turn dark-green and tender and tossed with fresh grape tomatoes, orange and yellow bell peppers and onions; an Italian-style dish of garlicky roasted potatoes with white beans flavored with thyme and sage might be stunning.
WHEN TO DRINK: Pink wines, with vanishingly few exceptions, are best drunk up young and fresh, while their subtle fruit and herbal flavors are at their peak. I'm happy to be drinking this 2012 wine in 2013, and next summer will be looking for the next year's vintages.
VALUE: I have no complaints about a lower-teens price for a rosato (or a rosé, etc.) of this quality. Buy up for summer!
PRONUNCIATION:
Rosato = "Roh-zah-toe"
Negroamaro = "NEH-grow-a-MAH-roe
WEB LINK:
Here's a link to the wine fact page for Masserie Pizari Rosato on the importer's website. For more information, you can back out to the producer info page here.
FIND THIS WINE ONLINE:
I didn't have much luck finding Masserie Pizari Salento Rosato Negroamaro on Wine-Searcher.com, but here's a list of vendors and prices for 18 other Negroamaro Rosatos.
Talk About Wine Online
If you have questions, comments or ideas to share about today's article or wine in general, you're always welcome to drop by our online WineLovers Discussion Group, the Internet's first and still the most civil online community. To find our forums, click:
http://www.wineloverspage.com/forum/village
Discussions are open for public viewing, but you must register to post. Registration is free and easy; we ask only that you join following our Real Names Real Format system, using your real name in the format "John Doe" or "John D". Anonymous, cryptic or first-name-only registrations are discarded without notice.
Once your registration has been approved, which usually happens quickly, you'll be able to participate in all our online wine, food and travel forums.
To contact me by E-mail, write wine@wineloverspage.com. I'll respond personally to the extent that time and volume permit.
Subscriptions and Administrivia
Unsubscribe:
We're sorry if you must leave us, but simply click the "unsubscribe"
link at the bottom of your Email edition to be instantly removed from the mailing list.
Change address:
The quickest and easiest way to change your Email address is simply to register anew, using the link below. If you are keeping your old address but no longer wish to get the Wine Advisor there, click the unsubscribe link below to take it off our list; if you are closing the mailbox, you needn't take any action, as our system will delete your old address as soon as the mail to your old address starts to "bounce."
Subscribe to this weekly E-letter (free):
http://www.wineloverspage.com/wineadvisor
WineLoversPage.com RSS Feed (free):
http://feeds.feedburner.com/wineloverspage/tzva
Wine Advisor Archives:
http://www.wineloverspage.com/wineadvisor2/archives.php
Sponsorship Opportunities:
For information, E-mail wine@wineloverspage.com