This article was published in The 30 Second Wine Advisor on Friday, Mar. 22, 2013 and can be found at http://www.wineloverspage.com/wineadvisor2/tswa20130322.php.
Italian Alpine Sauvignon
Mention Sauvignon Blanc, and I suspect many wine fanciers will first think either of the ripe, explosively aromatic style that put New Zealand on the wine map in modern times, or the dry, acidic and herbal Sauvignon Blancs that have been benchmark wines of the Loire Valley's Sancerre, Pouilly-Fumé and other regions for many generations.
California is well-known for Sauvignon Blanc, too, famously producing it under competing monikers - the Sauvignon Blanc original or Fumé Blanc, a name originally invented by Robert Mondavi for marketing purposes, hoping to kick new life into a variety that at the time wasn't much of a seller in the Golden State.
As a footnote, Mondavi originally intended "Fumé Blanc" to represent a consistent style using oak to impart a "smoky" (Fumé) character, but that distinction disappeared about as soon as other wineries latched on to the idea and slapped on "Fumé Blanc" labels indiscriminately. Most consumers, frankly, were probably more concerned about whether their Sauvignon Blanc showed "grassy" and "herbal" aromas (generally the result of grapes grown in cool shade) or demonstrated bright, citric scents (typical of grapes grown in warm direct sunlight).
Flavor styles and oak treatment notwithstanding, most of us probably don't connect Sauvignon Blanc with the wines of Italy. But as I learned from the first of many trips to the mountainous regions of Northern Italy, where the country rises toward the French, Swiss and Austrian Alps, Sauvignon Blanc can make a mighty appealing white in these less familiar surroundings.
Typically crisp and acidic and relatively subtle, without going overboard toward grass, green peppers or lemon-lime, Italy's best Sauvignons (they typically drop the "Blanc" or "Bianco") impress me with their balance and finesse, and those aren't words that you'll often hear mentioned when people are tasting the New Zealand variety.
Since the Wine Focus discussion in our WineLovers Discussion Group this month is featuring "mostly" French mountain wines, I figured that an Italian wine made in the Dolomites mountain range from a French grape would be close enough. And I'm glad I did, as La Vis 2010 "Dipinti" Sauvignon Vigneti della Dolomiti proved to be one of the most enjoyable Sauvignon Blancs I've opened in a while.
Frankly, although I was a big fan of New Zealand's Marlborough Sauvignon Blanc back when it first started gaining popularity in the U.S., and made it my business to pick up each new vintage of the iconic Cloudy Bay Sauvignon Blanc as soon as it hit the shelves, my enthusiasm seemed to wane in inverse proportion to the wine's popularity and rising price. I understand and appreciate that many wine lovers go for the bold, "technicolor" wines, but sometimes I'd just as soon have my art in watercolors or pastels.
The Dipinti - a wine made for Banville & Jones Wine Merchants of North Bergen, N.J. - is made by Cantina La Vis, a cooperative of 1,500 growers. It is assembled from vineyard plots scattered across valley and mountainside vineyards in the Dolomites of Northeastern Italy, a range of craggy white peaks that span the Trentino-Alto Adige region along Northern Italy's border with Austria.
Wine Focus: (mostly) French mountain wines
As noted, we're featuring (mostly) French mountain wines in this month's Wine Focus discussion in our WineLovers Discussion Group.
The topic emerged from a discussion about wines from Savoie and the Jura, but please feel free to post on wines from other French mountain regions - the Pyrenees come to mind - as well as other mountain wines of Europe, from Switzerland or Italy's Alto Adige, Trentino and Val d'Aosta regions for example. And, of course, the Dolomites, Vigneti della Dolomiti IGT.
There are no rules on minimum vineyard elevation to qualify as "mountain" wine, so don't be concerned if your mountain wine comes from a mountain valley! Please check in and join our conversations about
"(mostly) French mountain wines."
All forum discussions are open for public viewing, but you must register to post your comments and participate actively in the conversation. Registration is free and easy; we ask only that you join following our Real Names Real Format system, using your real name as your public user name. To join the forum, drop me a note at wine@wineloverspage.com with your real name, preferred format and a temporary password, and I'll take care of the rest.
Today's Sponsor
Hurry to save up to 60%, plus get $1 Shipping!
The California Wine Club's $1 Shipping Spring Wine Sale ends soon. Don't miss your chance to stock up and save on award-winning, limited-production artisan California wines priced as low as $9.99. Plus, with $1 shipping, you save up to $36 on every case. Shop Now!
Choose from:
• Award-winning, handcrafted wines from California's best "mom & pop" wineries. These wines typically cannot be found outside their wineries.
• Limited-production wines from small artisan wineries around the world that have been imported directly by CWC and cannot be found anywhere else in the U.S.
• Premium Napa Valley Cabernets aged 8-12 years under stringent, temperature-controlled conditions.
• California's most coveted and hard-to-find 90+ rated wines.
Mix up a case with confidence. Every wine has been hand-selected by proprietors Bruce and Pam Boring and is backed by their full guarantee.
Click here to shop now, or call 1-800-777-4443.
Spring Wine Sale ends March 31, 2013. Some restrictions apply. Must be 21+ to order.
Today's Tasting Report
La Vis 2010 "Dipinti" Sauvignon Vigneti della Dolomiti ($10.99)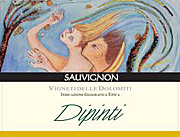 Clear straw color. Good, fresh Sauvignon scent, not over the top but appropriately aromatic for the variety: White grapefruit, a whiff of white pepper, and back notes of lime and even a whiff of orange. Medium body and texture, snappy citric flavors follow the nose in a light (12% alcohol), fresh white wine that finishes long and clean. U.S. importer: Banville & Jones Wine Merchants, North Bergen, N.J. (March 13, 2013)
FOOD MATCH: Good with seafood or mild fish, pork, veal or poultry or cheeses; it was fine with fennel-scented Italian sausage.
WHEN TO DRINK: I'd drink it sooner rather than later, while its bright Sauvignon flavors are fresh, but its sturdy modern metal screw cap should protect it well for a few years.
VALUE: It's a fine value at this price, which is consistent with Wine-Searcher.com's limited listings.
WEB LINK:
Here's the importer's info page on Dipinti. For a fact sheet on the Sauvignon, click here.
FIND THIS WINE ONLINE:
Wine-Searcher.com lists only three or four vendors for La Vis Dipinti Sauvignon. For sources in Europe, this search finds the wines of Cantina La Vis. For more vendor and source information in the U.S., contact importer Banville & Jones.
Talk About Wine Online
If you have questions, comments or ideas to share about today's article or wine in general, you're always welcome to drop by our online WineLovers Discussion Group, the Internet's first and still the most civil online community. To find our forums, click:
http://www.wineloverspage.com/forum/village
Discussions are open for public viewing, but you must register to post. Registration is free and easy; we ask only that you join following our Real Names Real Format system, using your real name in the format "John Doe" or "John D". Anonymous, cryptic or first-name-only registrations are discarded without notice.
Once your registration has been approved, which usually happens quickly, you'll be able to participate in all our online wine, food and travel forums.
To contact me by E-mail, write wine@wineloverspage.com. I'll respond personally to the extent that time and volume permit.
Subscriptions and Administrivia
Unsubscribe:
We're sorry if you must leave us, but simply click the "unsubscribe"
link at the bottom of your Email edition to be instantly removed from the mailing list.
Change address:
The quickest and easiest way to change your Email address is simply to register anew, using the link below. If you are keeping your old address but no longer wish to get the Wine Advisor there, click the unsubscribe link below to take it off our list; if you are closing the mailbox, you needn't take any action, as our system will delete your old address as soon as the mail to your old address starts to "bounce."
Subscribe to this weekly E-letter (free):
http://www.wineloverspage.com/wineadvisor
WineLoversPage.com RSS Feed (free):
http://feeds.feedburner.com/wineloverspage/tzva
Wine Advisor Archives:
http://www.wineloverspage.com/wineadvisor2/archives.php
Sponsorship Opportunities:
For information, E-mail wine@wineloverspage.com