This article was published in The 30 Second Wine Advisor on Friday, Dec. 7, 2012 and can be found at http://www.wineloverspage.com/wineadvisor2/tswa20121207.php.
Port: Strong, sweet and red
I'm one of those people who was apparently born without a serious case of sweet tooth. Put something salty and crunchy in front of me, and you'd better get out of the way. But when it comes to dessert, while I can take it, I can generally just as easily leave it. (With the possible exception of chocolate-chip cookies or Reese's Peanut Butter Cups.)
So when it comes to sweet wines, I'm pretty much the same way. Sauternes? Barsac? Beerenauslese? I'll take a taste, probably, if someone else is pouring, but the "stickies" that make many wine lovers swoon don't really jump up at me and yell "Drink me!"
But I'll mark an exception here, too: Open a bottle of Port, and I'll be right there, glass in hand, awaiting my ration like a baby bird opening wide for a treat.
What makes the difference? Well, I love red wines, complex, interesting and tannic; and Port, after all, is one of the few sweet wines that is indisputably, deeply and unmistakably red.
Port - the real stuff from the Douro Valley in Portugal, that is - ranks as one of the world's great wines, dry or sweet, and collectors clamor for the Vintage Port style, made with such respect that it's only issued in years when nature cooperates to create a wine that's up to the region's high standard. Accordingly, while Vintage Port may not be the world's most expensive wine, it can get right up there in price.
But for those of us who love Port and want to be able to enjoy it without making a major investment or waiting years for it to mature, there's a reasonably close alternative at a fraction of the price: Late Bottled Vintage Port.
Often nicknamed "LBV," this is a Port made from a single vintage, but held in oak barrels for four to six years, long enough to soften and mellow the wine without fading it to tawny. This makes a relatively affordable wine with a lot of the style of a Vintage Port and some ageworthiness, but it can be drunk young and needs no decanting.
Take care not to confuse LBV with "Vintage Character Port," which is sort of an upscale non-vintage Ruby. It, too, can make decent drinking, but it rarely approaches LBV quality and offers little or no price advantage over LBV, which generally sells in the $20s and is well worth it.
For today's tasting, I picked up a bottle of Porto Kopke 2005 LBV Port, a fair buy at a penny under $25. From one of Port's oldest producers, it offers a good sample of Port style without the price or the wait of the traditional vintage version. In fairness, it lacks the gravitas of Vintage Port, but affordability and accessibility make it more than a fair trade.
It was fine for after-dinner sipping, good with sharp cheese, and - I'm a little embarrassed to add this - it was amazing with a mini Reese Cup, creating an explosive combination of sweet fruit, milk chocolate and peanut butter. PB&J in a glass? Maybe.
Wine Focus: Sweet wines for the holidays
We're featuring sweet wines for the holidays as our Wine Focus topic for December in the WineLovers' Discussion Group. You're invited to join our online conversations about any and all sweet wines. Bring your tasting notes, comments, questions, and thoughts and you'll find a warm welcome in our online community.
All forum discussions are open for public viewing, but you must register to post your comments and participate actively in the conversation. Registration is free and easy; we ask only that you join following our Real Names Real Format system, using your real name as your public user name. To join the forum, drop me a note at wine@wineloverspage.com with your real name, preferred format and a temporary password, and I'll take care of the rest.
Today's Sponsor
A Holiday Gift for the Hard-to-Buy-For!
From the parents who "need nothing" to the friend who "has everything," we all know someone who is hard-to-buy-for.
Since 1990, The California Wine Club has been delighting gift recipients with unique deliveries of award-winning wine from California's best "mom and pop" wineries. Their gifts are guaranteed to please!
Holiday gifts from CWC include:
* Two bottles of award-winning wines.
* Every wine has a story and they share these stories in their Uncorked® magazine along with wine tips, recipes and insight into California's wine scene.
* The opportunity to reorder favorite wines at savings of up to 50%.
* Their 100% guarantee.
* Bonus Gifts: A handy two-bottle wine tote and a $25 Wine Credit.

Gifts start at $49.95, including shipping and handling. Tax extra where applicable.
Send as many gift months as you wish. Discounts available on gifts of 3, 6, 9 and 12 months. 1, 2, and 3-Day delivery available.

Easy Ordering! Click Here or call 1-800-777-4443
www.cawineclub.com
Today's Tasting Report
Porto Kopke 2005 L.B.V. Port ($24.99)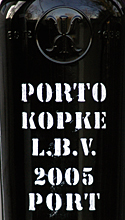 This late bottled vintage Port is a clear, very dark blackish-purple wine with a clear garnet edge. Fresh and dried cherry and berry flavors add a hint of alcoholic heat that's more evident on the nose than palate. Its good black-fruit flavor is fresh and appropriately acidic, sweet but not cloying, with a hint of brown sugar. Soft, approachable tannic astringency, fresh-fruit acidity and tart-sweet black fruit combine in a long finish. Its 20% alcohol is standard for this fortified wine. U.S. importer: SFW USA, Union, N.J., WIM Wine in Motion Selection. (Nov. 28, 2012)
FOOD MATCH: Fine for after-dinner sipping, pleasant with a bite of white Cheddar and, as noted, it makes a surprising flavor blast with the unexpected accompaniment of a Reese's Peanut Butter Cup.
WHEN TO DRINK: It's meant to enjoy now, but there should be no risk in holding it for a few years at good cellar conditions. Don't expect it to evolve in flavor or value, though: It's as good now as it ever will be.
VALUE: Wine-Searcher.com shows a median price of $21 from several U.S. vendors, so my local price isn't out of line.
PRONUNCIATION:
Kopke = "Kop-keh"
WEB LINK:
Click here for the Kopke Porto website in English. It's also available in Spanish, French and Portuguese.
FIND THIS WINE ONLINE:
Compare prices and find vendors for Kopke Late Bottled Vintage Port on Wine-Searcher.com.
Talk About Wine Online
If you have questions, comments or ideas to share about today's article or wine in general, you're always welcome to drop by our online WineLovers Discussion Group, the Internet's first and still the most civil online community. To find our forums, click:
http://www.wineloverspage.com/forum/village
Discussions are open for public viewing, but you must register to post. Registration is free and easy; we ask only that you join following our Real Names Real Format system, using your real name in the format "John Doe" or "John D". Anonymous, cryptic or first-name-only registrations are discarded without notice.
Once your registration has been approved, which usually happens quickly, you'll be able to participate in all our online wine, food and travel forums.
To contact me by E-mail, write wine@wineloverspage.com. I'll respond personally to the extent that time and volume permit.
Subscriptions and Administrivia
Unsubscribe:
We're sorry if you must leave us, but simply click the "unsubscribe"
link at the bottom of your Email edition to be instantly removed from the mailing list.
Change address:
The quickest and easiest way to change your Email address is simply to register anew, using the link below. If you are keeping your old address but no longer wish to get the Wine Advisor there, click the unsubscribe link below to take it off our list; if you are closing the mailbox, you needn't take any action, as our system will delete your old address as soon as the mail to your old address starts to "bounce."
Subscribe to this weekly E-letter (free):
http://www.wineloverspage.com/wineadvisor
WineLoversPage.com RSS Feed (free):
http://feeds.feedburner.com/wineloverspage/tzva
Wine Advisor Archives:
http://www.wineloverspage.com/wineadvisor2/archives.php
Sponsorship Opportunities:
For information, E-mail wine@wineloverspage.com