This article was published in The 30 Second Wine Advisor on Friday, Aug. 17, 2012 and can be found at http://www.wineloverspage.com/wineadvisor2/tswa20120817.php.
NZ's epicenter of Pinot Noir
If you pay much attention to the wines of New Zealand, you've likely heard of Marlborough, the South Island home of the country's most sought-after Sauvignon Blancs. You'll find the famous Cloudy Bay there, and scores of other well-known Sauvignon producers like Brancott (known as Montana outside the U.S.), Villa Maria and many more.
You might have to know a little more about New Zealand, though, to have the name of Central Otago ready at your command. Most of the rest of the world knows Central Otago, if we know it at all, as the spectacular setting for many of the scenes of Middle Earth in the Lord of the Rings movies.
But wine enthusiasts will recognize this region as the home of some of New Zealand's most promising Pinot Noirs. A cool climate region, it's located on New Zealand's South Island near the 45th parallel. If that sounds familiar, it may be because it's lies on the same latitude south as Burgundy in the north.
Burgundy, however, for all its distinct four-season climate, isn't subject to the occasional cold southerly winds that blow up from the Antarctic Sea to chill Central Otago. This can give humans the shivers at times, but it seems to provide Central Otago's Pinot Noir vines an environment that works for them: The region has become recognized as a significant world production region for Pinot.
While Central Otago's terroir is surprisingly diverse for a smallish region, from flood plains to mountains, its central location on the larger South Island assures it a four-season climate, too. Chilly winters are offset by hot summers - typically hotter than Burgundy - and long dry autumns that rarely frighten growers with unexpected storms. The overall effect yields grapes of good maturity but substantial ripeness as well. The ripe fruit sugars convert to intense wines with high alcohols, but that also show bright acidity and some complexity, resulting in a style that blends Old World and New World styles.
This seemed to be the case with this week's featured wine, Wild Rock 2009 "Cupid's Arrow" Central Otago Pinot Noir, which presented good Pinot character and food-friendly acidity, but framed it with stunning 14.8% alcohol. We enjoyed a second glass with dinner without adverse affects, but saved the third for another day. (You'll find my tasting notes below.)
Wine Focus for August: Wines of New Zealand
You'll recall that we're spending this month enjoying New Zealand's pleasant wines as our Wine Focus for August in the WineLovers' Discussion Group. You're invited to bring your tasting notes, comments, questions, and thoughts about everything from food-and-wine pairing to New Zealand travel.
All forum discussions are open for public viewing, but you must register to post your comments and participate actively in the conversation. Registration is free and easy; we ask only that you join following our Real Names Real Format system. For your user name, enter your real name in the format "John Doe" or "John D", with the capital letters and the space.
Having a real name on your name tag is so important to us that all non-conforming registrations will be quietly discarded. Redemption is possible, though. If you overlook this rule and get no response to your registration, feel free to contact me personally by Email at wine@wineloverspage.com, and we'll sort it out.
Once your registration has been approved, which usually happens quickly with correctly formed user names, you'll be able to participate in Wine Focus and in all our online wine and food forums.
Today's Sponsor
Shhh ...You're invited to a Secret Wine Sale!
The California Wine Club's Fall Wine Sale starts next week, but you can order now! Click here!
Save up to 74% off retail prices on award-winning, handcrafted California wines, plus every case ships for just $1! Click here to shop now!
Choose from hundreds of limited-production California wines including 10 mouthwatering wines priced under $10 each, 27 Cabernets from the stellar 2007 vintage, buttery Chardonnays, silky Pinot Noirs, juicy Zins and more!
Every wine has been hand-selected from a small family winery by Bruce and Pam Boring, proprietors of The California Wine Club, and is backed by their 100% satisfaction guarantee.
To shop the full selection of wines on sale, click here or call 1-800-777-4443.
Don't wait: due to limited quantities, popular wines will sell out quickly. Act now to get the best selection of wines.
Today's Tasting Report
Wild Rock 2009 "Cupid's Arrow" Central Otago Pinot Noir ($19.99)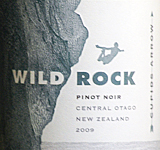 Dark ruby color with a clear edge. Black cherry aromas with a whiff of fresh tarragon and a hint of alcohol, a robust 14.8% revealing itself on the nose. Happily, the potent alcohol is less apparent on the palate, where medium-bodied, dry black cherry flavors meet crisp, food-friendly acidity. A good Pinot from Central Otago on New Zealand's South Island, the world's most southerly wine region. U.S. importer: Kobrand Corp., NYC. (Aug. 15, 2012)
FOOD MATCH: Even with its alcohol and fruit-forward "New World" profile, it remains versatile with a range of food; we enjoyed it on successive evenings with LightLife Italian-style Smart Sausages with sauteed green and red bell peppers and onions, and an overflowing bowl of roasted veggies including eggplant, zucchini, potatoes, onions and garlic.
WHEN TO DRINK: The sturdy metal screwcap should keep it well, as should its high alcohol. Whether this style is likely to evolve and gain interest over time is subject to question, but I certainly wouldn't be fearful about holding it for several years.
VALUE: The $20 point seems reasonable for a well-made New World Pinot; I'd expect to pay more for similar wines from California's preferred regions. Still, it may pay to shop around, as Wine-Searcher.com shows this wine at an average $17 from U.S. vendors, with a few as low as $13.
PRONUNCIATION:
Otago = "Uh-TAH-go"
WEB LINK: Here's a direct link to the winery's Cupid's Arrow 2009 Pinot tasting note. You can move up to the main Wild Rock winery page here.
FIND THIS WINE ONLINE:
Compare prices and find vendors for Wild Rock Pinot Noir on Wine-Searcher.com.
Talk About Wine Online
If you have questions, comments or ideas to share about today's article or wine in general, you're always welcome to drop by our online WineLovers Discussion Group, the Internet's first and still the most civil online community. To find our forums, click:
http://www.wineloverspage.com/forum/village
Discussions are open for public viewing, but you must register to post. Registration is free and easy; we ask only that you join following our Real Names Real Format system, using your real name in the format "John Doe" or "John D". Anonymous, cryptic or first-name-only registrations are discarded without notice.
Once your registration has been approved, which usually happens quickly, you'll be able to participate in all our online wine, food and travel forums.
To contact me by E-mail, write wine@wineloverspage.com. I'll respond personally to the extent that time and volume permit.
Subscriptions and Administrivia
Unsubscribe:
We're sorry if you must leave us, but simply click the "unsubscribe"
link at the bottom of your Email edition to be instantly removed from the mailing list.
Change address:
The quickest and easiest way to change your Email address is simply to register anew, using the link below. If you are keeping your old address but no longer wish to get the Wine Advisor there, click the unsubscribe link below to take it off our list; if you are closing the mailbox, you needn't take any action, as our system will delete your old address as soon as the mail to your old address starts to "bounce."
Subscribe to this weekly E-letter (free):
http://www.wineloverspage.com/wineadvisor
WineLoversPage.com RSS Feed (free):
http://feeds.feedburner.com/wineloverspage/tzva
Wine Advisor Archives:
http://www.wineloverspage.com/wineadvisor2/archives.php
Sponsorship Opportunities:
For information, E-mail wine@wineloverspage.com