This article was published in The 30 Second Wine Advisor on Friday, Jun. 29, 2012 and can be found at http://www.wineloverspage.com/wineadvisor2/tswa20120629.php.
Great value, if you say it right
It's hard to find a better wine value than a good Montepulciano, but you have to be really careful what you ask for.
The name "Montepulciano," you see, turns up on the label of a couple of very different Italian reds: Vino Nobile di Montepulciano and Montepulciano d'Abruzzo. Just to make matters a little more fuzzy still, if you don't watch your pronunciation ("Mon-teh-puhl-cha-no") it's easy to confuse either with Montalcino.
Confused yet? Let's review.
* Vino Nobile di Montepulciano ("The Noble Wine of Montepulciano") is named for the ancient Tuscan village amid the region's vineyards surround. It's a pricey cousin of Chianti, made from a similar blend of grapes (Sangiovese, Canaiolo and others).
* The similar-sounding Montalcino is another ancient region in southern Tuscany, not far west of Montepulciano. Its top red wine is Brunello di Montalcino, an appellation that many wine enthusiasts - including me - rank among Italy's very best. It's made with Sangiovese, too, a specific clone called Brunello.
* And then there's the other Montepulciano, the subject of today's examination. Montepulciano d'Abruzzo, as its name suggests, is made in Abruzzo, which is a long way from Tuscany, in vineyards near the Adriatic on the other side of Italy. This Montepulciano is named for the grape from which it is made, sharing a name but having nothing else to do with the Tuscan village Montepulciano or its Sangiovese-based wine.
Here's the best part: Montepulciano d'Abruzzo is almost always the best value of any of these wines, generally selling in the U.S. for $15 or less, and often well under $10. Although it's made from a different grape than Chianti and is typically not quite as acidic a wine (an element that promotes food-friendliness), I place it in the same broad category as Chianti, at least an Italian cousin if not a sibling. Frankly, when I'm sitting down to a family-style Italian meal - or picnic fare from the summer grill - I'd rather enjoy a good, robust Italian table red like a modest Chianti or just about any Montepulciano d'Abruzzo than just about any more snob-worthy high-end red.
Today let's celebrate a fine $10 Pisato 2008 Montepulciano d'Abruzzo. Mouth-watering, crisp and tart, it's a food-friendly wine from organically grown grapes, a very good example of the Abruzzo style.
It's painfully difficult to track down information on this wine, which I suspect was bottled in Italy with a special label for exclusive export to Whole Foods wine shops. However, Pisato's bottler, Cantine Volpi SRL, Tortona, Italy, refers refers Website questions about its organic line to ERA Wines, which offers this PDF fact sheet about a range of organics including a similar Montepulciano that may be this wine's twin.
Find plenty more Montepulciano d'Abruzzo bottlings for $6 or less using this Wine-Searcher.com link. For more information on Montepulciano and a more extensive list of available wines at all price points, try this Wine-Searcher link.
Today's Sponsor
Buy 10 Wines, Get 12!
Plus $1 Shipping on Every Case!
The California Wine Club is having a Fourth of July Sale you don't want to miss! Order 12 award-winning wines from their selection of summertime favorites and they'll give you two of those wines on them - you only pay for 10!*

The wines are discounted up to 50% off retail price, and every case ships for $1, so this is a great opportunity to stock up and save big. Mix up a case of your favorites from selections including Napa Valley Cabernet, Sonoma Coast Pinot Noir, Paso Robles Syrah, and even a few wines from France and Argentina!
Click here to shop now or call 1-800-777-4443. Don't wait - this sale ends at Midnight on July 4, 2012.
(*The two lowest- priced bottles in each case will be deducted from your final purchase price during checkout.)
Today's Tasting Report
Pisato 2008 Montepulciano d'Abruzzo ($9.99)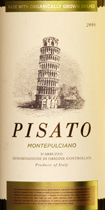 Garnet, dark but clear, with bright reddish-purple glints against the light. Fresh, appealing cherry-berry fruit aromas and flavors with a fragrant whiff of black pepper in the background. Mouth-watering, crisp and tart, food-friendly acidity with a bit of smooth tannin helping build structure. Very good food wine at a table-suited 13% alcohol; nicely balanced, and made with organically grown grapes if that's important to you, and an exceptional value at this price. U.S. importer: Organic Wine Trade Co., Princeton, Minn. (June 25, 2012)
FOOD MATCH: It would work any place that a Chianti goes, from spaghetti with meat sauce to rare steaks. It would make a natural match with bucatini all'Amatriciana, a specialty from its home region of Abruzzo, and it fared very well with a meatless version made with fresh local tomatoes, lots of garlic and Pecorino Romano, black and red pepper, and browned onions filling in for the traditional guanciale.
WHEN TO DRINK: Conventional wisdom holds that "simple" regional table wines like Montepulciano are best drunk up young and fresh, but this 2008 is sailing along with no signs of deterioration.
VALUE: As noted, it's a very fine value at this price, and probably safe to hold for a few more years, anyway, assuming decent cellar conditions.
PRONUNCIATION:
Montepulciano d'Abruzzo = "Mon-teh-puhl-cha-no da-Brood-zo")
FIND THIS WINE ONLINE:
Regrettably, we're out of luck on queries for Pisato on Wine-Searcher.com, but it should be currently available at Whole Foods wine shops in the U.S.
Find plenty more Montepulciano d'Abruzzo bottlings for $6 or less using this Wine-Searcher.com link. For more information on Montepulciano and a more extensive list of available wines at all price points, try this Wine-Searcher link.
Talk About Wine Online
If you have questions, comments or ideas to share about today's article or wine in general, you're always welcome to drop by our online WineLovers Discussion Group, the Internet's first and still the most civil online community. To find our forums, click:
http://www.wineloverspage.com/forum/village
Discussions are open for public viewing, but you must register to post. Registration is free and easy; we ask only that you join following our Real Names Real Format system, using your real name in the format "John Doe" or "John D". Anonymous, cryptic or first-name-only registrations are discarded without notice.
Once your registration has been approved, which usually happens quickly, you'll be able to participate in all our online wine, food and travel forums.
To contact me by E-mail, write wine@wineloverspage.com. I'll respond personally to the extent that time and volume permit.
Subscriptions and Administrivia
Unsubscribe:
We're sorry if you must leave us, but simply click the "unsubscribe"
link at the bottom of your Email edition to be instantly removed from the mailing list.
Change address:
The quickest and easiest way to change your Email address is simply to register anew, using the link below. If you are keeping your old address but no longer wish to get the Wine Advisor there, click the unsubscribe link below to take it off our list; if you are closing the mailbox, you needn't take any action, as our system will delete your old address as soon as the mail to your old address starts to "bounce."
Subscribe to this weekly E-letter (free):
http://www.wineloverspage.com/wineadvisor
WineLoversPage.com RSS Feed (free):
http://feeds.feedburner.com/wineloverspage/tzva
Wine Advisor Archives:
http://www.wineloverspage.com/wineadvisor2/archives.php
Sponsorship Opportunities:
For information, E-mail wine@wineloverspage.com