This article was published in The 30 Second Wine Advisor on Friday, Jun. 1, 2012 and can be found at http://www.wineloverspage.com/wineadvisor2/tswa20120601.php.
Beaujolais in pink
If you think Beaujolais is always a red wine, you're not really outing yourself as a wine-geek newbie, as only about 20 percent of the wines of the region are Chardonnay- or Aligote-based whites.
Gamay-based reds are the bread and butter of this prolific wine region south of Burgundy, and they make up a hearty share of the everyday table wine gulped by gastronomes in the nearby food-and-drink-loving city of Lyon, which some call France's second culinary city after Paris.
Beaujolais reds can range in color from a dark red-berry hue right down to a lighter shade of crimson; but pink Beaujolais is a wine of an entirely different color, so unusual that only a handful of producers make it.
Which is all by way of introducing us to today's featured wine, the 2011 "Les Griottes" Beaujolais Rosé from Domaine de Vissoux, which I picked up for $14.99 recently at my local Whole Foods wine shop.
On the winery website, wine makers Martine and Pierre-Marie Chermette declare that this rosé is "recommended for the hottest days of the year!"
This wasn't an invitation easy to resist on a recent late-spring afternoon when the temperature hovered over 90F with humidity to match, and as it turns out, the Chermettes weren't just fooling around. Crisp, fresh and bone-dry, with subtle wild-strawberry aromas and flavors given additional subtlety by whiffs of fresh herbs and lime, it's a compelling wine for summer sipping and a versatile partner with a wide bill of fare. (You'll find my tasting notes below.)
The Chermettes, billed as pioneers of sustainable viticulture in the Beaujolais, discuss their wine-growing and wine-making philosophy on this Web page, The art of making wine that reveals the grape. They've been making a rosé Beaujolais since 1985, and appear to be one of the first among this small but growing niche.
Wine Focus for June: Rosé
Rosés and all the world's pink wines draw our attention in this month's Wine Focus topic in our online WineLovers Discussion Group. You're warmly welcome to become a part of our friendly international crowd of online wine lovers as we taste and talk about ros&eacute wines. To participate in the conversation, simply click to the forum topic "Rosé!"
All forum discussions are open for public viewing, but you must register to post your comments and participate actively in the conversation. Registration is free and easy; we ask only that you join following our Real Names Real Format system. For your user name, enter your real name in the format "John Doe" or "John D", with the capital letters and the space.
Having a real name on your name tag is so important to us that all non-conforming registrations will be quietly discarded. Redemption is possible, though. If you overlook this rule and get no response to your registration, feel free to contact me personally by Email at wine@wineloverspage.com, and we'll sort it out.
Once your registration has been approved, which usually happens quickly with correctly formed user names, you'll be able to participate in Wine Focus and in all our online wine and food forums.
Today's Sponsor
Winesave...for keeping opened wine perfectly
Winesave's very easy-to-use and affordable technology means any wine lover or hospitality venue can now enjoy their favourite wines by the glass without the worry of their wine spoiling through oxidation. Until Winesave, to completely protect opened wine from oxidation required spending hundreds if not thousands of dollars. Winesave's simple recyclable can has 50+ applications of pure argon - made from the air we breathe - to keep wines in peak condition once opened.
Here's what the experts say:
* "Winesave actually works perfectly for open bottles." M. Philippe GUIGAL, Directeur General & Oenologue of E. GUIGAL, makers of more 100-point Robert Parker wines than any other single wine producer.
* "Winesave is the Krug Champagne of wine preservation systems and one simply has to try a can to become a true believer."
John Gilman, "View From the Cellar"
* "There is a new and extremely simple product available that seems to be more effective than its predecessors for keeping wine fresh in an opened bottle."
Jancis Robinson OBE, Master of Wine, wine correspondent of the Financial Times.
For more information: Winesave ... for keeping opened wine perfectly.
Click here to purchase Winesave online.
Today's Tasting Report
Domaine de Vissoux 2011 "Les Griottes" Beaujolais Rosé ($14.99)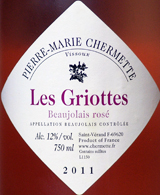 Transparent pale pink-rose color. Good, subtle scents of wild raspberries and fresh tarragon. Bone-dry, fresh and subtle red-fruit and herbal flavors follow the nose with crisp acidity and gentle 12% alcohol content; finishing with light red-berry flavors, a whiff of fresh herbs and a hint of lime zest, tart and clean. U.S. importer: Weygandt-Metzler, Unionville, Pa. (May 30, 2012)
FOOD MATCH: This crisp, refreshing rosé is versatile with food. The winery suggests serving it with appetizers, salads, grilled meats, barbecue, seafood, savory pastries, fish and fish terrine and, it says, "ideal with Exotic cuisines including West Indian and Asian." I took them up on that idea with a spicy Ethiopian kale stew, Gomen Wat, and was delighted with the pairing.
WHEN TO DRINK: This fresh and youthful delight is going to be best while it's young. I'd plan to drink the 2011 this summer and look for the 2012 next year.
VALUE: This local price, right on the $15 national median reported on Wine-Searcher.com, is more than fair for this delicious rosé.
PRONUNCIATION:
Les Griottes = "Lay Gree-oat"
Beaujolais = "Bow-zho-lay"
WEB LINK:
The winery website is published in French, English, Russian and Chinese. Here's a link to the English-language fact sheet on "Les Griottes" Beaujolais Rosé .
FIND THIS WINE ONLINE:
I picked up this bottle from the "eco-friendly" shelf at the Whole Foods wine shop in Louisville, and would suggest checking this source first if you have a Whole Foods in your community.
Also, locate U.S. and international vendors and check prices for "Les Griottes" Beaujolais Rosé on Wine-Searcher.com.
Talk About Wine Online
If you have questions, comments or ideas to share about today's article or wine in general, you're always welcome to drop by our online WineLovers Discussion Group, the Internet's first and still the most civil online community. To find our forums, click:
http://www.wineloverspage.com/forum/village
Discussions are open for public viewing, but you must register to post. Registration is free and easy; we ask only that you join following our Real Names Real Format system, using your real name in the format "John Doe" or "John D". Anonymous, cryptic or first-name-only registrations are discarded without notice.
Once your registration has been approved, which usually happens quickly, you'll be able to participate in all our online wine, food and travel forums.
To contact me by E-mail, write wine@wineloverspage.com. I'll respond personally to the extent that time and volume permit.
Subscriptions and Administrivia
Unsubscribe:
We're sorry if you must leave us, but simply click the "unsubscribe"
link at the bottom of your Email edition to be instantly removed from the mailing list.
Change address:
The quickest and easiest way to change your Email address is simply to register anew, using the link below. If you are keeping your old address but no longer wish to get the Wine Advisor there, click the unsubscribe link below to take it off our list; if you are closing the mailbox, you needn't take any action, as our system will delete your old address as soon as the mail to your old address starts to "bounce."
Subscribe to this Email edition (free):
http://www.wineloverspage.com/wineadvisor
WineLoversPage.com RSS Feed (free):
http://feeds.feedburner.com/wineloverspage/tzva
Wine Advisor Archives:
http://www.wineloverspage.com/wineadvisor2/archives.php
Sponsorship Opportunities:
For information, E-mail wine@wineloverspage.com