This article was published in The 30 Second Wine Advisor on Friday, May. 18, 2012 and can be found at http://www.wineloverspage.com/wineadvisor2/tswa20120518.php.
Wine and ice cream? Not.*
So there I was, sipping Sauvion 2010 Vouvray with a light dinner of asparagus pesto, zucchini and summer squash, and suddenly the wine's back label caught my eye: "Ideal accompaniment - wonderful as an aperitif by the glass or with desserts."
With desserts? Really? The Vouvray (Loire Chenin Blanc) was simple, rather sweet, but it also brought a ration of tart, zingy acidity to the party, and that didn't strike me as a friendly playmate with sweet stuff. Still, when it comes to playing with wine and food, I'm willing to try just about anything once, so I hit the fridge and scooped out a taste of Häagen-Dazs "Five" lemon ice cream.
This is my kind of dessert, creamy and lemony without being toothache-sweet. Let's have a taste. Mmm, ice cream good.
And now a sip of wine.
Whoa! Now, that's sour! As I had suspected, even this less than sugary ice cream emphasized the acidity in the wine. The effect was a lot like taking a bite out of a lemon, which probably isn't something that most people would do. This combination is not for me, thanks just the same. (*Footnote: On the other hand, the thick, ultra-sweet Spanish Sherry variety Pedro Ximenez makes an outstanding topping for vanilla ice cream; and don't knock a "Guinness float," a scoop of vanilla dropped right into a big glass of Ireland's finest. But that's a whole 'nother story.)
Sauvion, a fairly large production, popular and inexpensive Vouvray, is brought to the U.S. By W.J. Deutsch & Sons, the same nice folks who import the wildly popular Beaujolais of Georges Duboeuf. I suspect it may be designed for the American market as a "starter" wine to introduce nervous newbies to joys of the Loire? It's simple, fresh, accessible and more than slightly sweet.
That's all good, but I'm not sure that encouraging people to sip it with dessert is a winning way to get repeat sales. With white fish or oysters on the half-shell, sure; or with a light spring or summer feast of fresh veggies from the garden, oh, yeah.
Still, it was a good wine and a good value - see my tasting report below. And as a bonus I've included notes on a second Loire Chenin Blanc this week, Domaine Richou 2010 "Chauvigné" Anjou. Anjou is a way downriver from Vouvray, but I find its Chenin Blanc table wines similarly fetching, fresh and crisp-sweet, with a pretty "transparency" that lets hints of stones and minerals shine through.
Vouvray and its neighbors and similarly styled Chenin Blancs from around the world are the Wine Focus topic this month in our online WineLovers Discussion Group. You're invited to become a part of our friendly international crowd of online wine lovers as we taste and talk about the joys of Chenin. To participate in the conversation, simply click to the forum topic "Vouvray Plus!"
All forum discussions are open for public viewing, but you must register to post your comments and participate actively in the conversation. Registration is free and easy; we ask only that you join following our Real Names Real Format system. For your user name, enter your real name in the format "John Doe" or "John D", with the capital letters and the space.
Having a real name on your name tag is so important to us that all non-conforming registrations will be quietly discarded. Redemption is possible, though. If you overlook this rule and get no response to your registration, feel free to contact me personally by Email at wine@wineloverspage.com, and we'll sort it out.
Once your registration has been approved, which usually happens quickly with correctly formed user names, you'll be able to participate in Wine Focus and in all our online wine and food forums.
Today's Sponsor
Winesave...for keeping opened wine perfectly
Winesave's very easy-to-use and affordable technology means any wine lover or hospitality venue can now enjoy their favourite wines by the glass without the worry of their wine spoiling through oxidation. Until Winesave, to completely protect opened wine from oxidation required spending hundreds if not thousands of dollars. Winesave's simple recyclable can has 50+ applications of pure argon - made from the air we breathe - to keep wines in peak condition once opened.
Here's what the experts say:
* "Winesave actually works perfectly for open bottles." M. Philippe GUIGAL, Directeur General & Oenologue of E. GUIGAL, makers of more 100-point Robert Parker wines than any other single wine producer.
* "Winesave is the Krug Champagne of wine preservation systems and one simply has to try a can to become a true believer."
John Gilman, "View From the Cellar"
* "There is a new and extremely simple product available that seems to be more effective than its predecessors for keeping wine fresh in an opened bottle."
Jancis Robinson OBE, Master of Wine, wine correspondent of the Financial Times.
For more information: Winesave ... for keeping opened wine perfectly.
Click here to purchase Winesave online.
Today's Tasting Report
Sauvion 2010 Vouvray ($13.99)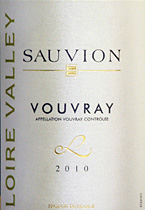 Clear pale gold. Aromatic fruit, very ripe cantaloupe and a whiff of fresh pineapple on the nose and palate. Fresh-fruit sweetness and medium-bodied texture reminiscent of tart pineapple juice, shaped by zingy, mouth-watering acidity that keeps the sugar in balance, with subtle touches of Loire "stone" peeking out through the fruit. It's not a dessert-level sweet wine to be sure, but definitely "off-dry," although the acidity keeps it in the food-friendly category for me. U.S. importer: W.J. Deutsch & Sons Ltd., White Plains, N.Y. (May 17, 2012)
FOOD MATCH: Its tart-sweet profile would favor mild freshwater fish or oysters on the half-shell. It was just fine with a little leftover asparagus-walnut pesto with cilantro over thin diagonal slices of small zucchini and summer squash sauteed with browned onions and garlic.
VALUE: This local price falls just above the median for this widely distributed Vouvray. Wine-Searcher.com reports a large number of vendors offering it under $12, many for $10 or less, at which point it is a much better value.
WEB LINK:
Click here for importer W.J. Deutsch's fact sheet on Sauvion Vouvray.
FIND THIS WINE ONLINE:
Find vendors and compare prices for Sauvion Vouvray on Wine-Searcher.com.
Today's Sponsor
Award-Winning Wines up to 71% off + $1 Shipping!
The California Wine Club's Cellar Clearance Sale is Going on now! Click here!
The California Wine Club is clearing out inventory to make room for new wines! With discounts of up to 71% off retail prices plus $1 shipping on every case and half case, this is a sale you don't want to miss.
Three more reasons to shop now:
* Award-winning wines as low as $7.99!
* Deep discounts on the highest rated and most coveted California wines!
* Final price reductions on limited inventory of Aged Cabernet Sauvignon and International Selections!
Click here to shop now or call 1-800-777-4443 to speak to a wine consultant!
Hurry! Cellar Clearance Sale ends Midnight, June 8, 2012.
Today's Tasting Report
Domaine Richou 2010 "Chauvigné" Anjou ($11.99)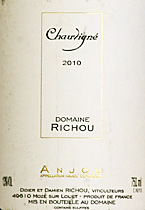 Very clear straw color. Mixed fresh melons macerated in Meyer lemon juice on the nose and palate. Bone-dry with mouth-watering acidity to frame the flavor; tart and fresh melon fruit over chalky minerality; light lemon zest and chalk linger in a refreshing finish. U.S. importer: Vintage '59 Imports LLC, Washington, D.C. (May 11, 2012)

FOOD MATCH: Perfect with spring green vegetables, white fish and shellfish or chicken; it made an outstanding match with spaghetti topped with a spring mix of slow-roasted asparagus, garlic and onions browned in olive oil and Normandy butter.
VALUE: A very good value at this price.
PRONUNCIATION:
Anjou = "Ahn-zhoo"
WEB LINK:
Importer Vintage '59 has an extensive fact sheet on Domaine Richou and its wines here.
FIND THIS WINE ONLINE:
Unfortunately, Wine-Searcher.com provides only one U.S. vendor on its free site, holding the rest behind the Wine-Searcher Pro paywall, which is worth the $39 annual investment if you buy a lot of wine online. Otherwise, check with your local merchants or look for distributors in your state on the importer's website.
Talk About Wine Online
If you have questions, comments or ideas to share about today's article or wine in general, you're always welcome to drop by our online WineLovers Discussion Group, the Internet's first and still the most civil online community. To find our forums, click:
http://www.wineloverspage.com/forum/village
Discussions are open for public viewing, but you must register to post. Registration is free and easy; we ask only that you join following our Real Names Real Format system, using your real name in the format "John Doe" or "John D". Anonymous, cryptic or first-name-only registrations are discarded without notice.
Once your registration has been approved, which usually happens quickly, you'll be able to participate in all our online wine, food and travel forums.
To contact me by E-mail, write wine@wineloverspage.com. I'll respond personally to the extent that time and volume permit.
Subscriptions and Administrivia
Unsubscribe:
We're sorry if you must leave us, but simply click the "unsubscribe"
link at the bottom of your Email edition to be instantly removed from the mailing list.
Change address:
The quickest and easiest way to change your Email address is simply to register anew, using the link below. If you are keeping your old address but no longer wish to get the Wine Advisor there, click the unsubscribe link below to take it off our list; if you are closing the mailbox, you needn't take any action, as our system will delete your old address as soon as the mail to your old address starts to "bounce."
Subscribe to this Email edition (free):
http://www.wineloverspage.com/wineadvisor
WineLoversPage.com RSS Feed (free):
http://feeds.feedburner.com/wineloverspage/tzva
Wine Advisor Archives:
http://www.wineloverspage.com/wineadvisor2/archives.php
Sponsorship Opportunities:
For information, E-mail wine@wineloverspage.com