This article was published in The 30 Second Wine Advisor on Friday, Apr. 20, 2012 and can be found at http://www.wineloverspage.com/wineadvisor2/tswa20120420.php.
The Willie Sutton principle
The 20th century American bank robber Willie Sutton may not really have said that he chose banks as his target because "that's where the money is," but this folk legend is so clear in its moral simplicity that it lives on despite ample evidence that his actual philosophy was more nuanced.
And the application of this to wine appreciation is ... ?
Simple enough! For those of us who enjoy the successful pursuit of exceptional wine bargains almost as much as Mr. Sutton enjoyed a bank heist, it makes sense to concentrate this quest on the venues that consistently offer a target-rich environment.
Simply told, we might say, "I look for wine bargains in wine shops because that's where the wine is."
But it's not as simple as that, as savvy bargain-hunters know, for not all wine shops are created equal. Some neighborhood bottle shops are simply too tiny to offer the selection that wine "geeks" covet, and many shop owners quite frankly don't know or care about sourcing the offbeat, artisanal and limited-production wines that wine enthusiasts crave. At the other end of the spectrum, some carriage-trade shops and spiffy stores in wealthy suburbs tweak prices upward to meet an affluent clientele that apparently doesn't feel happy unless it's paying top dollar.
In building my list of wine shops where I'm a regular customer, I look for the sweet spot where interesting selection and attractive pricing meet and mingle. And I make the effort to look around, don't limit myself to just one or two favorites, travel out of my usual rounds to seek new discoveries, and occasionally check back with vendors that didn't impress me, just to check whether things have changed.
I like to buy from locally owned, independent shops, and having knowledgable, wine-savvy and trustworthy management and staff is a huge plus, although this may not entirely offset non-competitive pricing on my score sheet.
So, even though it's not local but a rapidly expanding California-based, German-owned chain of some 300 stores in 30-plus states, I was ready to shop when a Trader Joe's grocery-and-wine store came to our town a few months ago. I had heard tales of insane wine bargains from friends in California, where Trader Joe's originated and seems to have a shop in every city, village and town.
As it turned out, while I haven't been overwhelmed by "TJ's" speciality and prepared foods - I'd rather support old friends at local competitors - its wine shop has enough of what I'm looking for to earn a place along with my local favorites on my wine-shopping rounds.
TJ's may be best known among wine enthusiasts for its hugely publicized Charles Shaw label ("Two Buck Chuck"), a mass-produced wine that sells in California for $1.99, in other states adding transportation costs and the distributors' vig to bring it up to $3 or $4. Because it's essentially relabeled bulk wine, "Shaw" varies from batch to batch, but I've found it generally acceptable if unexciting table wine.
I don't go to TJ's for Two Buck Chuck, but I can never drop in without carrying away a mind-boggling value or two. On one recent visit I walked out with a Barbaresco for $13 - yes, you read that right. I've got it lying horizontally for a taste test after a couple of months' rest. I also brought away a Sagrantino di Montefalco from Umbria for a penny under $11, another bargain that made me suck in my breath - it's a wine more usually seen in the $20 to $30 range.
Sagrantino is an offbeat grape, rarely planted outside Umbria, although in Italian hands it makes a wine that to my taste buds sings from the same hymn book, if not the same page, as Tuscany's Sangiovese. The label on TJ's 2005 offering hints that it may come from a producer called Tinarelli, although the legal fine print identifies the bottler only as the anonymous "PG3021" in Perugia, the capital of Umbria.
It may be difficult to find this specific bottling - Trader Joe's specials seem to come and go quickly, and may also vary among regional stores. But it's worth a look if you have a TJ's nearby. More important, this illustrates the benefits of the Willie Sutton principle. If you want wine bargains, check in often with the shops you've found can be relied on to offer them up. Look for the most unbelievable prices you can find on the shelves, and take care to bring both a nose for a bargain and appropriate skepticism. Good hunting!
An unauthorized peek inside Trader Joe's
If you hold the iconic image of Trader Joe's as a funky, hippie-dippy crunchy granola kind of place run by a jolly pirate wearing a Hawaiian shirt as a sort of community non-profit collective, you might be interested in this unauthorized peek inside the company in Fortune magazine last August: Inside the Secret World of Trader Joe's.
Today's Sponsor
Get $1 Shipping on Award-Winning California Wines!
The California Wine Club is celebrating its 22nd Anniversary with $1 shipping on every case (and half case) of award-winning, limited-production wine from California's best "mom and pop" wineries. No limits!
Plus, you'll save even more with discounts of up to 50 percent off winery prices on every bottle! There is something for every taste and every budget - from complex Pinots to bold Syrahs and everything in between! There are hundreds of wines to choose from, and you don't need to be a club member to save big.
A few customer favorites:
* Merriam Vineyards 2006 Dunnsden Vineyard, Sonoma County Cabernet Sauvignon, Rated 91 points and boasting two gold medals, normal retail: $28, CWC Price: $14!
* Gnekow Family Winery 2008 Campus Oaks Old Vine Zinfandel, Rated 94 points and boasting two gold medals, normal retail: $19, CWC Price: $11.99!
* Tulip Hill Winery & Vineyards 2009 Tracy Hills, Mount Oso Vineyard Reserve Chardonnay, with one silver medal and three bronze medals, normal retail: $24, CWC Price: $10.99!
Click here to see the full selection of wines, or call 1-800-777-4443.
Shop often, new wines added every week!
Today's Tasting Report
Tinarelli 2005 Sagrantino di Montefalco ($10.99)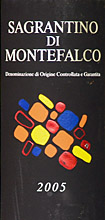 Dark garnet with bright reddish-violet glints and a clear edge. Red plums and fresh herbs, akin to the rosemary-thyme-fennel "garrigues" scent of some good Provençe reds, but from another Mediterranean region. Juicy, tart and dry, fresh plums and black cherries, mouth-watering acidity and smooth but perceptible tannic astringency. Very good wine, and a really remarkable value.
U.S. importer: Santini Fine Wines Inc., San Lorenzo, Calif. (April 15, 2012)
FOOD MATCH: It's made for red meat or even game, but would work well with roast or grilled poultry, pasta with tomato-based sauces, or even our offbeat choice for a light spring dinner, a simple omelet made with fresh free-range eggs and a fresh arugula salad with Capriole Indiana goat cheese.
VALUE: As discussed, this is a remarkable price for Sagrantino. The top 50 current "hits" for Sagrantino in general on Wine-Searcher.com range from $15 to $30, and this is a characterful, representative example, ready to drink. If you can find it, buy it.
PRONUNCIATION:
Sagrantino di Montefalco = "Sahg-rahn-TEE-no dee Mawn-tee-FAHL-co"
WEB LINK:
The Italian Trade Commission's informative Website, ItalianMade.com, offers this fact sheet and map about Umbria and Sagrantino de Montefalco.
FIND THIS WINE ONLINE:
I got it in the wine shop at the Louisville Trader Joe's. It may be hard to find this specific bottling - Trader Joe's specials seem to come and go quickly and perhaps vary among regional stores - but the joy of the chase involves checking in to your local wine shops now and then, watching for those quick-moving bargains.
Find vendors and compare prices for many Sagrantino di Montefalco labels on Wine-Searcher.com.
Talk About Wine Online
If you have questions, comments or ideas to share about today's article or wine in general, you're always welcome to drop by our online WineLovers Discussion Group, the Internet's first and still the most civil online community. To find our forums, click:
http://www.wineloverspage.com/forum/village
Discussions are open for public viewing, but you must register to post. Registration is free and easy; we ask only that you join following our Real Names Real Format system, using your real name in the format "John Doe" or "John D". Anonymous, cryptic or first-name-only registrations are discarded without notice.
Once your registration has been approved, which usually happens quickly, you'll be able to participate in all our online wine, food and travel forums.
To contact me by E-mail, write wine@wineloverspage.com. I'll respond personally to the extent that time and volume permit.
Subscriptions and Administrivia
Unsubscribe:
We're sorry if you must leave us, but simply click the "unsubscribe"
link at the bottom of your Email edition to be instantly removed from the mailing list.
Change address:
The quickest and easiest way to change your Email address is simply to register anew, using the link below. If you are keeping your old address but no longer wish to get the Wine Advisor there, click the unsubscribe link below to take it off our list; if you are closing the mailbox, you needn't take any action, as our system will delete your old address as soon as the mail to your old address starts to "bounce."
Subscribe to this Email edition (free):
http://www.wineloverspage.com/wineadvisor
WineLoversPage.com RSS Feed (free):
http://feeds.feedburner.com/wineloverspage/tzva
Wine Advisor Archives:
http://www.wineloverspage.com/wineadvisor2/archives.php
Sponsorship Opportunities:
For information, E-mail wine@wineloverspage.com